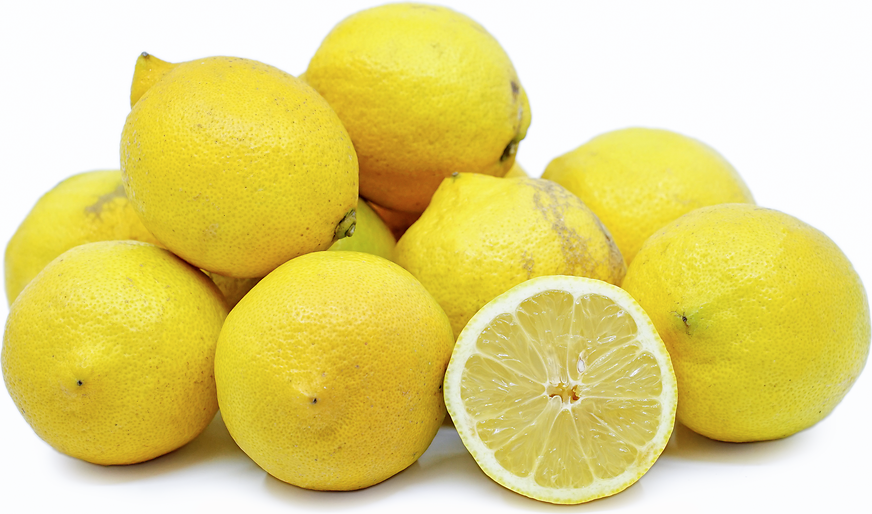 Lisbon Lemons
Inventory, lb : 0
Description/Taste
Lisbon lemons are a medium to large-sized varietal, averaging 5 to 8 centimeters in length, and have an oblong to elliptical shape, tapering slightly towards both ends. Each lemon has a bulbous center, a curved and flat stem end, and a pronounced point on the blossom end known as a mammilla. The lemon's bright yellow peel is moderately thick with a smooth and lightly textured feel, covered in large oil glands creating a pitted appearance. The peel clings tightly to the pale yellow to yellow-green flesh, and there is a spongy, white layer of pith just below the surface. The flesh is divided into 10 to 11 segments by thin white membranes and has a tender, aqueous, and fine-grained consistency, sometimes being found seedless or containing a few cream-colored seeds. Lisbon lemons should feel heavy for their size and have a slight give when gently squeezed. When the peel is scratched, rubbed, or sliced, it will release a fragrant, citrusy aroma, and the flesh is highly acidic, creating a sour, tart, and tangy taste balanced with a subtle sweetness.
Seasons/Availability
Lisbon lemons are available year-round, with a peak season in the winter through early spring.
Current Facts
Lisbon lemons, botanically classified as Citrus limon, are a common acidic variety belonging to the Rutaceae family. The fruits grow on thorny, evergreen trees generally reaching 3 to 4 meters in height and are a commercial variety cultivated for their sharp juice. Lisbon lemons were released commercially in the mid to late 19th century, and the hardy cultivar quickly became a favored variety for its multiple harvests, tolerance to hot and cold fluctuations, and self-fertile nature. One of the unusual characteristics of Lisbon lemons is that the fruit grows inside the tree's canopy. This protects the lemons from weather and wind, creating fruits with a more unblemished, smoother appearance, favorable for commercial markets. In the modern-day, Lisbon lemons are one of the top cultivated lemon varieties globally. In the United States, eureka and Lisbon lemons are the most produced cultivars in California and share a similar appearance and flavor. The two varieties are so similar that they are sold interchangeably in supermarkets, often generally labeled as "lemons."
Nutritional Value
Lisbon lemons are an excellent source of potassium to balance fluid levels within the body, vitamin C to strengthen the immune system while reducing inflammation, and folate to assist in red blood cell production. The fruits also provide fiber to regulate the digestive tract, calcium and phosphorus to protect bones and teeth, and other nutrients, including zinc, copper, magnesium, B vitamins, iron, and niacin. Beyond vitamins and minerals, lemons contain ascorbic acid that helps prevent the oxidization of fruits and vegetables. Lisbon lemons are often squeezed over fruits such as apples, peaches, and avocados to prevent them from browning.
Applications
Lisbon lemons have an acidic, tart, and tangy flavor well suited for fresh and cooked preparations. The juice, flesh, and zest add a flavor complexity into dishes and can be mixed into dressings, marinades, and oils. Lisbon lemons can also tenderize meats and fish, and the juice is popularly stirred into ceviche. Try incorporating lemon juice and zest into cream-based pasta sauces, rice dishes, soups, or stews for a bright flavor. The lemons can also be sliced and roasted with chicken to create a refreshing zing to the dish. Lisbon lemons are typically halved and grilled at a high temperature as a savory finishing garnish to seafood and roasted meats, or they can be cut into wedges and used as a garnish for beverages. The juice can be mixed into cocktails, lemonades, teas, and sparkling water and provides a dynamic layer of acidity. Beyond savory dishes and mixology, Lisbon lemons can be simmered into marmalades, jams, and jellies or incorporated into custards, sorbet, meringue pies, cakes, bars, muffins, and scones. Lisbon lemons pair well with herbs such as mint, basil, thyme, and fennel, poultry, turkey, seafood such as crab, fish, and lobster, peas, asparagus, artichokes, garlic, and fruits including blueberries, raspberries, grapefruit, and mangos. Whole, unwashed Lisbon lemons will keep up to one week when stored at room temperature and 1 to 2 weeks when kept in a plastic bag in the refrigerator. The juice and zest can also be frozen separately for extended use.
Ethnic/Cultural Info
Lisbon lemons were named after Lisbon, the capital city of Portugal. The lemon variety is also believed to be a descendant of the Portuguese Gallego lemon, further connecting the cultivar to its Portuguese roots. Despite its European beginnings, Lisbon lemons throughout the 19th and 20th centuries became one of the most popular commercial lemon cultivars in the United States and Australia. The lemons were most notably featured in "The Status of the American Lemon Industry," a paper written in 1907. The document was released by G. Harold Powell, the pomologist in charge of fruit transportation and storage investigations at the United States Department of Agriculture's Bureau of Plant Industry. In this account, the United States' lemon industry had just started to take off, and the three main lemon varieties that were selected for cultivation were the Lisbon, the eureka, and the villafranca. Before these varieties were planted in California, most citrus sold in the United States was imported from Sicily. Citrus production in California revolutionized the American citrus industry, and the center of the lemon industry at the time was, and still is to a degree, in Southern California. The Lisbon and eureka lemon varieties are still the most produced cultivars for commercial markets in California.
Geography/History
Lisbon lemons are believed by experts to have been developed from the gallego lemon, a variety native to Portugal. The seedling was introduced to Australia as early as 1824 and was exported to the United States sometime between 1874 and 1875. The first reference to Lisbon lemons in the United States was in a Massachusetts gardening catalog in 1843. From there, they were introduced to California around 1849. Historically, despite their general Lisbon name, each introduction of Lisbon lemon into the United States is thought to be a different strain of the original lemon grown in Australia. These strains are incredibly similar and are most often indistinguishable by everyday consumers. After the variety's introduction into California, H.B. Frost of the Citrus Research Station at the University of California at Riverside spent decades perfecting one strain that was eventually released for commercial markets in 1950. Today Lisbon lemons are one of the top varieties grown in the United States for commercial production and in home gardens. Outside of California, Lisbon lemons are commonly found in Australia and are also found in citrus-growing regions worldwide.
Recipe Ideas
Recipes that include Lisbon Lemons. One

is easiest, three is harder.