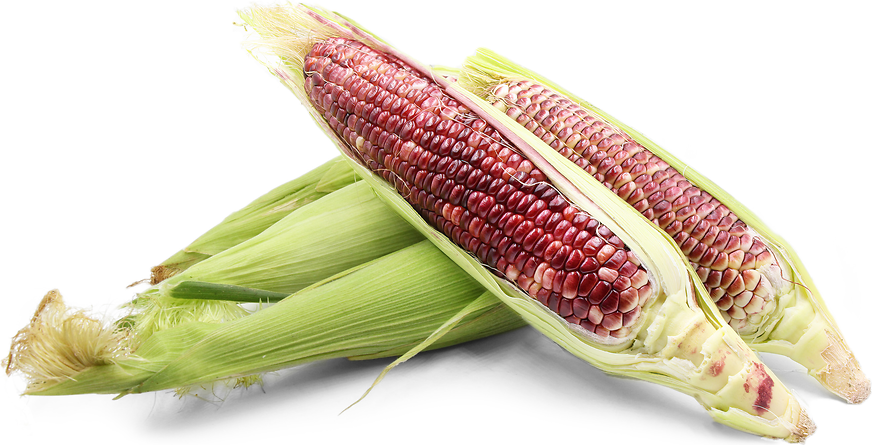 Red Corn
Inventory, 48 ct : 0
Description/Taste
Red corn varies in size, shape, and appearance, depending on the variety, and most commercial cultivars are generally harvested when they are around 19 to 30 centimeters in length. The ears of corn grow from upright, tall leafy stalks and are encased in layers of tightly packed pale green leaves known as the husk. Inside the husk, there are also thin strands of brown, green, to yellow fibers called silks that arise from the top of the ear. When the silk and husk are stripped away, Red corn cobs are covered in dense, compact kernels. The kernels range in color from pale red, pink-red, crimson, brick red, to red-purple and often have a taut, glossy, to matte appearance. It is worth noting there are several types of Red corn with varying characteristics, and the kernels may exhibit indentations or be curved and plump, depending on the variety. Red corn cobs are typically thinner than yellow or white varieties, and the kernels have a semi-firm, crisp, and chewy nature with a succulent, crunchy, and snappy consistency. Only Red sweet corn varieties are consumed fresh and are harvested young to have a refreshing, sweet, nutty, and earthy flavor due to their high sugar content. If left in storage, the sugar will convert to starches, developing a chalky and bland flavor. Red sweet corn can also be cooked, creating a soft, semi-firm texture. The flavor will mellow and become mild, earthy, and sweet.
Seasons/Availability
Red corn is generally available from the early summer into fall. Seasonality will vary depending on the hemisphere and climate it is grown in and the type of Red corn.
Current Facts
Red corn, botanically a part of the Zea genus, is a broad, general category used to describe several types of pigmented corn belonging to the Poaceae family. Red corn is also known as Red Maize and is native to the Americas, where various species have been selectively bred and cultivated over time to create unusual varieties with pale red, crimson, to variegated red hues. Red corn is less common than white or yellow corn varieties, but the colored cobs are increasing in popularity worldwide as specialty growers are becoming familiar with Red corn's nutritional benefits, textural quality, and flavorings. There are three main types of Red corn with varying uses: field corn, sweet corn, and flint corn. Field corn, also known as dent corn, is classified as Zea mays var. indentata and is varieties with high starch and low sugar. These cultivars are primarily dried and processed into liquors, flours, and cornmeal. Common Red field corn varieties include Bloody Butcher, Tennessee Red Cob, and Jimmy Red corn. Sweet corn, Zea mays, is the only type of Red corn that can be eaten fresh. These varieties have a high sugar content and are picked young for culinary purposes. Popular varieties of Red sweet corn include Ruby Queen and Double Red. The final type, flint corn or Indian corn, classified as Zea mays var. indurata, bears hard and dense kernels used for popcorn, flour, grits, polenta, and other processed items. Most of South America's heirloom Red corn varieties fall under this category, and notable cultivars include Ruby Red corn, Strawberry popcorn, New York Red Flint corn, Red Aztec, and Floriani Red Flint corn. In the modern day, Red corn is a specialty grouping of pigmented varieties grown worldwide for culinary uses and other commercial purposes. Depending on the market, the varieties are sometimes challenging to find and are produced through small-scale growers, home gardeners, and select seed savers.
Nutritional Value
Red corn is a source of fiber to regulate the digestive tract, vitamin A to maintain healthy organ functioning, and calcium to build strong bones and teeth. The kernels also provide vitamin C to strengthen the immune system while reducing inflammation, iron to develop the protein hemoglobin for oxygen transport through the bloodstream, potassium to balance fluid levels within the body, and other nutrients, including manganese, zinc, copper, phosphorus, and magnesium. Vitamin and mineral content will vary depending on the specific Red corn variety. The colored kernels also contain anthocyanins, pigmented compounds naturally found in the kernels that have antioxidant properties to protect the cells against free radical damage and inflammation.
Applications
Red corn has a subtly sweet, earthy, and slightly starchy taste suited for fresh and cooked preparations. It is important to note that there are several types of Red corn, and only sweet corn varieties are considered edible when raw. Field and flint corn are processed into cornmeal, starches, and flour. Red sweet corn can be used interchangeably with yellow and white sweet corn in various culinary recipes and is popularly mixed into dips, tossed into salads, or combined with fresh herbs and aromatics as a side dish. Red sweet corn is also added to soups, especially tomato-based, chowders, chilis, and stews, or it is layered into quesadillas. Try sautéing the fresh kernels in spices and sprinkling them with cheese as a flavorful side dish or simmering them into grits. Red sweet corn is also made into polenta, roasted or grilled for a smoky flavor, or steamed to soften the kernels. It is not recommended to boil the variety as it will lose its red coloring. Depending on the cultivar, some flint and field varieties of Red corn are ground and processed into pancakes, tortillas, hominy, grits, or cornbread. Other varieties are suitable for popcorn, producing fluffy, crisp, expanded kernels. Red corn pairs well with tomatoes, shelling beans, squashes, citrus, herbs such as basil, cilantro, and parsley, seafood including clams, shrimp, fish, and scallops, pork, nutty cheeses, chiles, and spices such as cumin, paprika, and garlic. Fresh Red sweet corn should be immediately consumed for the best quality and flavor and will only keep for 1 to 3 days when stored in the refrigerator with its husks still intact. Dried Red corn can last for years when stored in ideal conditions, such as a sealed container in a cool and dry place.
Ethnic/Cultural Info
The elusive Jimmy Red corn is one of the most famous Red corn varieties in the United States. Legend has it that Jimmy Red corn was planted through moonshiners who resided on James Island in South Carolina during the Prohibition era. The variety was bred from Red corn once used by Native Americans and was traditionally grown in forests to conceal the crops from authorities. Moonshiners favored Jimmy Red corn for its distinct coloring, high sugar content, and unique, rich flavoring. On James Island, the moonshine produced from the Red corn was locally known as Jimmy Red hooch and was sold off people's back porches, concealed in bags of food purchased from the homeowner as a deflection. Jimmy Red corn remained a mysterious variety heavily guarded throughout the 20th century until the last moonshiner who cultivated the species passed away in the early 2000s. The heirloom variety almost went extinct with its owner's passing, but seed saver Ted Chewning managed to track the Red corn down and save two ears. Chewning spent several seasons growing and saving seeds for Jimmy Red corn, slowly increasing the variety's availability. During this time, Chewning had to hand pollinate each corn stalk and cover the flowers to prevent unknown pollen from disrupting the species' bloodline. Chewning also gave farmers, food historians, and local chefs some seeds, further expanding the variety's presence in the southern United States. One chef in Charleston, South Carolina, Sean Brock, convinced Chewning to give him some seeds and began growing Jimmy Red corn for use in his two restaurants. Brock's Red corn-infused dishes were a success, and he became so enamored with the variety he tattooed the corn onto his arm. Thanks to the efforts of these individuals in the early 21st century, Jimmy Red corn is offered to growers and home gardeners throughout the United States. The variety is still used to produce whiskey, and distillers claim the kernels can create rich, honeyed, floral notes or generate a fruity, banana, and butterscotch taste.
Geography/History
Red corn is native to the Americas and is a descendant of a wild indigenous grass known as teosinte. Much of the history of Red corn is unknown, but corn in general, referred to as Maize among the scientific community, first arose out of the Balsas River Valley in south-central Mexico over 9,000 years ago. Teosinte is an upright, leafy stalk plant with small cobs filled with tiny, scattered kernels enveloped in a tough casing. Despite its petite nature, teosinte was harvested and consumed among indigenous people groups in Mexico and is considered the ancestor of Maize. Over time, teosinte plants were selectively bred for specific traits, eventually creating early forms of Maize. The oldest known remains of Maize date back to 2550 BCE in Mexico's Valley of Tehuacan. From Mexico, Maize was spread through migrating peoples north into the southwestern United States and south to Peru. Maize continued to be selectively bred and cultivated throughout the Americas, increasing variation in color, kernel size, shape, texture, and flavor. Maize later spread from the Andes into the Amazon and eastern Brazil. In the 15th and 16th centuries, the Columbian Exchange carried Maize from the Americas to Europe, and the first record of the species in Europe was documented by Peter Martyr in 1493. Today Maize is grown on every continent except Antarctica. Red corn is less common than yellow and white corn varieties in most commercial markets outside of South America and is typically found through fresh markets, specialty grocers, distributors, and direct from growers.
Recipe Ideas
Recipes that include Red Corn. One

is easiest, three is harder.