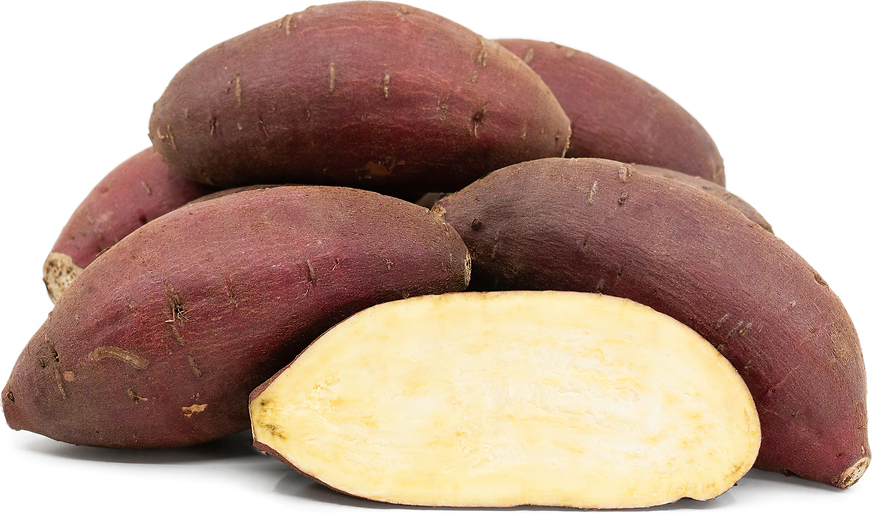 Silk Sweet Potatoes
Inventory, lb : 0
Description/Taste

Silk sweet potatoes are a small to medium-sized varietal, averaging 5.5 to 6.5 centimeters in diameter and 14 to 15 centimeters in length, and have an oval to spindle shape, tapering slightly toward narrow ends. The variety's skin is thin, firm, and tough, covered in striations, markings, shallow eyes, and raised rough patches. The tubers also showcase a maroon, burgundy, to dark red-brown hue. Underneath the surface, the raw flesh is ivory to cream-colored, hard, spongy, and dense. When cooked, the coloring darkens to a golden yellow, developing a moist, melting, smooth, soft, and fluffy consistency. Silk sweet potatoes have a moderate sugar content and are rich and sweet when cooked. The variety also sweetens when stored, becoming more concentrated in sugars, creating an even sweeter flavor over time.


Seasons/Availability

Silk sweet potatoes are harvested in the early fall through winter, specifically in late September through October. Once picked, the potatoes are left in storage for a brief period and are sold in November through February.


Current Facts

Silk sweet potatoes, botanically classified as Ipomoea batatas, are a Japanese variety belonging to the Convolvulaceae family. The cultivar was released to commercial markets in Japan in 2012 and was selected for production for its texture, flavor, and coloring. Silk sweet potatoes are known for their soft and smooth texture, said to have a mouthfeel of "silk." This melting, velvety texture is the reason behind the variety's commercial name, and the premium cultivar is sold in commercial markets as a seasonal delicacy. One of the unique traits of Silk sweet potatoes is their ability to become sweeter in storage. The variety is harvested and stored for at least 40 days to concentrate sugar levels within the flesh, creating a memorable eating experience. In the modern day, Silk sweet potatoes are one of the top commercially-produced varieties and are versatile, used in sweet or savory preparations throughout Japan.


Nutritional Value

Silk sweet potatoes are a source of potassium to balance fluid levels within the body, fiber to regulate the digestive tract, and vitamin A to maintain healthy organ functioning. The variety also provides vitamin E to reduce inflammation, calcium to build strong bones and teeth, copper to develop connective tissues, vitamin C to strengthen the immune system, and other nutrients, including magnesium, phosphorus, iron, and B vitamins.


Applications

Silk sweet potatoes must be cooked before they are consumed and develop a sweet taste suited for roasting, simmering, baking, and frying. The variety is popular for its soft texture and is typically used in preparations where the texture can be showcased. When heated, Silk sweet potatoes decompose their starch content, producing oligosaccharides and maltose, which gives them a sweet taste. The potatoes are often cooked by themselves and consumed as a snack, as a filling side dish, or cooked and added to salads. Silk sweet potatoes can also be sliced and fried into tempura, simmered into soups such as rikyu with other root vegetables, or added to stir-fries. In Japan, Silk sweet potatoes are cooked in daigakuimo stick, a dish where potato slices are wrapped in spring roll paper and fried. These egg-roll-like snacks are dipped in a daigakuimo sauce. The potatoes are also candied and sliced into small strips, sold as a snack item known as kenpi. Beyond savory dishes, Silk sweet potatoes are mixed into batters for pancakes, cookies, cakes, and other baked goods or incorporated into pudding. They are also used to make potato-based shochu. Silk sweet potatoes pair well with meats such as beef, pork, and poultry, seafood including oysters, tuna, and shrimp, flavorings such as miso, soy, and sesame, and aromatics including garlic, ginger, and onions. Whole, unwashed Silk sweet potatoes will keep for several months in a cool, dry, and dark location. The potato's sweetness will become more concentrated with extended storage.


Ethnic/Cultural Info

Silk sweet potatoes are famously used throughout Japan in yaki-imo or baked sweet potato preparations. Yaki-imo has been a Japanese street food since the Edo period, spanning from 1603 to 1868 CE, and was traditionally consumed during the cold winter months as a warming on-the-go snack or meal. Sweet potato vendor Manzo Minowa is often credited with developing stone-baked sweet potatoes in Japan. Minowa heated charcoal on a traveling cart and cooked sweet potatoes over the hot stones. This created an earthy, nutty, and caramelized taste, and the cooked sweet potatoes had a tender, soft, and smooth consistency. The sale of yaki-imo peaked in the 1960s, and vendors would make large batches of sweet potatoes to sell to residents along city streets, highways, near office buildings, and neighborhoods. Vendors would also display signs that read "kuri-yori-umami," translating to "better than chestnuts," and drive the trucks up and down the streets playing music and announcements repeating "yaki-imo" to draw hungry consumers outside to purchase the potatoes. Yaki-imo was one of the first fast foods in Japan, and the potatoes were customarily sold without condiments. Over time, yaki-imo vendors were replaced with convenience stores and supermarkets, but the practice of making roasted sweet potatoes evolved into a household kitchen dish. Silk sweet potatoes are a modern cultivar used for yaki-imo, and the variety develops a soft, velvety, and melting consistency.


Geography/History

Silk sweet potatoes are native to Japan and were developed through Kaneko Seeds in the Gunma Prefecture. The variety was created from a cross between Haru Kogane, a potato known for its sweetness, and Ben Masari, a potato valued for its texture. Silk sweet potatoes were released as a new commercial cultivar in 2012 and were quickly adopted into Japanese diets as the variety had a unique smooth texture and sweet taste. Today, Silk sweet potatoes are cultivated in Chiba, Kumamoto, Ibaraki, Fukushima, Kagoshima, and Kyushu Prefectures in Japan and are seasonally sold through select fresh markets, grocers, and retailers.