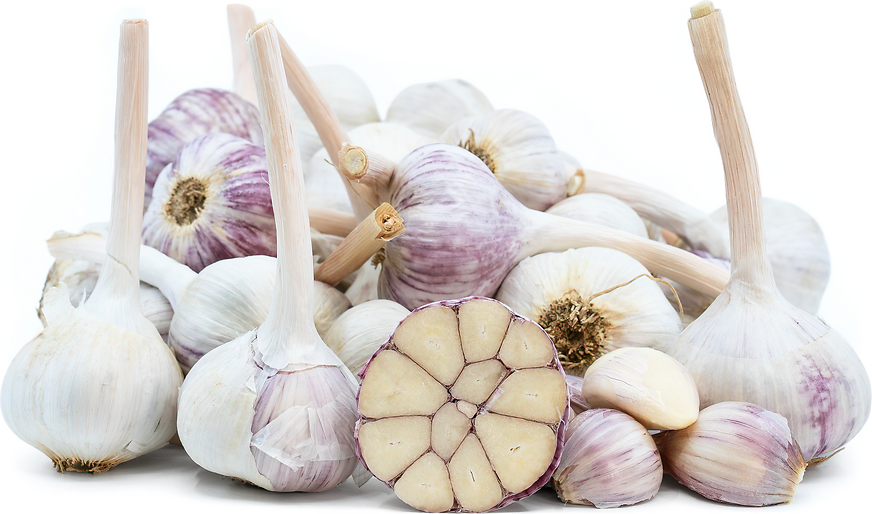 Music Garlic
Inventory, lb : 0
Description/Taste

Music garlic is a large varietal, averaging 2 to 8 centimeters in diameter, and is comprised of thick, plump, and uniform cloves surrounding a hard, woody stem. It is important to note that though most Music garlic bulbs are large, the bulb size may vary depending on the climate and growing environment. The bulbs are enveloped in many tightly wrapped layers with a thin, papery, parchment-like feel. The exterior layers range in color from white to ivory and are occasionally blushed with faint streaks of purple, pink, or copper hues. Underneath the protective layers, each bulb encases 4 to 7 flat to crescent-shaped cloves, and the cloves are typically larger than other commercial varieties. A semi-thick coating surrounds each clove, and this layer varies in color from burgundy, bronze, to purple-pink. The ivory to cream-colored raw cloves are firm, solid, lightly aqueous, and succulent with a crunchy consistency. Music garlic is aromatic and has a pungent and robust flavor with musky, floral, and peppery nuances. The variety is strong in flavor and somewhat hot when raw, but it is not considered overpowering. When cooked, Music garlic mellows and develops a balanced, rich, and savory taste.


Seasons/Availability

Music garlic is harvested in mid-summer and can be stored through the early spring.


Current Facts

Music garlic, botanically classified as Allium sativum, is a hardneck variety belonging to the Amaryllidaceae family. The early to mid-season cultivar is well-known for its large clove size and is a type of Porcelain garlic. Music garlic produces upright, leafy stalks reaching 0.9 to 1.2 meters in height, and the variety produces high yields of uniform bulbs utilized for fresh and cooked culinary preparations. The variety is widely cultivated in Canada, and growers favor the plants for their cold tolerance and the bulb's extended storage capabilities. Music garlic bulbs are also easy to peel and are generally sold by weight rather than the bulb. Music garlic is a versatile, robust variety appreciated by chefs and home cooks. The garlic's pungent, authentic garlic flavor can be incorporated into an array of sweet and savory dishes.


Nutritional Value

Music garlic is a source of vitamin C to boost the immune system, calcium to build strong bones and teeth, and copper to develop connective tissues. The variety also provides some phosphorus to develop genetic material such as DNA and RNA, manganese to produce connective tissues, and other nutrients, including B vitamins, selenium, potassium, zinc, and magnesium. Beyond vitamins and minerals, Music garlic is high in allicin, an active compound with antioxidant and antibacterial properties. Allicin is the most potent in raw garlic and is released when the cloves are crushed.


Applications

Music garlic has a rich and robust taste suited for raw and cooked preparations. The variety has a versatile flavor and can be blended into sauces and dips or infused into olive oils, vinaigrettes, and relishes. Try chopping Music garlic into salsa or mincing into herb-based spreads for sandwiches. In addition to fresh preparations, Music garlic develops a complex flavoring when roasted. The bulbs can be roasted whole, and heating the bulbs enhances the natural sugars, creating a caramelized effect. Roasted garlic can be tossed into pasta, spread on bread, or mixed into mashed potatoes and purees. Music garlic can also be added to stir-fries, simmered into soups, curries, and chili, melted into grilled cheeses, or cooked with meats such as sausage or shrimp, or mixed with roasted root vegetables. While less common, garlic can be incorporated into various desserts, including chocolate and ice cream. The cloves can also flavor donuts, brittle, and caramel sauces. Music garlic plants also produce scapes in the late spring to early summer. These scapes can be cooked, pickled, or processed into culinary preparations. Music garlic pairs well with herbs such as parsley, cilantro, basil, and rosemary, meats including pork, poultry, beef, and pork, tomatoes, bell peppers, onions, eggplants, and broccoli. Whole, unpeeled Music garlic will last up to nine months when stored in a cool, dry, and well-ventilated place.


Ethnic/Cultural Info

Music garlic is one of several garlic varieties featured at Ontario Garlic Week, an annual celebration of alliums held in September. Ontario Garlic Week was established in 2021 and was created by a team of garlic enthusiasts who also plan and run the Toronto Garlic Festival. Both events are held the same week and are run in partnership to celebrate garlic growers, chefs, and enthusiasts throughout Canada. Ontario Garlic Week was created when Covid-19 lockdowns prevented large gatherings from forming. The celebratory week spread out the events and allowed garlic lovers to try new restaurants with garlic-themed dishes, home cooks to invent new recipes at home, and consumers to purchase garlic from growers to support local agriculture. The Toronto Garlic Festival is also held during this week and is the pulse of the celebration, honoring the annual garlic harvest. The festival has been occurring since 2011, and visitors can attend educational talks, sample new varieties of garlic, meet the growers, listen to live music, and sample prepared or packaged goods centered around garlic. Some of the past products included garlic soda, garlic-based condiments, garlic jelly, and black garlic.


Geography/History

Music garlic is thought to be a descendant of varieties once grown in Italy. It is said that Al Music, a garlic enthusiast and taxicab driver in the city of Toronto, brought back garlic bulbs from Italy in the 1980s. Music planted the garlic on his farm near the village of Boston in Norfolk County, Ontario, and over time, he shared the variety with growers throughout Ontario. The Italian garlic was named Music after Al, and the variety spread in popularity for its easy-to-peel nature and large clove size. Music garlic thrives in cooler climates and is widely grown in Southern Canada and the Pacific Northwest. Today, Music garlic is commercially produced and cultivated in home gardens. The bulbs are sold directly through growers, farmer's markets, and specialty grocers.