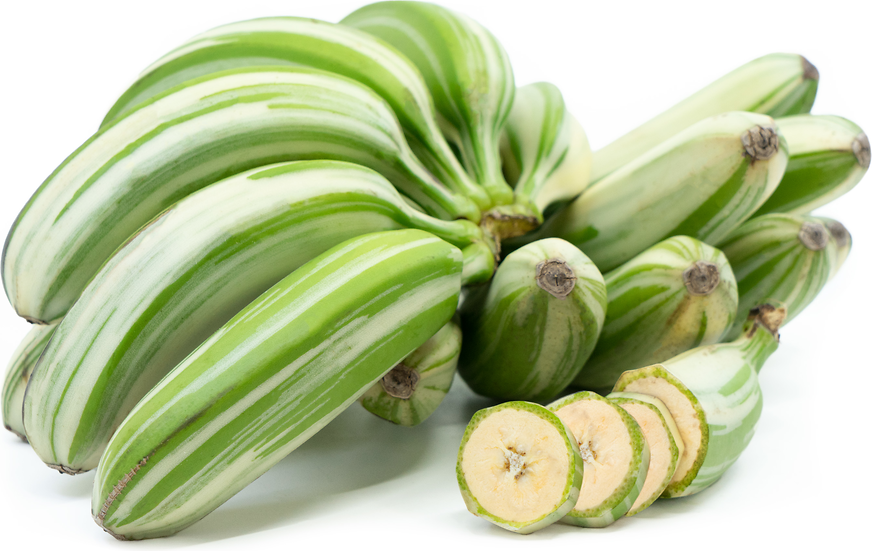 Variegated Bananas
Inventory, lb : 0
This item was last sold on : 12/03/22
Description/Taste

Variegated bananas are straight to slightly curved fruits, averaging 15 to 20 centimeters in length, and have an oblong shape with 3 to 4 angular ridges extending the length of the fruit. The peel is smooth, slightly rubbery, and waxy with vertical, white and green striping when young. As the fruit matures, the variegated striping transforms into a golden yellow, and the surface may also become covered in dark brown spots and patches. Underneath the peel, the flesh is cream-colored to pale orange, firm, mild, and somewhat chalky when young and raw. Once cooked, the young Variegated bananas soften to a light, fluffy, and starchy consistency and have a sweet and savory flavor. Striped bananas also grow on plants that feature the characteristic green and white striping across their leaves with a pink stripe bordering the midrib and edges.


Seasons/Availability

Variegated bananas are available year-round in tropical climates.


Current Facts

Variegated bananas, botanically classified as Musa paradisiaca, are a very rare variety belonging to the Musaceae family. Also known as the Dwarf Hawaiian Variegated banana and A'e A'e, Koa'e, and Manini in Hawaii, Variegated banana plants have unique, variegated striping over the leaves and fruits which is the result of a genetic mutation that causes pigmentation loss. The Variegated banana variety is considered to be one of the most challenging banana plants to cultivate and requires a delicate balance of humidity, nutrients, and shade mixed with an extended growing time. Variegated banana plants are highly ornamental for home gardens, and the fruits exhibit qualities of both a cooking and dessert banana, which is unusual to find in one cultivar.


Nutritional Value

Variegated bananas are a good source of vitamins A and C, which are antioxidants that can help protect the body against environmental aggressors and contains fiber and vitamin B6. The bananas are also a source of potassium, folate, and magnesium.


Applications

Variegated bananas are best suited for both raw and cooked applications such as baking, frying, boiling, steaming, and grilling. The bananas can be consumed fresh, out-of-hand as a dessert variety when the peel is golden yellow, and the fruit is very ripe, but the fruits are more popularly utilized in cooked applications when young and green, prepared similarly to a plantain. The bananas can be simmered in coconut cream for a sweet side dish or dessert, or they can be layered in savory dishes such as lasagna, hashes, or salads. They can also be sliced and fried into chips, boiled and mashed as a starchy accompaniment, flattened and fried into crispy banana fritters, or sliced and cooked in honey as a sweet side dish to grilled meats. Variegated bananas pair well with pineapple, avocado, red onion, bell peppers, tomatoes, cinnamon, cheeses such as feta and parmesan, meats such as pork, beef, poultry, and fish, kale, red cabbage, black beans, and brown rice. The bananas will keep 1-2 weeks when ripened at room temperature and then stored in the refrigerator.


Ethnic/Cultural Info

In Hawaii, bananas were brought to the islands during ancient times and earned the nickname "canoe fruit," as they were transported from the South Pacific via immigrating peoples and explorers on canoes. With many banana varieties introduced to the tropical, humid climate of Hawaii, they became a staple food source and were highly cultivated for select traits. Variegated bananas were considered to be one of the rarest of the cultivars for its unique color variegation and were decidedly reserved only for the Hawaiian royal family. The bananas were considered so sacred that the penalty for growing the fruit outside of the royal family was death. In the modern-day, Variegated bananas are now available for home cultivation and have earned many local names in Hawaii due to their striping. Hawaiian locals often refer to the bananas as Ae' Ae', which roughly translates to "hair prematurely graying" and is a reference to the white striping on the leaves and peel. They also use terms derived from animals to describe the fruits, including Manini, which is a name for a striped surgeonfish and Koa'e, which is a young tropical bird with striped feathers.


Geography/History

Variegated bananas are believed to be native to regions across Southeast Asia and the South Pacific and were introduced to the Hawaiian Islands by Polynesians during ancient times. The genetic mutation of the striping found within the variety is attributed to a natural bud variation, and since its discovery, Variegated bananas have been cultivated to showcase this trait. Today Variegated bananas are considered rare and are found in limited availability in tropical regions, including Southeast Asia, the South Pacific, Hawaii, and Florida.