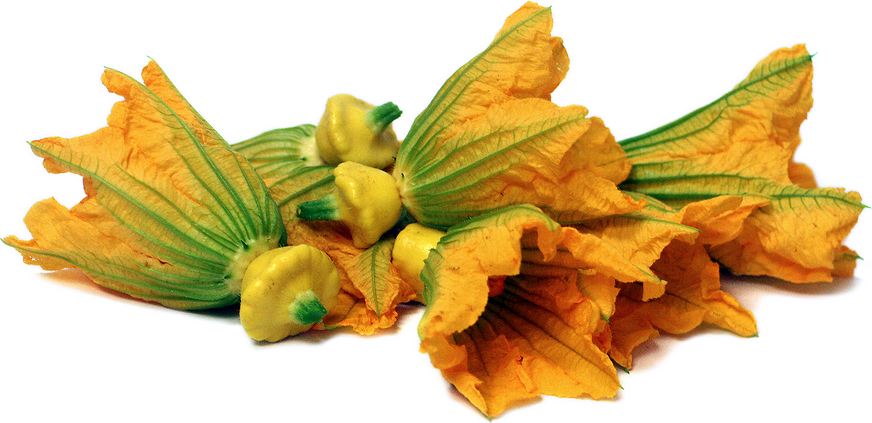 Baby Yellow Squash with Flower
Inventory, 5 lbs : 0
Description/Taste

Baby Yellow squash blossoms are fragile and yet as they are attached to the fruit of the plant, the fruit extends the blossom's shelf-life. The blossoms are featherweight and tissue-paper thin, their exterior covered in a faint layer of fuzzy hairs. Once mature the broad and pointed flower petals close inward. The blossom's coloring is vibrant orange at its tip, with variegations of gold and green to its stem end. Their flavor is subtle, yet true to squash in all notes, slightly sweet and reminiscent of corn, grassy and succulent. The fruit of the baby Yellow squash is saucer shaped and petit. Its skin is slightly glossed, golden yellow with faint cream freckles and a green tip at the fruit's stem end. Its flesh is crisp and creamy with an underdeveloped seed cavity due to its youth. The flesh of the squash has a peppery and complex flavor with grassy and fruity undertones, creating a perfect contrast to the more subtle flavors of the flower.


Seasons/Availability

Baby Yellow squash with flower is available year-round with a peak season in the summer months.


Current Facts

Baby Yellow squash is of the species, Cucurbita pepo and of the Cucurbitaceae family. Baby Yellow squash blossoms are the female fruit-bearing flower of squash plants. The male flower, known as macho blossom, grows directly from the stem of the plant's trailing vines and pollinates the female blossoms. As a result of their delicate nature outside of Italy and Mexico squash blossoms are sold as a specialty item and most commonly found at farmers markets or growing in home gardens.


Nutritional Value

Squash blossoms do not offer much as far as nutritional properties go. They are a very low calorie food with one cup of the flowers offering just five calories. They are also very low in carbohydrates and protein but do offer some calcium and iron as well as vitamins C and A.


Applications

Baby Yellow squash with blossoms can be eaten raw or cooked. Raw blossoms and the fruit of the squash can be added to salads, served within a crudite or simply eaten fresh out of hand. The most popular method to prepare the blossoms cooked is to sauté, pan or deep fry the blossom stuffed with a fresh cheese such as chevre or ricotta. The blossoms can easily be removed from the stem of the fruit, allowing for dual preparations. Both the blossoms and the fruit can be added to quesadillas, tacos, pizzas, soups, frittatas and risotto. Complimentary pairings include melting cheeses, poblano, anaheim and jalapeno chiles, corn, tomatoes, basil, stewed pork, black beans, cream, mushrooms, eggs, garlic, cilantro, pine nuts, pepitas, olive oil and light bodied vinegars. Shelf-life is very brief. Eat immediately or store in dry airtight container for one to two days.


Ethnic/Cultural Info

In Latin America squash blossoms, also known as flores de calabaza are a popular culinary item and are commonly available in the marketplace when in season. In Mexico they are traditionally used in dishes such as sopa Mexicana de flor de calabaza and flor de calabaza quesadillas. In both Mexico and Italy a classic preparation is simply stuffing with cheese and frying. As with so many culinary ingredients in Latin and Italian cuisine, the presence of squash blossoms as food evolved out of the inherent principle that all edible plant and animal parts should be used, nothing is discarded.


Geography/History

Squash dates back to pre-Columbian times and is believed to originally be native to the Americas. Columbus brought many squash varieties including yellow squash plants and seeds to Europe in the 15th century. Summer varieties of squash would quickly adapt to Italian soil, climate and palates and much of its development would take place there. Evidence of squash blossoms in the 16th century can be found in the famous painting entitled; "The Fruit Seller" by Vincenzo Campi painted in 1580. The painting depicts a female vender at the market in Italy selling various fruits and in the upper right hand corner of the painting there is a box which contains pears and squash with flower blossoms attached. Yellow squash varieties will thrive in full sun and warm weather and are prolific producers that can easily take over a garden and field. Female flowers that are plucked prior to pollination will curb production of the plant.