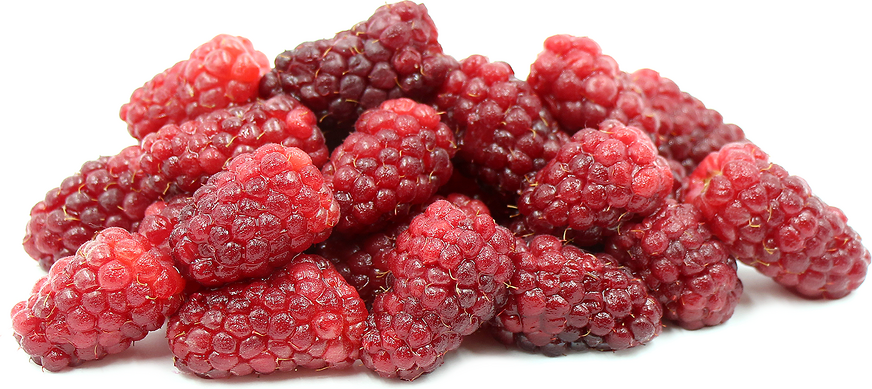 Tayberries
Inventory, bskt : 0
Description/Taste
Tayberries are an aggregate fruit like their parents the blackberry and raspberry. They are composed of tiny individual drupelets that are held together by very fine, nearly invisible hairs. Elongated with a solid core like a blackberry, but with smaller individual drupelets like the raspberry, the Tayberry is a tender and juicy fruit. They are dark magenta or maroon when ripe and offer sweet-tart raspberry notes balanced by the rich lusciousness of a blackberry. Together on the palate, the Tayberry's unique flavors combine to come across like pink lemonade mixed with cassis.
Seasons/Availability
Unlike many other berries which produce over the span of a few weeks or months Tayberries produce one large harvest a year in the mid to late summer.
Current Facts
Tayberries are a hybrid of the octoploid blackberry aurora and a tetraploid raspberry pollen parent known as 626/67. They are botanically classified as a cross of Rubus fruticosus L. and Rubus idaeus L. Since it arrived on the market a few different varieties of Tayberry have been created, the most recent developed being the buckingham in 1998 which is the first spine-free Tayberry. Very fragile upon harvest, they are never mechanically harvested and require hand-picking. They usually still have their stem intact to maintain structural integrity. They are rarely commercially grown due to their delicate nature and are an exceptional treat found for only a few short months each summer.
Nutritional Value
Tayberries are rich in bioflavonoids, vitamin C, and antioxidants. Additionally, they offer folic acid, fiber, and folate.
Applications
Sweet tart Tayberries can be eaten fresh as a snack or served alongside cheeses and charcuterie. Serve atop yogurt as a breakfast food or with cream or pannacotta as a dessert. Tayberries can be incorporated into fruit tarts, muffins, and scones. Cooked down and sweetened they can be used to make sauces, ice cream, and sorbet. Tayberries are also ideal for making berry crumble or pies. Tayberries naturally contain pectin which makes them ideal for making jams and other preserves. Macerated Tayberries can be added to cocktails or smoothies. Their complex flavor lends itself as well to fruit based liqueurs. Tayberries have a short shelf life and should be stored in the refrigerator post-harvest and used within three days. Tayberries can also be frozen and saved for up to one year.
Ethnic/Cultural Info
Tayberries were developed by renowned soft fruit breeder, Derek Jennings of Cardiff, England. At the time the original plant was created in 1969 Jennings was working at the Scottish Horticultural Research Institute. After ten years it was released and patented under the name Tayberry, named for the Tay River in Dundee where the Research Institute is located. After its release, the popularity of the berry quickly grew in Scotland, England, and even the United States. Cartoons were created that featured Jennings in a tam-o-shanter and kilt, and he was quoted in articles as having a strong Scottish accent which Jennings found amusing since he was actually from England.
Geography/History
The breeder of the Tayberry, Derek Jennings, created the berry to be, at its most basic explanation, an improved loganberry. While attending college, one of Jennings professors was Percy Thomas, who had studied the genetics of the loganberry, a berry whose parentage was of great debate for many years. Professor Thomas solved the mystery and revealed the loganberry was a natural hybrid of raspberry and blackberry and in his lectures, Jennings gleaned an understanding of berry chromosomes in breeding and their importance in creating improved hybrid varieties. After college, while studying berries in Oregon Jennings learned of the aurora blackberry. He realized it had the ideal amount of chromosomes needed to breed a new hybrid of blackberry and raspberry, an improved loganberry, and it was from this crossing that the Tayberry would eventually be born. Tayberries grow on long, often thorny canes and can reach up to seven feet long. Fruiting Tayberry plants are heavy and will benefit from the support of wires or a structure to grow upon.
Recipe Ideas
Recipes that include Tayberries. One

is easiest, three is harder.