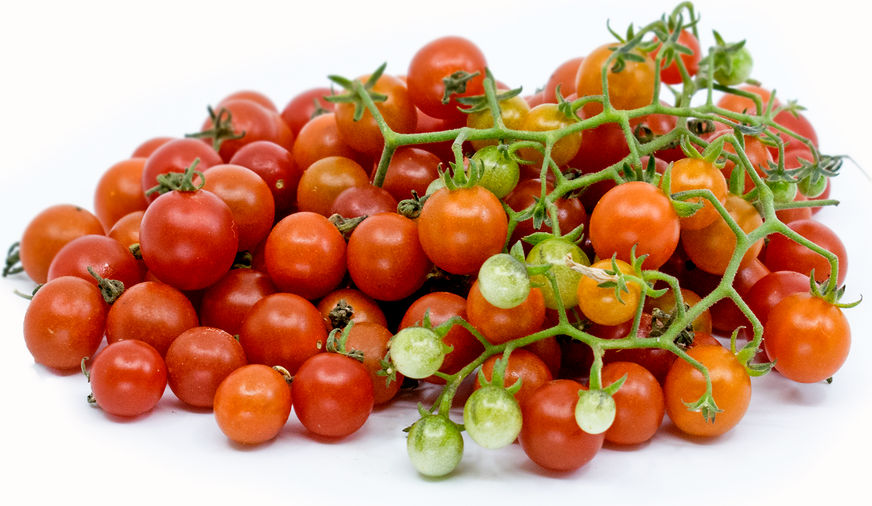 Red Currant Tomatoes
Inventory, 12 ct : 0
Description/Taste
Red Currant tomatoes are the smallest edible tomato, each fruit weighing an average of just three grams and measuring half of an inch in diameter. The round, red fruits are notable for their strong, sweet-tart flavor and firm, juicy texture. They are thin-skinned and glossy, and their flesh contains two cells that tend to be seedy, but packed with an exceptionally sweet, true tomato flavor due to their high levels of both sugar and acid when ripe. The strong, sprawling indeterminate plants are disease resistant and high yielding, producing copious amounts of the tiny fruit throughout the season. The plants have small, delicate leaves with a more acrid odor than other varieties, and the stems of the plants are petite and lanky. The miniature fruit hangs in clusters resembling red currants, hence their name. There are numerous cultivars of Currant tomatoes, both Red and Yellow types, including Sweet Pea, Sugar Plum and Hawaiian, which are considered to be among the sweetest varieties.
Seasons/Availability
Red Currant tomatoes are available during the summer.
Current Facts
Red Currant tomatoes are members of the large and diverse Solanaceae family, also known as the Nightshade family, which includes more than three thousand known species. Red Currant tomatoes are botanically named Solanum Pimpinellifolium, and they are an independent species of tomatoes, one of two edible species alongside the common tomato, Lycopersicon esculentum. Currant tomatoes have proven to be scientifically very valuable as they are closely related to one of the original wild species, which grows near the coasts of northern Peru, and their DNA has been the starting point for comparing gene evolution within the Solanaceae family. It has also provided a road map for understanding bottlenecking that has narrowed genetic diversity among tomatoes, as cultivated tomatoes carry only five percent of the genes of their wild counterparts, leaving little room for diversity among the 6,000 domesticated tomato cultivars today. Although Currant tomatoes are a different species, they will readily cross with garden tomatoes, and because of their disease resistance and their habit of producing fruit in long trusses, Currant tomatoes have been cross­bred with other tomato types to create many of the modern cherry tomato cultivars.
Nutritional Value
Red Currant tomatoes are an exceptional source of lycopene, a naturally occurring pigment that doubles as an antioxidant. Lycopene is known for its anti-cancer benefits, such as preventing, fighting and repairing cell damage in the human body. The tomato's array of nutrients and antioxidants, including the especially potent lycopene that is found in its highest concentration in tomatoes, also helps support healthy eyesight, cardiovascular health, and more.
Applications
From a culinary standpoint, Red Currant tomatoes are essentially miniature cherry tomatoes, and are treated as such in recipes. Hence, Red Currant tomatoes can serve as a substitute for cherry tomatoes. Seasonal recipes and ingredient pairings are best suited to showcase the Red Currant tomato's full flavors. Consider leaving Red Currant tomatoes whole in any application, as their attributes will be amplified. Dot Red Currant tomatoes onto appetizers, scatter onto salads, float them on tomato-based soups, or simply freeze them for a cold summer treat. Try tossing with couscous for a simple side dish, or use them to make your own sun-dried tomato raisins. With their tangy-sweet flavor, they are considered a type apt for pickling or making preserves, such as a sweet tomato relish, and they can also be used for juicing or making sauces. Like all tomato varieties, store Red Currant tomatoes at room temperature until ripe, after which refrigeration can prevent further ripening and decay.
Ethnic/Cultural Info
French explorer Aédéc Feuilléc collected one of the earliest specimens of Red Currant tomatoes to be depicted in a botanical work during an expedition to Peru in the early 1700s. Red Currant tomatoes have been seen in catalogs as early as 1859, and the Livingston Seed Company catalog simply described it as, "Smallest of all sorts," in 1918. There is considerable diversity in this group of tomatoes, made more complex by the widespread crossing of Currant tomatoes and cherry tomatoes. In fact, most Currant tomato varieties available in catalogs today are Currant tomato crosses, selections of the wild forms with improvements in fruit size or habit of growth that have been bred into them over the years.
Geography/History
The Red Currant tomato is native to the western coastal areas of Peru and Ecuador, where it grows as a sprawling weed. It is considered the closest descendent of the wild tomato, and based on genetic comparisons, the Red Currant split from the wild tomato roughly 1.4 million years ago. The Red Currant is likely the ancestor of all red-fruited tomatoes, from which an evolution in fruit size prospectively occurred early on in the domestication process. As a result, modern tomatoes can be at least one hundred times larger than their wild ancestors. The Red Currant tomato's size and region of natural habitat have remained unchanged since its discovery, and it can still be found growing wild in coastal South America, along with eleven other wild tomato species, although their populations are radically declining as natural territories are shrinking under urban development and intensive agriculture.
Recipe Ideas
Recipes that include Red Currant Tomatoes. One

is easiest, three is harder.
Podcast