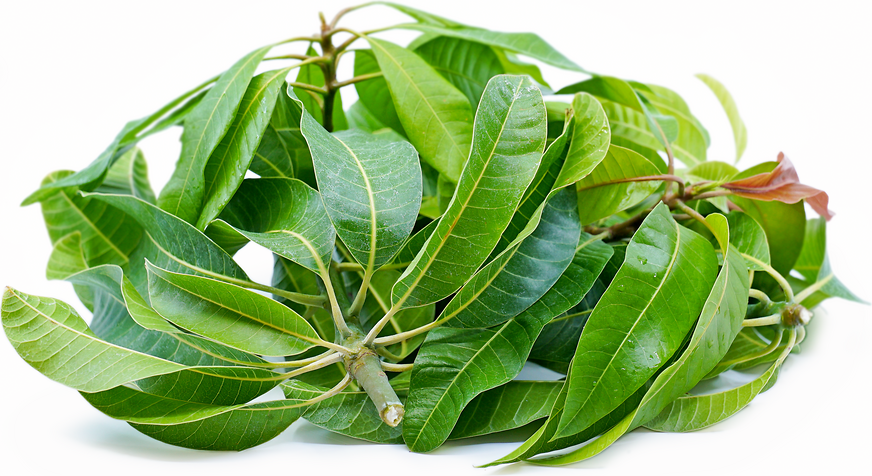 Mango Leaves
Inventory, lb : 0
Description/Taste
Mango leaves are generally harvested when young and small, around 8 centimeters in diameter and 25 centimeters in length. If left to mature on the tree, they can grow to be much larger in size. The oblong to lanceolate-shaped leaves are pointed at both ends and have a smooth and glossy appearance, showcasing light green veining. Young Mango leaves are pliable, tender, and succulent when raw, bearing variegated purple-red and green hues. Mature Mango leaves will become dark green, developing a tough and somewhat chewy consistency. Mango leaves can be consumed raw or cooked and have a fresh, vegetal, and green flavor with faint turpentine-like nuances. The leaves also emit a scent reminiscent of turpentine when crushed.
Seasons/Availability
Mango leaves are available year-round.
Current Facts
Mango leaves, botanically classified as Mangifera indica, are the foliage of an evergreen tree belonging to the Anacardiaceae family. The leaves grow on large trees that can reach 15 to 30 meters in height and thrive in tropical to subtropical regions worldwide. Mango trees are considered sacred throughout Asia, appearing in ancient religious texts, historical documents, and artwork, and the fruits are the most consumed element of the tree. While the fruits are widely known, Mango leaves are a secondary crop that has been used medicinally and in culinary preparations for thousands of years in Southeast Asia. Mango leaves are harvested when they are young and tender, favored for their high nutritional properties. The leaves are commonly incorporated as a vegetable, utilized raw, or cooked in savory preparations. They can also be dried and used as a nutritional tea and supplement.
Nutritional Value
Mango leaves are a source of vitamin C to strengthen the immune system, vitamin E to protect the cells against free radical damage, and vitamin A to maintain healthy organ functioning. The leaves also provide calcium and phosphorus to build strong bones and teeth, potassium to balance fluid levels within the body, and other nutrients, including iron, magnesium, B vitamins, and nitrogen. In addition to vitamins and minerals, Mango leaves contain antioxidants such as terpenoids and polyphenols such as mangiferin that act as an anti-inflammatory. Mango leaves have been used for thousands of years in Indian Ayurvedic medicine. The leaves may be burnt, and fumes inhaled to cure hiccups and sore throats. The ash collected from the burnt leaves is also used to cover skin wounds. The leaves are traditionally served as tea or ground into a powder for use as a supplement. Mango leaf tea can be gargled as a mouthwash, and the fresh leaves can be placed in baths to help reduce anxiety and stress.
Applications
Mango leaves have a mild, vegetal flavor suited for raw and cooked preparations. Young Mango leaves are the preferred maturity stage for culinary use as the leaves have a tender consistency. Mango leaves can be finely chopped into spreads and dips, mixed into salads, or stirred into rice. In India, young Mango leaves are sliced and mixed with aromatics into maanthalir chammanthi, a flavorful chutney. The leaves are also used in maavilai rasam, a South Indian soup. Beyond raw preparations, Mango leaves are often incorporated into curries and soups, stir-fried as a vegetable, or steamed and served as a side dish. In Burma, the leaves are cooked in curries along with aromatics such as onions and chiles. Mango leaves are also popularly used throughout Asia in tea. The leaves can be steeped fresh or dried, and the tea is often consumed as a medicinal beverage. Fresh Mango leaves can also be soaked in water overnight. In the morning, the leaves are squeezed to release their juices, and the mixture is consumed as a morning nutritional drink. When dried, Mango leaves can be ground into a powder and consumed as a supplement. Mango leaves pair well with aromatics such as shallots, ginger, garlic, chile peppers, and curry leaves, coconut, spices including turmeric, mustard seeds, asafoetida powder, and cumin, tofu, grains, and legumes. Whole, unwashed Mango leaves will keep up to one week when stored in a sealed container in the refrigerator. Some consumers wrap the leaves in newspaper and then store them in the fridge.
Ethnic/Cultural Info
Mango leaves are traditionally used in a decorative door hanging known as a torana in India. Torana means "gateway" in Sanskrit, and the dark green Mango leaves are strung along doorways, typically at the entrance of houses and buildings, believed to symbolize good luck and prosperity. Mango leaves are also associated with Buddha in Buddhism and several gods in Hinduism, with some believing the leaves embody the gods and goddesses. It is common to see Mango leaves strung up during weddings as a blessing of prosperity and fertility, and in religious ceremonies, the leaves are hung in doorways and placed on altars as a symbol of the deities. In addition to prosperity, Mango leaves are thick and sturdy when mature, allowing the leaves to last for several days. Dark green Mango leaves will continue to absorb carbon dioxide and release oxygen after harvesting, allowing the leaves to purify the air. This process is also symbolically viewed as cleansing energies, and as people walk through doorways lined with Mango leaves, their energies are cleansed, protecting households against evil.
Geography/History
Mangoes are native to Asia, specifically in regions of northeast India, Bangladesh, and Myanmar. The fruit trees have been growing wild since ancient times and were revered for their sweet fruits and edible leaves. Mango trees are considered sacred in Hinduism and Buddhism, and monks often carried the fruits as they traveled, popularizing them. Historically, Mangos were spread through humans, and many ancient Indian kings chose to plant the trees in gardens and along roadsides as a symbol of prosperity. Mango seeds were carried with travelers from Asia to the Middle East sometime after 400 CE, and the Persians brought the seeds to east Africa, where they were planted in the 10th century. Over time, Mangos were extensively cultivated and bred to create new varieties with improved flavor and texture. The fruit trees were planted in Brazil in the 16th century, spreading throughout South and Central America, and by the 19th century, they had reached parts of Mexico. During the 19th century, they were also being cultivated in the United States. Today Mango leaves are available wherever mango trees are grown. The leaves can be harvested from wild or cultivated trees and are most prevalently used in Asia, sold fresh through local markets. Some fresh and dried Mango leaves are also sold through online retailers.
Recipe Ideas
Recipes that include Mango Leaves. One

is easiest, three is harder.