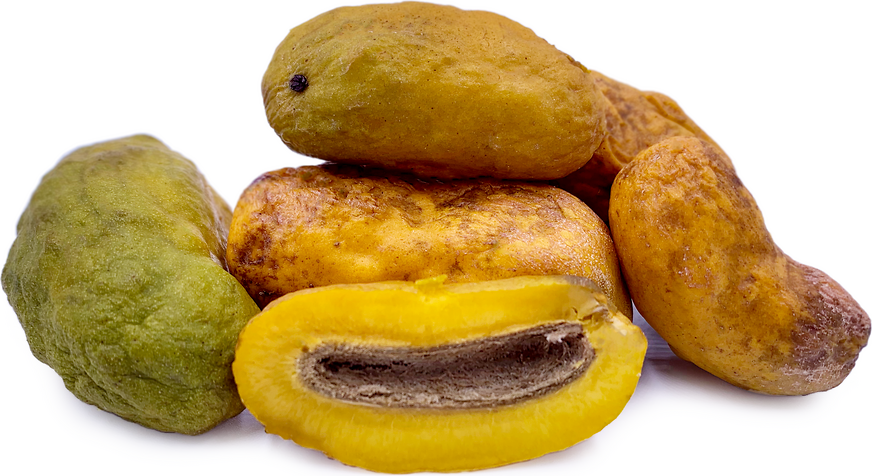 Olosapo Fruit
Inventory, lb : 0
Description/Taste

Olosapo fruits grow in dangling clusters and are generally small fruits, averaging 3 to 5 centimeters in diameter and 6 to 10 centimeters in length. The oblong, straight to slightly curved fruits have thin, wrinkled, and textured skin that ripens from green to golden, yellow-orange, or brown when mature. As the fruit ripens, the skin also develops a bumpy appearance and softens, allowing some give when pressed. Underneath the surface, the flesh is bright yellow with a soft and semi-dry, paste-like consistency, encasing an elongated and fibrous, brown seed that extends the length of the fruit. Olosapo is aromatic and has an unusual, sweet flavor likened to a mixture of sweet potato, custard, egg nog, and burnt sugar. It is important to note that Olosapo should only be eaten when it is ripe and has a soft, brightly colored appearance. Green, unripe fruits will have an unpalatable, astringent flavor and should not be consumed.


Seasons/Availability

Olosapo is available in the early fall through spring.


Current Facts

Olosapo, botanically classified as Couepia polyandra, is a rare, tropical fruit belonging to the Chrysobalanaceae family. The ancient variety has been growing wild throughout Central America for thousands of years and was once a staple source of fiber for indigenous communities. In the modern-day, Olosapo fruits are not commercially cultivated and are challenging to find in local markets. The fruits are mainly foraged from wild trees, and one tree can produce hundreds of fruits in a single season. Olosapo trees are sometimes seen in home gardens, especially in Mexico and Costa Rica, and are favored as a hardy, drought-tolerant plant. The fruits are gathered as they drop from the trees and are generally consumed fresh or blended into beverages.


Nutritional Value

Olosapo is an excellent source of fiber, which can help stimulate the digestive tract and cleanse the body. The fruits also contain some vitamin C, an antioxidant that can help strengthen the immune system, boost collagen production within the skin, and reduce inflammation.


Applications

Olosapo is best suited for fresh applications as its soft, semi-fibrous texture and sweet, custard-like flavor is showcased when consumed straight, out-of-hand. The fruit, when ripe, can be consumed with the skin on, and only the seed is discarded. The flesh can be sliced and tossed into green salads, mixed into fruit bowls, or used as a topping over baked goods. Olosapo can also be pureed into sauces, cooked into jams and jellies, blended into smoothies, or mixed into shakes, pudding, and ice cream. Olosapo pairs well with fruits such as coconut, strawberries, bananas, and blueberries, chocolate, caramel, nutmeg, and vanilla. Whole Olosapo fruits should be consumed immediately when ripe for the best quality and flavor. The fruits will also keep 1 to 3 days when stored in the refrigerator.


Ethnic/Cultural Info

In San Jose, Costa Rica, Olosapo is one of the featured ingredients used in chef Pablo Bonilla's restaurant, Sikwa. Bonilla focuses on locally sourced, rare ingredients that were once a staple food in indigenous Costa Rican cuisine. In an effort to preserve these foods, Bonilla has joined The Conversation Project, where he visits rural communities, experiences their traditional meals, and documents the recipes. The indigenous communities are losing many of their key ingredients, as the recipes are primarily passed from generation to generation through memory and oral tradition. Bonilla listens to these recipes and pieces the fragmented memories together to record and preserve the ancestral dishes. After exploring and experiencing the indigenous cuisine, Bonilla uses many of these recipes in his restaurant as a tool to educate the public on Costa Rican gastronomy. Olosapo is one of Bonilla's favorite ancient ingredients and is used in many of his desserts and purees.


Geography/History

Olosapo is native to tropical regions spanning from Southern Mexico to Costa Rica and has been growing wild since ancient times. The rare fruits have primarily remained a natural cultivar, not commercially grown for fresh market use, and are occasionally found planted in backyards as a exotic landscape tree. Olosapo has been spread across Central America through migrating peoples, and in the 1960s, seeds from the fruit were introduced into Florida and Hawaii for further study and research. Today Olosapo is challenging to find in commercial markets and is mainly harvested from wild trees found in Central America, Hawaii, Mexico, and India.