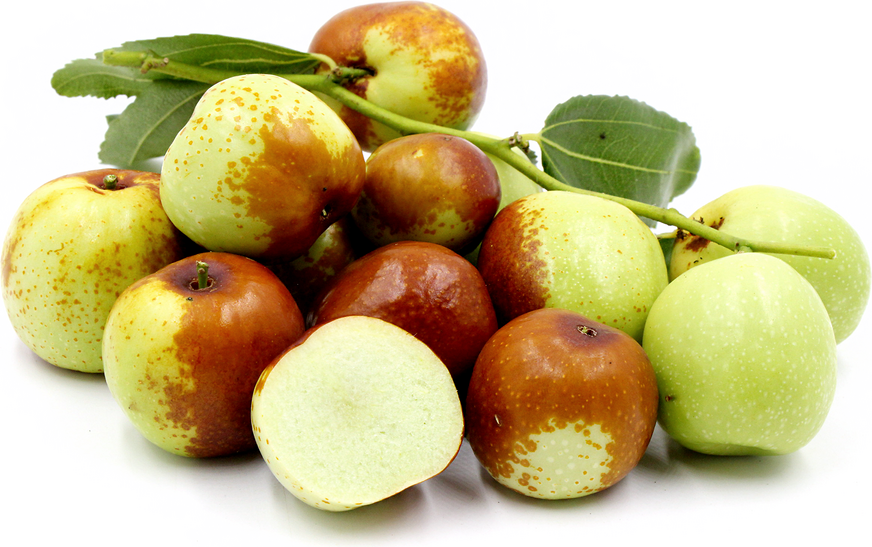 Sihong Jujube
Inventory, lb : 0
Description/Taste
Sihong jujubes are a medium to large variety, averaging 5 to 6 centimeters in diameter, and have a round to slightly lopsided, oval shape. The skin is firm, smooth, and chewy, transitioning from green when immature, to green-brown, to mahogany when ripe. Sihong jujubes can be eaten raw in their bi-colored, brown and green stage and are suitable for fresh consumption through their mahogany phase. As the fruits reach full maturity, they will also begin to wrinkle and condense, eventually resembling a dried date. Sihong jujubes are unique from other varieties as they develop small, fine wrinkles, giving the dried fruits an aesthetically pleasing appearance and texture. Underneath the surface, the flesh is thick, crisp, airy, and semi-aqueous with a snap-like quality similar to an apple. There is also a small, inedible pit found in the center of the pale green to white flesh. Sihong jujubes have high sugar content, creating a very sweet, subtly tangy flavor.
Seasons/Availability
Sihong jujubes are available in the late summer through fall.
Current Facts
Sihong jujubes, botanically classified as Ziziphus jujuba, are crisp fruits that grow on a small deciduous tree belonging to the Rhamnaceae family. The mid to late season variety is a rare cultivar primarily grown as a novel addition to edible landscapes in home gardens throughout the United States. Sihong jujubes are native to China, but the variety was introduced to the United States in the late 20th century as a multi-purpose cultivar. The jujube tree can reach up to nine meters in height and is highly valued for its ornamental nature, as the weight of the fruit on the tree gives the branches an artistic, drooping appearance. Sihong jujube trees are also highly prolific, producing round fruits that can be consumed both fresh and dried. Out of the 70 jujube cultivars found within the United States, many jujube enthusiasts consider Sihong jujubes to be one of the best varieties for fresh eating.
Nutritional Value
Sihong jujubes are an excellent source of vitamin C, an antioxidant that strengthens the immune system, reduces inflammation, and boosts collagen production in the skin. The fruits also provide potassium to regulate fluid levels within the body, fiber to stimulate digestion, and calcium and phosphorus to protect and promote bone growth. In traditional Chinese medicine, jujubes are used as a healing ingredient, primarily in teas, to soothe sore throats and reduce symptoms associated with stress.
Applications
Sihong jujubes have a very sweet flavor that is best suited for raw, cooked, and dried applications. The fresh fruits have a crisp consistency that can be consumed fresh, out-of-hand, or the fruits can be sliced, discarding the seed, and tossed into salads, blended into smoothies, or mixed into fruit bowls. Sihong jujubes can also be cooked into honey, jams, and syrups, made into a paste for fillings in cakes and pastries, candied, or incorporated into stews, porridges, and rice dishes. Beyond fresh eating, Sihong jujubes are popularly dried for extended use, developing a wrinkled surface with a chewy, sticky consistency. Dried jujubes can be sliced and eaten as a snack, steeped into boiling water to make tea, or lightly simmered into soups and sauces. The date-like fruits can also be cut and stuffed with walnuts or incorporated into baked goods such as cakes, bars, bread, and cookies. Sihong jujubes pair well with nuts such as almonds, pecans, hazelnuts, and walnuts, vanilla, maple syrup, brown sugar, chocolate, fruits such as apples, pears, and grapes, and aromatics such as coriander, green onions, garlic, and shallots. Fresh Sihong jujubes will keep 2 to 4 weeks when stored in a sealed container in the refrigerator. Dried Sihong jujubes will keep 6 to 12 months when stored in a cool place away from direct sunlight.
Ethnic/Cultural Info
Sihong jujubes are one of the 15 varieties of jujubes approved for commercial cultivation in Australia. Jujubes were first brought to Australia in the early 21st century and were introduced as a new crop for potential export. Jujubes are primarily grown in Western Australia, well-suited to the dry, arid climate, and in the present day, over 10,000 jujube trees are being grown in the region. In 2013, the Western Australia Jujube Growers Association was also established to promote jujubes for international and local markets. Australia's proximity to Asia, especially China, has increased the possibility of steady exports of the crisp fruits. Over 30 commercial growers are a part of the association, and the members aim to connect, share discoveries, and expand knowledge surrounding the cultivation of the fruits to promote increased growth. Sihong jujubes are primarily sold for fresh consumption in Western Australia at local markets, and the variety is also dried and exported on a small scale to areas of China.
Geography/History
Sihong jujubes are native to China, where they were developed and selected for their ability to be eaten fresh and dried. While the exact origins of when the variety was created in China is unknown, the cultivar was later introduced to the United States in the late 20th century by Roger Meyer, a grower located in Valley Center, California. Meyer began cultivating jujube varieties in the mid 20th century and quickly expanded his hobby into a passion, growing over 25 varieties of jujubes in his orchard. Meyers imported multiple jujube varieties from China, such as Sihong jujubes, into the United States in an effort to diversify the jujube market. Today Sihong jujubes can be found through select growers in California and are also cultivated as a specialty variety in home gardens. Outside of California, Sihong jujubes are grown in Australia and regions of East Asia.
Recipe Ideas
Recipes that include Sihong Jujube. One

is easiest, three is harder.