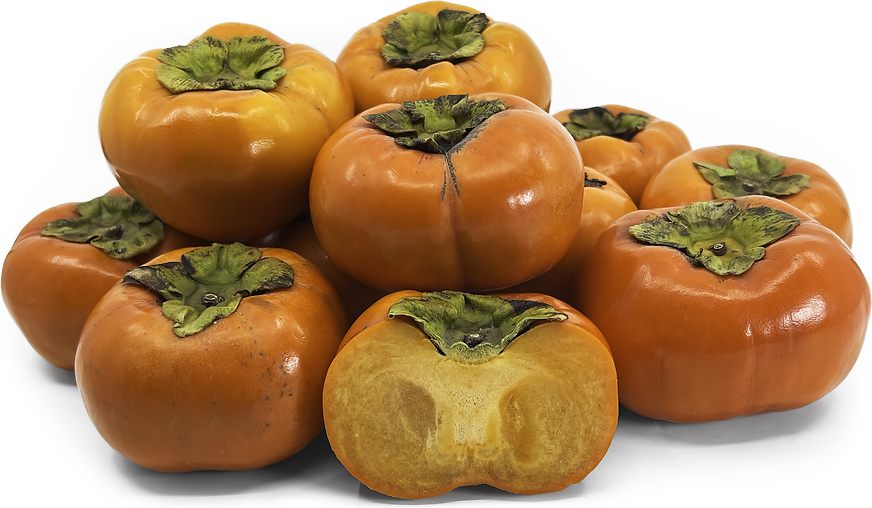 Soushu Persimmons
Inventory, lb : 0
Description/Taste

Soushu persimmons are a medium to large varietal, averaging 250 to 326 grams in weight, and have an oblate, round, to square shape with a flattened top and bottom. The fruits are topped with brown-green leafed caps, and there are no gaps between the cap and the fruit, a distinct trait of the variety. The persimmons also showcase indented lines on the shoulders, giving the fruits an irregular appearance. Soushu persimmons have semi-thick, smooth, taut, and glossy skin. The surface ripens from green to variegated shades of orange and red and occasionally has a subtly bumpy feel. Underneath the skin, the pale orange flesh is dense, soft, and aqueous with a tender, crisp, and smooth consistency. The flesh also encases 3 to 4 dark brown seeds, and some dark pigmentation may arise around the seeds. Select Soushu persimmons that feel heavy for their size, indicating a high juice content, and have a rich, vibrant coloring. Soushu persimmons can be eaten raw when ripe and have high sugar, ranging from 14 to 16 degrees Brix, giving the fruits a mild, sweet, refreshing, and sugary taste.


Seasons/Availability

Soushu persimmons are harvested in the early fall, with a peak season from mid-September through early October.


Current Facts

Soushu persimmons, botanically classified as Diospyros kaki, are a Japanese variety belonging to the Ebenaceae family. The cultivar is a very early maturing, completely sweet persimmon favored as one of the first persimmons to arrive in Japanese markets each season. The name Soushu translates from Japanese to mean "Early Autumn" and is a descriptor given to the variety for their ripening time in the fall. Soushu persimmons are non-astringent and do not need to go through a storage process to become edible. The fruits are immediately accessible for consumption once ripe and can be eaten out of hand, treasured for their juicy, sugary nature. In the modern day, Soushu persimmons are an improved cultivar with extended storage capabilities, allowing the variety to be shipped across Japan for commercial sale as a fresh eating and cooking fruit.


Nutritional Value

Soushu persimmons are a source of vitamin E to reduce inflammation, vitamin C to boost the immune system, copper to build connective tissues, and carotenoids to assist in maintaining overall health and protecting against disease. The variety, like other persimmons, also provides B vitamins to support the nervous system, potassium to balance fluid levels within the body, fiber to regulate the digestive tract, vitamin A to protect organ functioning, and other nutrients, including manganese, iron, calcium, phosphorus, and folate.


Applications

Soushu persimmons have a refreshing and sweet taste suited for raw and cooked preparations. The variety is traditionally consumed fresh when ripe and is savored for its juicy, dense nature. It is important to note that the skin is sometimes challenging to peel due to the fruit's depressions around the stem. It is recommended to slice the fruit into wedges and use a knife to assist in peeling. Soushu persimmons can be served on appetizer platters and cheese plates, cut and mixed into fruit medleys, stirred into grain bowls, or tossed into leafy green salads. They can also be blended into smoothies, fruit juices, and various cocktails. In addition to fresh preparations, Soushu persimmons are popularly simmered into jams, jellies, and sauces in Japan. The variety is also blended and frozen into sorbet, made into pudding, or incorporated into bread, pies, cobbler, and other baked goods. Soushu persimmons pair well with cheeses such as goat, burrata, feta, and mozzarella, daikon radish, beets, pears, kumquats, citrus, spices such as cloves, nutmeg, and cinnamon, brown sugar, maple syrup, and nuts including pepitas, walnuts, and almonds. Whole, unwashed Soushu persimmons will last up to twelve days when wrapped in newspaper and stored in a plastic bag in a cool, dry, and dark place. The variety will soften at room temperature in 2 to 3 days but will keep in the refrigerator's crisper drawer for extended periods.


Ethnic/Cultural Info

Persimmon trees are rumored to be inhabited by the yokai Tantan Kororin in Japan. Yokai is a term for supernatural spirits, and Tantan Kororin is a legend thought to have been first told in Sendai in the Miyagi Prefecture. Yanagita Kunio was the first folk author to record the story of Tantan Kororin in his book Yokai Dangi, and it is thought the name "kororin" is an onomatopoeia for the sound of persimmons falling and rolling around on the ground. The most prominent Tantan Kororin folktale tells of the yokai appearing from a persimmon tree at dusk in Sendai. Tantan Kororin only appears from persimmon trees that have been left unpicked, and the spirit resembles a giant monk with a round, red-orange face similar to a persimmon. Legend has it Tantan Kororin left an abandoned persimmon tree in Sendai and filled his long, flowing sleeves with the fruits. As he walked through the town, he slowly scattered the fruits to spread the seeds, eventually creating new trees. Tantan Kororin has expanded beyond the Miyagi Prefecture into other prefectures in Japan and has also been adapted as a yokai in many other stories. Some of the stories feature obscure, mature themes, and each region portrays the spirit in a distinct light.


Geography/History

Soushu persimmons are native to Japan and were developed in the Hiroshima Prefecture in the late 20th century. The variety was bred at the Akitsu Branch of the Fruit Tree Experiment Station of the Ministry of Agriculture, Forestry and Fisheries, now known as the Grape and Persimmon Research Department, and was created from a cross in 1988 between Izu persimmons and 109-27, an unnamed variety from combining Okitsu No.17 with Okitsu No. 2. In 1989, the seeds were planted in pots and the seedlings were later grafted in 1990 onto Fuyu rootstock. The new variety bore fruit in 1992, and in 1996, after trials and evaluations, the persimmons were named Kaki Akitsu No. 13. The cultivar was officially registered and commercially released in 2003, and over time, the fruits were rebranded under the name Soushu for increased consumer appeal. After their debut, Soushu persimmons were favored by growers and consumers for their completely sweet and non-astringent nature. The variety thrives in warm climates and is grown as a specialty seasonal persimmon in the Fukuoka, Gifu, and Aichi Prefectures.