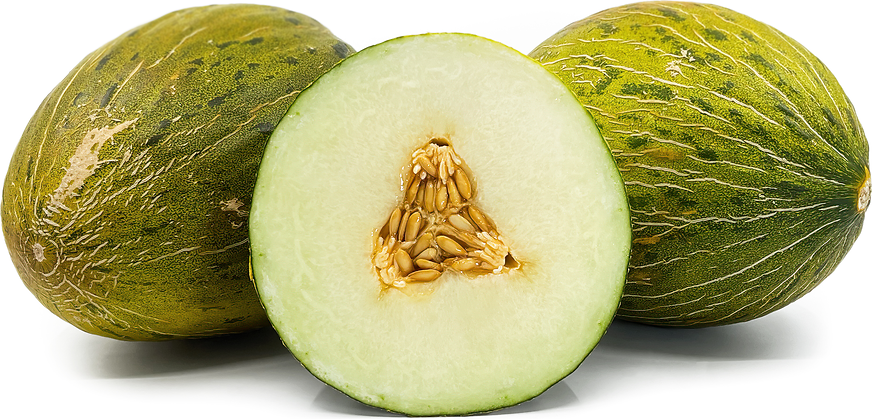 Piel de Sapo Melons
Inventory, lb : 0
Description/Taste

Piel de Sapo melons are a medium to large varietal, averaging 20 to 30 centimeters in length, and have an oval to oblong shape with a broad, curved center, tapering toward bluntly pointed ends. The melon's rind is thick, ranging from 0.6 to 0.8 centimeters, and has a hard, wrinkled, waxy, corrugated, and rough exterior covered in textured, furrowed ridges. When the melons are young, the rind features variegated pale, olive, to dark green striping, sometimes flushed with yellow accents, and as the fruit ripens, the surface transforms into a bright yellow hue. The rind is also occasionally marked with sugar scars, which appear as tan to beige cracks, indicating that the fruit has a high sugar content. Underneath the surface, the flesh ranges in color from white, yellow, to pale green and is smooth, aqueous, semi-firm, and tender with a succulent consistency. There is also a central cavity filled with many flat and oval seeds encased in stringy, moist golden fibers. Piel de Sapo melons will not emit a strong aroma when whole due to their thick rind, but once sliced, the flesh's sweet, fragrant scent will permeate the room. Select melons that feel heavy for their size, weighing between 1.8 to 4 kilograms, and bear a bright yellow-green hue. The blossom end will also yield slightly under pressure. Piel de Sapo melons have a mild, refreshing, and sweet, honeyed flavor with subtly earthy, pear, and honeydew nuances.


Seasons/Availability

Piel de Sapo melons are grown in the northern and southern hemispheres, providing year-round availability in some markets. The melons are typically harvested in the summer through fall and can be stored for several months.


Current Facts

Piel de Sapo melons, botanically classified as Cucumis melo, are a category of several varieties of muskmelons belonging to the Cucurbitaceae family. There are many cultivars of Piel de Sapo melons grown worldwide, and each variety has been created over time through breeding programs to develop improved growth characteristics. Piel de Sapo translates from Spanish to mean "the skin of a toad," and this amphibious moniker was derived from the melon's thick, rough rind. The melons are also known as Croc melons in Australia for their similarity in rind texture to crocodile skin. Piel de Sapo melons grow on trailing vines extending 2 to 3 meters in length and mature in approximately 90 to 110 days. Once ripe, the melons are harvested by hand and are often waxed and transported to markets to be sold as a delicacy. In European and American markets, Piel de Sapo melons are labeled Christmas or Santa Claus melons for their extended storage properties. Fall-harvested melons keep for a couple of months in storage, allowing them to be sold in markets during Christmastime. The melons have become a traditional element of holiday celebrations, especially in Europe, and are consumed in a wide array of sweet or savory preparations.


Nutritional Value

Piel de Sapo melons are a source of vitamin C to boost the immune system, vitamin A to maintain healthy organ functioning, and magnesium to regulate nerve functions. The melons also provide potassium to balance fluid levels within the body, phosphorus to assist the kidneys with filtering waste, calcium to build strong bones and teeth, iron to develop the protein hemoglobin for oxygen transport through the bloodstream, and other nutrients, including B vitamins, zinc, manganese, copper, vitamin E, and vitamin K.


Applications

Piel de Sapo melons have a sweet, honeyed flesh suited for fresh preparations. The melon's succulent flesh is primarily consumed straight out of hand and can be sliced into wedges or scooped with a spoon. It is important to note that the seeds should be removed from the central cavity prior to serving and discarded. The rind is also not edible and should be disposed of. In Spain, Piel de Sapo melons are commonly sprinkled with salt, pepper, cinnamon, sugar, or lime juice for added flavoring and are eaten as a snack or refreshing dessert. The flesh can be tossed into green salads, mixed into fruit medleys, or chopped into fruit salsa. Melon wedges can also be served on appetizer platters with salty cheeses, wrapped in cured meats, or pureed and frozen into popsicles, sorbet, and fruit ice. In addition to raw culinary dishes, Piel de Sapo melons can be blended into smoothies and fruit juices or chunks of the flesh are floated in sangria. Try incorporating Piel de Sapo melons into gazpacho or using fresh over pancakes and parfaits. The melons can also be simmered into syrups, jams, and sauces or used as a topping on cakes and baked goods. Beyond fresh preparations, Piel de Sapo melons can be dried into thick strips, chopped, and steeped into tea. Piel de Sapo melons pair well with nuts and seeds such as pepitas, almonds, and walnuts, honey, cheeses including feta, goat, and brie, tomatoes, cucumbers, and herbs such as parsley, cilantro, basil, and mint. Whole, unopened Piel de Sapo melons will keep for 2 to 3 months when stored in a cool, dry, and dark location. Once opened, the flesh will keep for 3 to 5 days when stored in a sealed container in the refrigerator.


Ethnic/Cultural Info

In the Torre-Pacheco municipality in the region of Murcia in southeastern Spain, Piel de Sapo melons are annually celebrated at the Fiestas del Melon. The festival was established in 1969 and spans over one week, promoting various types of melons grown in the Torre-Pacheco region. Piel de Sapo melons grown in Torre-Pacheco have received a Protected Geographical Indication or PGI, signaling that the melons are produced with a level of exceptional quality. Other regions of Murcia also cultivate the melons, and each year, growers and melon enthusiasts gather in Torre-Pacheco to honor the cash crop. Historically, Spanish growers planted the melons as a personal food source, but in the early 20th century, melon production expanded from personal farms into commercial operations. The Fiestas del Melon is traditionally held in June or July, and the celebration features melon-centric food, contests, folklore, live entertainment, and dancing. The festival also hosts a melon photography competition, where melons, including Piel de Sapo, must be the star of the photograph.


Geography/History

Piel de Sapo melons are native to Spain and are descendants of ancient melon varieties thought to have been first introduced into the country during the Roman rule of the Iberian Peninsula. Historians believe melons were carried into Spain as early as 300 BCE through Cartago Nova, a region now known as Cartagena on the southern Iberian Peninsula, and were prevalent in horticultural manuals written by the Romans. Melons were also brought to Spain by the Arabs and were listed in several documents written by Arab botanist and agronomist Ibn Bassal. After their introduction into Spain, melons were extensively cultivated and bred to produce new varieties with improved flavor and texture. Historically, it was common for melon enthusiasts throughout Spain to use the phrase "he who fills his stomach with melons will be filled with light," and melons became a prevalent crop grown for fresh eating. Melon production is still high in the present day throughout Spain, and Piel de Sapo melons are one of the most commercially produced melons. Today, Piel de Sapo melons are primarily grown in the Murcia, Castilla la Mancha, and Almeria regions of Spain. The melons are also produced in Senegal, Costa Rica, and Brazil, exported to Europe for commercial sale, grown year-round in Australia, and cultivated in Arizona and California in the United States.