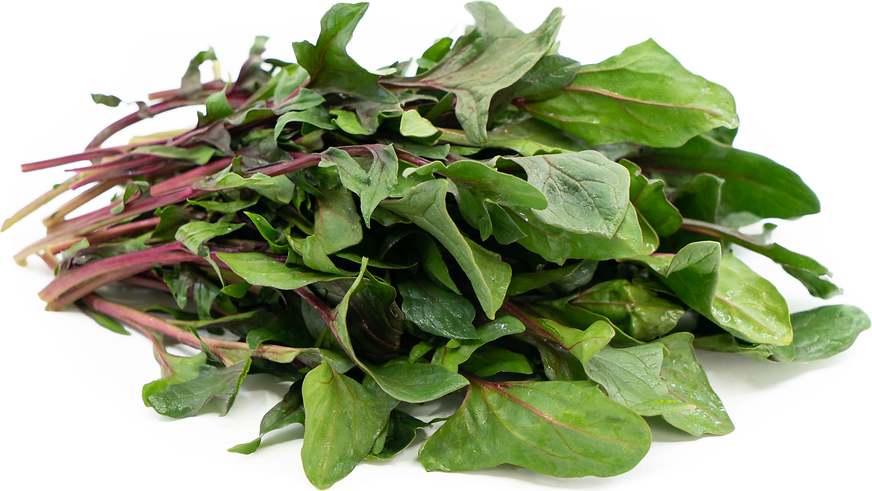 Red Snapper Spinach
Inventory, bunch : 0
Description/Taste

Red Snapper spinach is comprised of low-growing, semi-upright leaves that form in a loose rosette-like shape. The leaves can be harvested at multiple stages of maturity, and each leaf has a narrow, deeply lobed appearance. The lobes are irregular in size and shape, giving the leaves a slightly jagged nature. Red Snapper spinach somewhat resembles arugula leaves and can be harvested in their baby greens stage, reaching 7 to 10 centimeters in length. The leaves can also be left to grow full size, developing a flat and broad leaf shape. Red Snapper spinach has dark green leaves and burgundy stems transitioning into dark red veining throughout the leaves. The central midrib is raised on the underside of the leaf, and the leaves have a crisp, succulent, and tender consistency. Red Snapper spinach has a subtly sweet, earthy, and vegetal flavor combined with tangy mineral and green nuances.


Seasons/Availability

Red Snapper spinach is available in the fall through early spring. In some climates, the variety can be grown year-round in open fields and greenhouses.


Current Facts

Red Snapper spinach, botanically classified as Spinacia oleracea, is a specialty variety belonging to the Amaranthaceae family. The cultivar is a hybrid F1 variety belonging to the flat-leaf spinach group, developing a low-growing plant 12 to 26 centimeters in height. It takes approximately 28 days for Red Snapper spinach to mature, and growers favor the variety for its easy cultivation, fast-growing leaves, and disease resistance. In some regions, Red Snapper spinach can be harvested multiple times throughout the season, thriving as a cut and come again variety. Red Snapper spinach is not a typical commercial cultivar, and the variety is primarily localized to home gardeners and specialty growers. The cool-season spinach can be harvested in baby and full-grown stages, and the colorful greens are typically sold fresh in bunches. Red Snapper spinach is utilized for its unique appearance as much as its mineral, earthy taste and is commonly used in fresh or cooked preparations.


Nutritional Value

Red Snapper spinach is a source of fiber to regulate the digestive tract, vitamin C to strengthen the immune system while reducing inflammation, and vitamin K to assist in faster wound healing. The leaves also provide vitamin A to maintain healthy organs, calcium and phosphorus to build strong bones and teeth, magnesium to control nerve and muscle functioning, iron to develop the protein hemoglobin for oxygen transport through the bloodstream, and other nutrients, including folate, manganese, potassium, copper, and zinc. Spinach is valued for containing anti-inflammatory properties and antioxidants to protect the cells against the damage caused by free radicals.


Applications

Red Snapper spinach has an earthy, mineral-forward flavor suited for fresh and cooked preparations. The greens are typically consumed in their baby greens stage, mixed into salads, used as a bed of greens under roasted meats, layered into sandwiches and placed on burgers, or mixed into grain bowls. Red Snapper spinach can also be incorporated into recipes in its mature state, lightly torn for salads, shredded over tacos, or stirred into rice and noodle dishes. It is important to note that Red Snapper spinach does lose some of its pigment when cooked for extended periods, and the mature leaves are popularly braised, steamed, braised, or baked. The greens can be cooked into tomato-based sauces and broths, sauteed in brown butter, gently wilted and used as a bed of greens for seafood, stirred into soups and curries, or added at the end of stir-fries. Red Snapper spinach can also be incorporated into frittatas, quiches, omelets, or eggs benedict, cooked into souffles, made into a pesto, or wilted and tossed into pasta. Red Snapper spinach can be used in any recipe calling for spinach. Red Snapper spinach pairs well with aromatics such as ginger, garlic, chiles, and shallots, tomatoes, bell peppers, broccoli, legumes, cheeses including feta, parmesan, mozzarella, goat, and cheddar, and meats such as lamb, turkey, beef, pork, and poultry. Whole, unwashed Red Snapper spinach will keep up to five days when stored loosely in a plastic bag in the refrigerator's crisper drawer.


Ethnic/Cultural Info

California is the largest spinach producer in the United States and accounts for around 65% of the fresh varieties found in American markets. The leafy cultivars can be grown almost year-round and are found in the desert, central valley, and coastal regions. During the 20th century, spinach was selectively bred and hybridized in California to develop cultivars better suited for home gardens and commercial production. Around the same time, spinach was being widely promoted through the 1930s cartoon character Popeye. The American cartoon strip was first published in 1929, and about ten years after the first cartoon's initial release, it featured a spinach-loving sailor known as Popeye. Popeye quickly became the central character of the cartoon strip and was later made into a television short. It has been reported that the cartoon helped increase the consumption of spinach throughout the United States by 33%. It is unknown why author Elzie Crisler Segar chose spinach as the protagonist's main food of choice, but there are rumors that Segar wanted to encourage kids to eat foods with a higher vitamin and mineral content. This was especially important as the cartoon and television short were published and aired during the Great Depression, a time that was historically known for malnutrition.


Geography/History

Red Snapper spinach is a descendant of spinach varieties native to ancient Persia, now modern-day Iran. Domesticated spinach was thought to have developed through selective breeding of wild, leafy greens, but much of the history of spinach is unknown. Over time, spinach was spread to neighboring countries around Persia, traveling through India, and was introduced into Nepal and China sometime before 647 CE. Spinach was also brought to Italy around 827 CE through the Arabs, and by the 10th century, the plant was found throughout the Mediterranean. In the 13th through 16th centuries, spinach was extensively cultivated throughout Europe, creating new domesticated varieties, including red-veined spinach varieties. Red spinach was carried to the New World and was planted in home gardens in the United States throughout the 19th century. In the 20th century, American breeders began hybridizing varieties to create improved cultivars such as Red Snapper spinach. While the exact origins of Red Snapper spinach are unknown, the variety is found through online seed catalogs for home garden use in the United States and Europe and can also be found at local farmer's markets.