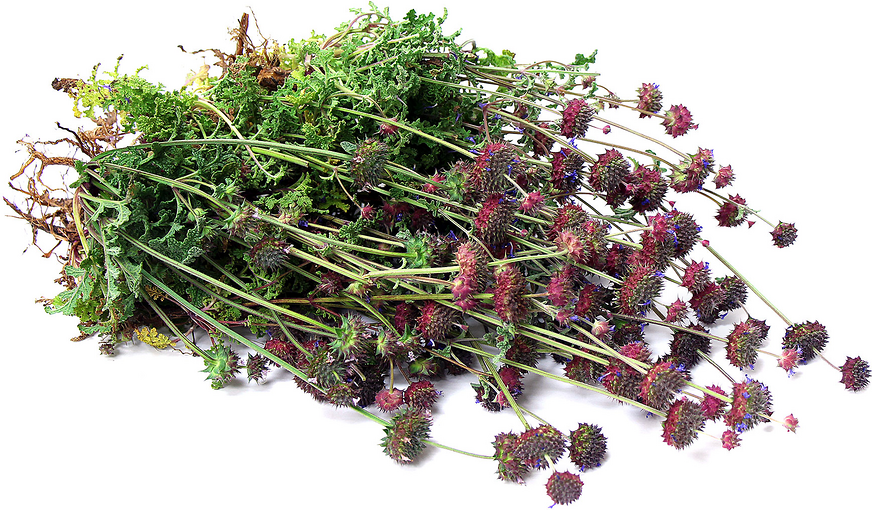 Chia
Inventory, lb : 0
Description/Taste
Chia plants are comprised of several upright, fibrous stems that sprout from a base of green, deeply lobed leaves. The small, textured leaves are generally covered in a layer of fine gray hairs, depending on the variety, and at the top of the stems, there are clusters of purple, white, to blue flowers surrounded by maroon, spiny bracts. Each flower will produce 1 to 13 tiny seeds, averaging 1 to 2 millimeters in length, and the seeds range from cream-colored, tan, light brown, to grey. The seeds can be extracted from the flowers as they begin to dry, and once harvested, they can be consumed raw or hydrated for culinary use. Chia seeds have a crunchy texture when raw, but when soaked in a liquid, the seeds develop a slippery, gel-like exterior coating. The seeds contain a very neutral flavor with subtle nutty, savory, and herbal nuances.
Seasons/Availability
Chia plants bloom in the late spring to early summer and are cultivated worldwide, providing Chia seeds year-round.
Current Facts
Chia is an herbaceous plant harvested for its edible seeds belonging to Lamiaceae or the mint family. The wild plants have been cultivated throughout the Americas for thousands of years, and the seeds have traditionally been consumed for their high nutritional properties and energizing nature. There are two main species of plants generally labeled as Chia. Salvia hispanica is grown throughout Central and South America, while Salvia columbariae, sometimes known as Golden Chia, is found in the Southern United States, Mexico, and Baja California. Both species are used for their edible, hydrophilic seeds. Chia seeds can absorb up to 12 times their weight in liquid, creating a crunchy, thick, and mucilaginous consistency. The seeds have been valued as a source of energy since ancient times, and in the modern-day, they have become marketed as a superfood.
Nutritional Value
Chia seeds are an excellent source of fiber to stimulate the digestive tract, calcium to strengthen bones and teeth, and omega-3 fatty acids, including alpha-linolenic acid, to regulate healthy heart rhythms. The seeds are also a good source of antioxidants, zinc, iron, vitamin C, and magnesium. In pre-Columbian indigenous cultures, Chia seeds were used to reduce inflammation, remove eye irritants, and cleanse the digestive tract. The seeds were also seen as a powerful source of energy. Among the Diegueño tribe in Baja California and Southern California, Chia seeds were believed to supply 24 hours of energy, providing stamina to long-distance runners, messengers, and warriors.
Applications
Chia seeds are a versatile ingredient well-suited for fresh preparations, and the seed is easily digested, allowing it to be consumed whole. The seeds can be eaten raw, mixed into yogurt, fruit bowls, salads, and dips, or they can be soaked in water to hydrate. Chia seeds expand and have the ability to absorb 10 to 12 times their weight in water. Once hydrated, the seeds develop a slippery coating, creating a thick, gel-like texture. Soaked Chia seeds can be consumed as a snack with fruit, blended into smoothies, mixed into sauces, or stirred into water as a health drink. In addition to immersing the seeds in water, dried Chia seeds can be toasted, ground, and incorporated into baked applications, energy bars, tortillas, pancakes, or porridges. In Mexico, Chia seeds are combined with flavored water or fruit juice and consumed as a refreshing beverage known as Chia fresco. Chia seeds were also once used by the Tarahumara people of Mexico and were popularly made into pinole, a mixture of ground roasted corn, water, chia seeds, and spices. The ingredients were traditionally blended and made into a drink or formed into portable patties to bring on journeys. Beyond consuming the seeds, Chia seeds can be watered, and the sprouts can be consumed as a fresh green, containing a subtly nutty taste. Chia seeds pair well with fruits such as bananas, coconut, oranges, strawberries, blueberries, and stone fruit, maple syrup, honey, chocolate, vanilla, and cinnamon. Chia seeds will keep 2 to 4 years stored in a sealed container in a cool, dry, and dark place. The seeds can also be stored in the refrigerator.
Ethnic/Cultural Info
In the United States, Chia seeds did not become touted as a superfood until the late 20th century, but the seeds did have a surprising role in a 1980s commercial product. The ancient seeds were famously used in Chia Pets, which were clay figurines that were sold as novelty items in the shapes of celebrities and animals. Chia seeds were coated over the Chia Pet, watered, and allowed to sprout, simulating fur and hair on the figurines. Chia Pets were first marketed in the fall of 1981, and as of 2019, over 15 million have been sold. The commercial novelty was so popular among American consumers that Chia Pets were also included in the New York Times Capsule in 2000, which has been buried and sealed to be reopened in the year 3000.
Geography/History
Chia plants are native to the Americas and have been growing wild since ancient times. There are two main species of Chia, Salvia hispanica, primarily localized to Mexico, Guatemala, and regions of South America, and Salvia columbariae, native to the Southwestern United States, Mexico, and Baja California. Chia seeds were utilized by Aztec, Mayan, and other pre-Columbian civilizations in medicinal, culinary, and spiritual practices. The seeds were a significant nutritional source and were often consumed by warriors for strength and endurance. When the Spanish arrived in the 15th and 16th centuries, Chia plants were banned from cultivation among the indigenous peoples due to their spiritual, ceremonial use. The remaining Chia plants survived through home gardens and select wild populations, especially in Mexico, growing naturally in woodlands, plains, hillsides, and dry land. In the late 20th century, Chia seeds remerged as a potential, plant-based source of protein. Scientists worldwide began studying nutritionally dense seeds and determined them to be a protein source for vegetarians and vegans. Companies quickly began promoting the seeds as an ancient superfood, and in the modern-day, Chia seeds have become widely used in the health food sector. Today Chia seeds are cultivated commercially throughout the Southwestern United States, Mexico, Central and South America, and Australia. The seeds can be found through supermarkets, health food stores, local markets, specialty distributors, and online retailers.
Recipe Ideas
Recipes that include Chia. One

is easiest, three is harder.
the other 12...