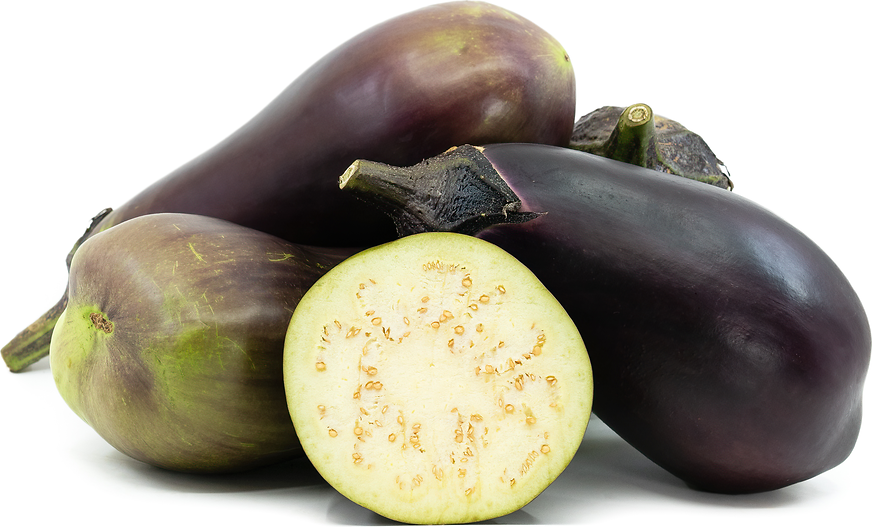 Tengu Eggplants
Inventory, lb : 0
Description/Taste

Tengu eggplants are a large varietal, averaging 20 to 30 centimeters in length and 10 to 13 centimeters in diameter, and have an elongated, oval to egg-like shape with a bulbous, curved base tapering to a smaller, rounded neck. The variety typically weighs 400 to 800 grams and is capped with a dark purple-green, fibrous calyx bearing a rough, textured consistency. The calyx is sometimes covered in a few pointed spines, and the firmer and sharper the spines, the fresher the eggplant. The variety's skin ranges in color from a saturated, dark purple to a variegated blend of purple-green hues, and the surface is smooth and taut with a faint sheen. One critical characteristic consumers look for in Tengu eggplants is white skin underneath the calyx. This coloring showcases that the eggplant grew overnight and was picked early in the morning before being exposed to sunlight. Consumers view this as a mark of quality and freshness. Underneath the thin skin, the ivory to cream-colored flesh is dense, spongy, and thick, peppered with many tiny, light brown seeds. The flesh develops a soft, tender, succulent, and melting texture when cooked. Tengu eggplants should feel heavy for their size and must be cooked before they are edible. The variety is known for its high sugar content, creating a sweet, mild, and rich, umami-filled taste. Cooked eggplant also absorbs accompanying flavors, becoming a versatile ingredient in culinary preparations.


Seasons/Availability

Tengu eggplants are available in the summer through early fall, with a peak season from July through mid-October.


Current Facts

Tengu eggplants, botanically classified as Solanum melongena, are a rare variety belonging to the Solanaceae or nightshade family. The large cultivar is native to Japan and was initially grown in home gardens for personal use, but over time, producers began selling the eggplant in local markets for its sweet taste, melting texture, and ease of preparation. Tengu eggplants are synonymous with the Aichi Prefecture, a region on Japan's main island of Honshu, and the variety was officially recognized as a traditional vegetable of the prefecture in the early 21st century. Tengu eggplants have been commercially cultivated since the 20th century and are considered a rare delicacy. Within Aichi, Tengu eggplants are nicknamed the "big toro of eggplant" or the "big tuna of eggplant," a reference to a specific portion of tuna fish used for sushi and sashimi. This nickname was given for the eggplant's soft, melting texture when cooked, a consistency also valued and found in toro. In the modern day, Tengu eggplants have decreased in production as fewer growers are cultivating the variety, but there is an Okumikawa Tengu Eggplant Preservation Society in Aichi that is working to protect and preserve the cultivar for future generations. Tengu eggplants are a seasonal culinary ingredient valued among select home gardeners, restaurants, and eggplant enthusiasts.


Nutritional Value

Tengu eggplants have not been studied for their nutritional properties. Like other eggplants, the variety is a source of fiber to stimulate the digestive tract, magnesium to regulate optimal nerve functioning, and potassium to balance fluid levels within the body. The eggplants also provide vitamin K to assist in healing wounds, copper to develop connective tissues, and other nutrients, including folate, phosphorus, niacin, manganese, and thiamine. The eggplant's dark purple flesh indicates the presence of anthocyanins, natural pigments within the skin with antioxidant-like properties to protect the cells against the damage caused by free radicals.


Applications

Tengu eggplants have a mild, sweet, and neutral flavor suited for cooked preparations. The variety lacks the bitter qualities commonly associated with eggplant, and the eggplants have thin skin, allowing them to be cooked quickly. Tengu eggplants are popularly grilled whole and then peeled. Once cooked, the peeled flesh is served with ginger soy sauce. Tengu eggplants can also be halved, stuffed with meat and aromatics, and baked, fried into tempura, or simmered in soups such as miso to develop a tender taste. Try steaming or stir-frying Tengu eggplants for a soft, melting consistency. It is also important to note that, like other eggplants, the flesh may oxidize and discolor if left to prolonged exposure. It is recommended to immediately cook the eggplant after opening to prevent discoloration. Tengu eggplants can also be added to curries, cooked in tomato-based sauces, or pickled as a tangy ingredient. In Japan, Tengu eggplants can be used in any recipe calling for eggplants, such as donburi, nasu agebitashi, stuffed dumplings, or other rice-based dishes. Tengu eggplants pair well with shiso leaf, sansho pepper, garlic, ginger, soy sauce, mirin, sesame oil, carrots, onions, and bell peppers. Whole, unwashed Tengu eggplants can be stored in a cool, dark, and calm place for a few days. Once cooked, the flesh is stored in the refrigerator in a sealed container for up to one week.


Ethnic/Cultural Info

Tengu eggplants are named after an ancient Japanese legend. In the Okumikawa region of the Aichi Prefecture, Tengus were supernatural creatures that resided in the mountains and had large, elongated noses that protruded from the face. These noses represented the creature's arrogance and haughty attitude, and Tengus were also portrayed as having red faces and magical powers that were used for good and evil. There are many different versions of Tengus recorded throughout history, with some versions mentioning that Tengus sometimes had wings and flew like birds of prey looking to abduct children and Buddhist priests. The story of Tengus dates back to the 7th century, and the creature's long nose descriptor appeared sometime during the Edo period, from 1603 to 1867 CE. Tengu eggplants earned their folkloric name for a deformity that occasionally occurs on the eggplants. Approximately five percent of the eggplants develop a nose-like protuberance during cultivation. This deformity led the eggplant to resemble the face of Tengu, and local growers in the Aichi Prefecture used the familiar legend to name the eggplant. In most markets in the modern day, Tengu eggplants will not feature the nose-like protrusion, but some growers will still send the peculiar-shaped eggplants to market. The Tengu legend has also spurred a common phrase in Japanese. When someone experiences increased popularity and develops arrogance, it is said that "He/She has turned into a real Tengu recently," meaning their conceitedness resembles the mythical character's personality.


Geography/History

Tengu eggplants are native to Japan and have been cultivated for commercial markets since the early Showa period, spanning from 1926 to 1989 CE. The variety was initially planted in home gardens in the Aichi Prefecture for personal use, but over time, its popularity spread, and growers began commercial cultivation. After their widespread release, Tengu eggplants were a specialty crop of the Aichi Prefecture and were sold across Japan for their large size, sweet taste, and thin skin. Restaurants and home chefs utilized the variety for several decades, but over time, the eggplant began to fade from commercial production. In the 21st century, Tengu eggplants were a rare variety and were only being grown on a small scale. In 2007, Tengu eggplants were officially recognized as a traditional vegetable of the Aichi Prefecture in an effort to promote and preserve the variety. Today Tengu eggplants are primarily produced in Shira-cho, Kitashitara-gun, Toyone-mura, and Toei-cho of the Aichi Prefecture. When in season, the eggplants are cultivated by a few growers and are sold locally throughout the Aichi Prefecture in markets or shipped to select retailers throughout Japan. The Tengu eggplants featured in the photograph above were sourced from Isetan Shinjuku in Tokyo, Japan.