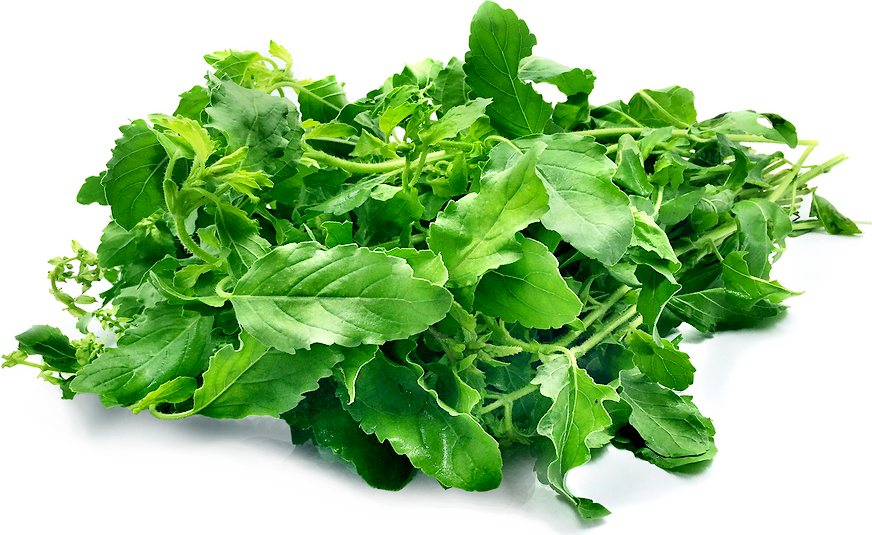 Clove Basil
Inventory, bunch : 0
Description/Taste
Clove basil is larger than common basil varieties, growing in a shrub-like habit up to three meters tall, sometimes higher. Its woody, dark green to purple stem sprouts large, elliptical, slightly hairy, lime-green leaves with serrated edges that grow up to 10 centimeters in length. Clove basil is highly aromatic, offering a clove-like scent with a hint of thyme and cinnamon. When the plant matures, it produces edible, though somewhat bitter, delicate white flowers. The leaves, by contrast, offer a sweet yet spicy, clove-like flavor.
Seasons/Availability
Clove basil is available year-round, with a peak season in the summer.
Current Facts
Clove basil is an herb botanically classified as Ocimum gratissimum in the Lamiaceae, or mint family, and may also be called African basil, Himalayan basil, East Indian basil, or Tree basil, a reference to its unusually large size. Basil cultivars are often grouped under three major categories: Thai, sweet, or holy basil, natively known as tulsi. Clove basil is also known as Vana tulsi, and is considered one of three main varieties of holy basil, even though it is a different species—the other two holy basil varieties, Krishna and Rama tulsi, are botanically classified as Ocimum tenuiflorum. Holy basil has longstanding value in Ayurvedic medicine, and to this day, it remains one of India's most cherished sacred plants.
Nutritional Value
Clove basil is a good source of vitamins A and C, calcium, zinc, and iron. It is recognized as an adaptogen, a natural substance that can help the body manage stress, and is also said to have strong antibacterial, antifungal, and antioxidant properties. Thanks to its nutritional makeup, Clove basil has historically been used in natural treatments for digestive issues, headaches, congestion, and the flu. Clove basil is well known for its essential oils, notably eugenol and thymol, which give the plant its clove-like fragrance with a touch of thyme. These oils have historically been used in traditional medicine to soothe skin irritants and sore throats or toothaches and can now be found in everyday products like mouthwash, toothpaste, and soaps.
Applications
Clove basil is best used fresh, although the leaves are commonly used both fresh or dried to make a stress-relieving tea. The intense, clove-like flavor pairs well with meats and vegetables and is a suitable substitute for thyme in poultry dishes. The sweet-spicy taste is a great addition to soups, stews, or sauces and can even be used in salads. It is best to tear Clove basil leaves as they will bruise and darken when cut with a knife. Basil is typically added toward the end of cooking as it generally loses its aroma with prolonged heat exposure. Outside the kitchen, Clove basil is known as a natural insect repellent, and its leaves can be crushed or burned to repel mosquitoes, while pots of the plant can be placed around the house to keep flies at bay. Store fresh Clove basil in a glass of water at room temperature, or wrap in a paper cloth and store in a bag in the refrigerator for a week or two. To prolong its use, you can either dry the leaves or blanch, then freeze torn pieces of leaves in an ice tray with olive oil, where it will last for a couple of months.
Ethnic/Cultural Info
Holy basil, natively known as tulsi, has been revered in India for thousands of years as a pillar of the holistic herbal medicine of Ayurveda. According to ancient Ayurvedic texts, holy basil is the incarnation of a goddess in plant form, hence it is often called "The Queen of Herbs" or "The Mother Medicine of Nature." Clove basil, known in India as Vana tulsi, has traditionally been used to make healing oils, poultices, or teas that rejuvenate the body and alleviate stress. It is also widely used in religious ceremonies and rituals and is commonly grown and displayed on altars in traditional Hindu homes.
Geography/History
Clove basil is believed to have originated in tropical Africa but is also native to India and Southeast Asia, where it has a history of cultivation dating back thousands of years. It has since naturalized in other tropical and subtropical parts of the world, including parts of China, South America, Australia, and New Zealand, and is even considered an invasive weed on several Caribbean and Pacific Islands like Hawaii, where it is known as Wild basil. While it grows as a perennial in its native warmer climates, Clove basil is produced annually in most of the United States. It can be grown in home gardens or found at specialty stores or markets.
Recipe Ideas
Recipes that include Clove Basil. One

is easiest, three is harder.