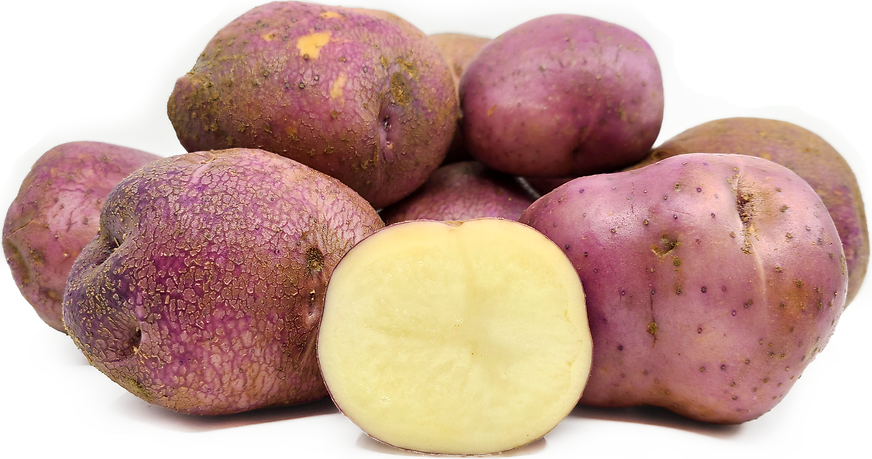 Victory Arran Potatoes
Inventory, 1 Lb : 0
Description/Taste
Arran Victory potatoes range in size from small to large, depending on soil and growing conditions, and generally average 5 to 8 centimeters in diameter with an oval to round shape. The potato's surface is covered in a few medium to deep-set eyes, giving the tuber a slightly bumpy appearance, and the skin is thin and smooth. Arran Victory potatoes are recognized for their vibrant, brightly colored, and marbled violet, dark purple, to light purple hues. Underneath the colorful surface, the white flesh is dense, dry, and firm. Arran Victory potatoes have a high starch content, and when heated, the starches cause the cells within the flesh to absorb moisture, creating a fluffy, granular, tender, and velvety texture. The purple hues within the skin will transition into yellow tones with cooking, and the flesh contains a rich, earthy, and nutty flavor. The potato's flavor notes will also vary, depending on the terroir and type of soil.
Seasons/Availability
Arran Victory potatoes are available in the late summer through winter. The harvest date will fluctuate, depending on climate, time or sowing, and the region of the United Kingdom the variety is grown in.
Current Facts
Arran Victory potatoes, botanically classified as Solanum tuberosum, are a Scottish variety belonging to the Solanaceae or nightshade family. The heritage potatoes were developed in the early 20th century and are highly valued for their brightly colored appearance and fluffy consistency when cooked. Arran Victory potatoes belong to a grouping of varieties developed throughout the 20th century on the Isle of Arran in Scotland. There are over twenty-two varieties of potatoes that bear the Arran name, each with a second descriptor in their title to distinguish cultivars. Arran Victory potatoes are a hardy variety resistant to disease, producing reliable yields, and are among the few types to bear an unusual violet skin tone with white flesh. In the modern-day, Arran Victory potatoes are a rare variety only grown through a few specialty farms. The tubers were once a popular cultivar, but as consumer demand changed over time to favor neutral-colored potatoes, Arran Victory potatoes were slowly phased out from commercial production. Despite its rarity, Arran Victory potatoes are seeing a slight resurgence among growers as potato enthusiasts and chefs are searching for well-flavored heirloom varieties.
Nutritional Value
Arran Victory potatoes are a source of fiber to regulate the digestive tract and vitamin C to strengthen the immune system and reduce inflammation. The potatoes also contain iron to develop the protein hemoglobin for oxygen transport through the bloodstream, potassium to balance fluid levels within the body, magnesium to regulate nerve functioning, and other amounts of phosphorus, folate, and B vitamins.
Applications
Arran Victory potatoes have a high starch content, creating a fluffy consistency well suited for mashing, baking, and roasting. It is important to note that the striking violet skin coloring will be lost in the cooking process, and the potatoes will transition into a yellow hue, but the potato's earthy and nutty flavoring will remain intact. Arran Victory potatoes can be roasted and served as an accompaniment to meat and vegetable dishes, or mashed, mixed with cabbage and onions, covered in cheese, and baked in the traditional Scottish casserole rumbleduthumps. Mashed Arran Victory potatoes can also be used in mince and tatties, also known as ground beef and potatoes, or they can be served with breakfast egg dishes, used to make gnocchi, baked into potato scones, or cooked into chips and wedges. The fluffy nature of Arran Victory potatoes may cause the tubers to fall apart if heavily boiled, but the tubers can be steamed as an alternative for making savory casseroles, pies, and stews. In Scotland, Arran Victory potatoes are sometimes mashed and served with haggis, the country's national dish. On January 25th, haggis is traditionally consumed during the celebration of Burns Night, an event to commemorate the famous poet Robert Burns. When haggis is presented during the meal, all the guests stand, and the poem "Address to a Haggis," written by Burns, is recited. The mashed potatoes provide an earthy richness to complement the savory, hearty flavors in haggis. Arran Victory potatoes pair well with herbs such as parsley, rosemary, oregano, and thyme, aromatics including garlic, onions, and shallots, meats such as turkey, roast beef, pork, and poultry, spinach, cabbage, carrots, green beans, and zucchini. Whole, unwashed Arran Victory potatoes will keep for several weeks when stored in a cool, dark, and dry, frost-free location.
Ethnic/Cultural Info
Arran Victory potatoes were named in honor of the Isle of Arran and World War I. The variety was released to the public in 1918, the same year as the end of the war, and Scottish breeder Donald McKelvie chose to name the potatoes "Victory" to commemorate the victory of the Allied Powers over the Central Powers. Since the variety's release in the early 20th century, Arran Victory potatoes are often eaten on Remembrance Day in memory of the war and soldiers who fought for peace. Remembrance Day is traditionally held on the second Sunday in November, chosen as the closest Sunday to November 11th, the date of the end of World War I. A two-minute silence is customarily observed at 11 am on Remembrance Day to acknowledge and recognize the sacrifices made during both World Wars. There are also parades, local street fairs, and gatherings held throughout the towns. On Remembrance Day, Arran Victory potatoes are commonly incorporated as a fluffy side dish or in savory pies and casseroles with cooked vegetables and meat.
Geography/History
Arran Victory potatoes are native to the Isle of Arran, bred in 1912, and released to the public in 1918. The island is situated along the western coast of Scotland and is known for having a mild, wet climate well suited for potato cultivation. The parentage of Arran Victory potatoes is unknown, but experts hypothesize that the abundance potato may be one of the parents. The variety was created by farmer Donald McKelvie in the village of Lamlash, where McKelvie built greenhouses to cultivate thousands of potato seedlings for research and study. McKelvie was nicknamed the "Tattie Man" and spent many years in the early 1900s growing new potato varieties in partnership with seed producer Mr. Keay of Wolverhampton. He sought to develop new types of potatoes with improved resistance to disease, especially wart disease, which was a problematic disease throughout the United Kingdom at the time. Arran Victory potatoes were one of McKelvie's first successful cultivars, and over time, he continued to breed other varieties under the Arran label, 22 types in total, including Arran consol in 1925, Arran banner in 1927, Arran pilot in 1930, Arran comet in 1957, and Arran carin, release date unknown. Today Arran Victory potatoes are grown commercially through a few specialty farms in the United Kingdom, but the quantities are limited. The variety is also sown in home gardens throughout England, Ireland, and Scotland.
Recipe Ideas
Recipes that include Victory Arran Potatoes. One

is easiest, three is harder.