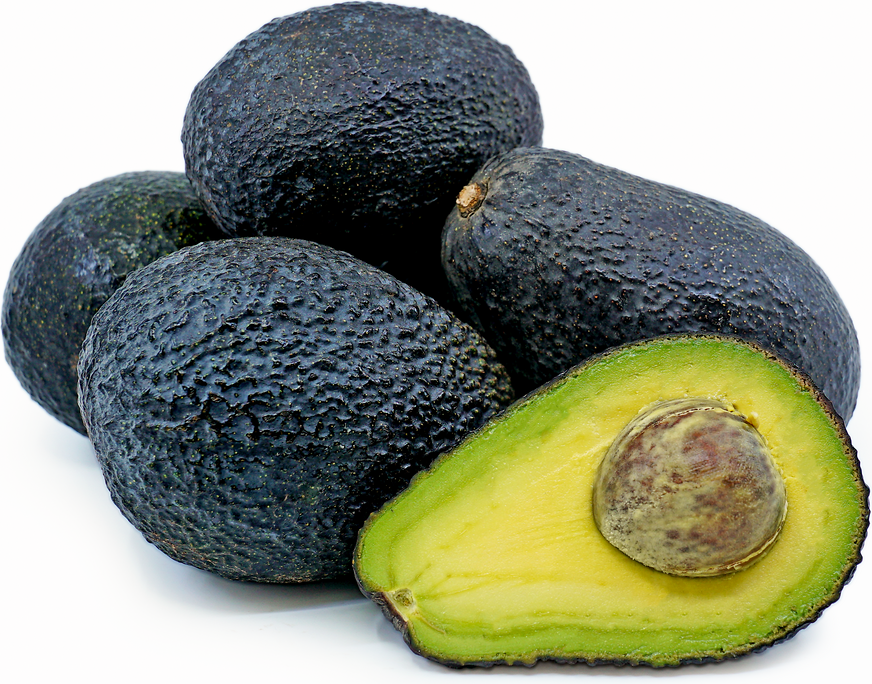 Lambs Hass Avocados
Inventory, lb : 0
Description/Taste
Lamb Hass avocadoes are larger than the common hass variety, weighing anywhere from 10-18 ounces. They grow on productive, upright, compact trees, maturing later in the season than their hass relative. They have a pear or oval shape, distinguished from hass avocados by their flat, squared shoulders. The pebbly skin is very dark green, even when under-ripe, and it will continue to darken to almost black as it matures. The skin of Lamb Hass avocados can be easily peeled to reveal the pale green flesh, which houses a medium-sized seed. Like hass avocadoes, the flesh of the Lamb Hass is smooth and creamy, and offers a similar rich and nutty flavor.
Seasons/Availability
Lamb Hass avocados are available during the summer months.
Current Facts
Avocados are in the laurel family and are botanically classified as a berry. They are scientifically known as Persea americana Mill., and are further classified according to three main strains of origin: Mexican, West Indian, and Guatemalan. Lamb Hass avocados are mostly of Guatemalan descent, as they are considered a hybrid of hass avocado lineage. They have been nicknamed the "sunny California summer variety," as domestic commercial crops are mostly limited to California, but they have also become a popular backyard variety thanks to their exceptional flavor, ease of peeling, and extended season.
Nutritional Value
Avocados are rich in dietary fiber, and are known for being a good source of monounsaturated fat, second only to olives among fruits in oil content. They contain nearly 20 vitamins and minerals, including vitamin C, vitamin E, potassium, and folic acid, and have earned the nickname "nutrient-boosters" because they can enable the body to absorb more fat-soluble nutrients of other foods eaten alongside them.
Applications
Avocados are most often used raw, and can be mashed, cubed, sliced, pureed, or halved and stuffed. They can even be blended in smoothies, or used for desserts such as ice cream. The creamy texture and rich flavor of Lamb Hass avocados lends well for mashing, such as in the traditional Mexican dish, guacamole, made with smashed avocado, lime juice, onion, tomato, cilantro, salt, and other spices. Avoid broiling, and add avocado toward the end of cooked applications as the tannins in the fruit can result in a bitter flavor after prolonged cooking or exposure to direct heat. The high fat content of Lamb Hass avocados pairs well with acidic fruit and vegetables, like tomatoes, and also allows you to substitute for some (but not all) of the butter required in baking to cut up to 40% of the fat. Like most avocados, the Lamb Hass yields to gentle pressure when ripe. To prepare for use, cut the avocado in half lengthwise around the central stone, twist the two halves in opposite directions to separate, then remove the pit with a spoon and easily peel away skin. Store avocados at room temperature until fully mature. Whole, ripe avocados will keep for two to three days in the refrigerator, while cut avocados will keep for a day or two. To prevent discoloration, sprinkle cut avocados with lemon juice or vinegar and cover in plastic wrap before refrigerating.
Ethnic/Cultural Info
The Lamb Hass is a summer variety that was developed to extend the season of the hass avocado, the dominant commercial variety worldwide. However, in 2011, The United States began importing hass avocados from Peru, receiving shipments in late summer during California's main harvest season for Lamb Hass, causing a depression in the value of this domestic hass hybrid.
Geography/History
The Lamb Hass avocado was developed in 1985 in Camarillo, California, and was selected from careful testing of over 10,000 seedlings planted at the Bob Lamb Ranch. It was selected by researchers at the University of California, Riverside for its excellent late-maturing fruit, and for its smaller tree and superior production in comparison to the common hass avocado. Its parent variety is the gwen avocado, an offspring from a little-known hass seedling named thille, hence the Lamb Hass is considered a 'grandchild' of the hass avocado. Originally called BL122, Lamb Hass was named for the Lamb family and for its hass heritage, and was patented by the University of California in 1996.
Recipe Ideas
Recipes that include Lambs Hass Avocados. One

is easiest, three is harder.
Podcast