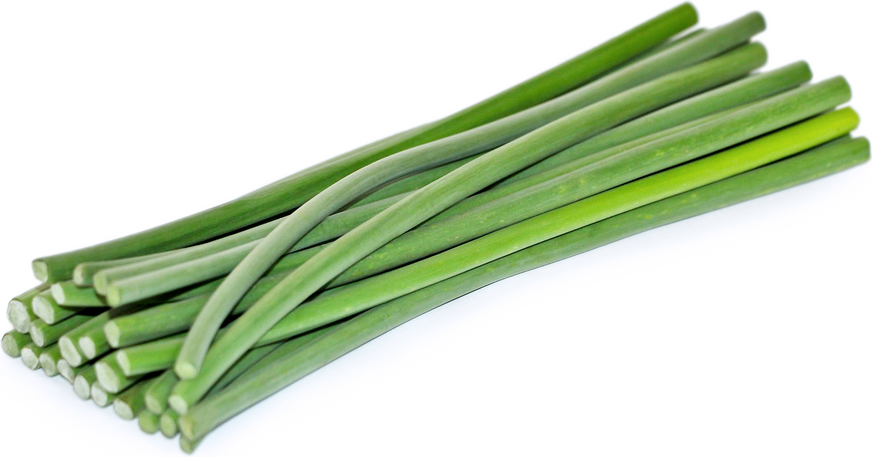 Ninnikunome
Inventory, lb : 0
Description/Taste
Ninnikunome is typically sold in small bunches comprised of elongated, cylindrical stalks averaging 25 to 30 centimeters in length. The stalk's surface is semi-smooth, taut, and firm, appearing in shades of bright green to dark green, and commercial varieties are generally straight, while locally-produced stalks in Japan showcase curves and twists. The stalks also have a uniform thickness, and underneath the surface, the pale green flesh is solid, aqueous, and slightly fibrous, with a succulent, crisp, and crunchy consistency. Ninnikunome emits a mild, garlic-like scent, and fresh stalks should be chosen that are bright green, elastic, plump, and not discolored or withered. The stalks have a mild, less pungent taste than garlic bulbs mixed with a slight vegetal, grassy sweetness.
Seasons/Availability
Ninnikunome is available year-round through greenhouse production in China. In Japan, the stalks are seasonally grown and sold through local markets in the late spring, typically April through early May.
Current Facts
Ninnikunome, botanically classified Allium sativum var. ophioscorodon, are the stalks of a garlic flower belonging to the Amaryllidaceae family. Garlic stalks are harvested from hardneck garlic varieties, as these types produce an upright, firm, and crunchy stalk, while softneck garlic varieties do not. Ninnikunome roughly translates from Japanese to mean "garlic bud," describing the young stalks and flower buds that have not yet opened on the end of the stalk. They are also occasionally referred to as Kukininniku, meaning "garlic stalks." Garlic stalks are utilized in culinary preparations worldwide, but in Japan, there are two types of Ninnikunome: locally grown and imported from China. Imported Ninnikunome is typically trimmed to only showcase the crisp, green stalks. The flower buds are removed, and the stalks are sold in fresh or frozen bundles. Imported Ninnikunome is produced in greenhouses year-round in China through plant forcing, and the stalks are purposely made to sell as a vegetable and aromatic. Locally grown Ninnikunome in Japan is a secondary crop gathered from farms cultivating garlic bulbs. The plants are not developed for the stalks, and the flower stalks are actually viewed as a nuisance in bulb cultivation, as they can steal nutrients from the bulbs. Garlic growers harvest the stalks to encourage the plants to put their nutrients into producing healthy bulbs and sell the fresh stalks along roadsides and in neighborhood markets as a seasonal ingredient. Locally-produced Ninnikunome is challenging to find as it is not sold in grocers and is only harvested in limited quantities. The domestic stalks can be distinguished from imported stalks as they are typically sold with the unopened flower bud attached to the stalk. Domestic Ninnikunome may also have a curved to twisted appearance, distinct from the straight imported stalks. One of the most well-known garlic varieties that produce Ninnikunome in Japan is called Fukuchi White Six Piece, a cultivar grown in the Aomori Prefecture. This variety has a thinner stalk with a flexible, curled nature, prized for its tender but crisp consistency. Chefs favor Ninnikunome for its mild, garlic-like flavor, and the stalks are utilized in fresh and cooked preparations.
Nutritional Value
Ninnikunome is a source of fiber to regulate the digestive tract, vitamin C to strengthen the immune system while reducing inflammation, and vitamin A to maintain healthy organ functioning. The stalks also provide folic acid to develop red blood cells, calcium to build strong bones and teeth, vitamin K to assist in faster wound healing, and vitamin B1 to fight against fatigue. Like garlic bulbs, Ninnikunome contains allicin, a natural compound that protects against free radical damage and is thought to help lower blood pressure.
Applications
Ninnikunome has a mild, vegetal, and subtly sweet, garlic-like flavor suited for fresh and cooked preparations. The top of the stalks is the most flavorful portion, and it is recommended to trim the base of the stalk to remove any tough pieces. Ninnikunome can be used as a milder garlic bulb substitute in dishes and is often sliced and tossed into salads, blended into dressings or sauces such as aioli or pesto, or used as a pizza topping. In addition to fresh preparations, Ninnikunome can be cooked and will develop a slightly sweeter taste while retaining its bright green coloring. In China, the stalks are popularly sliced and stir-fried with pork, added to soups and stews, or boiled in mixtures of sake, soy sauce, and sugar. They are also mixed into noodle and rice bowls, sauteed as a simple side dish, or grilled for a smoky flavor. In Japan, Ninnikunome is utilized in aemono, a term for vegetable dishes dressed in various sauces or fried into tempura. Ninnikunome pairs well with spring vegetables, including peas, artichokes, asparagus, and mushrooms, meats such as pork, beef, duck, and poultry, and herbs, including mint, basil, parsley, and cilantro. Whole, unwashed Ninnikunome will keep for 1 to 2 weeks when stored in paper towels in a plastic bag in the refrigerator's crisper drawer. The stalks can also be blanched, dried, and frozen for about a month.
Ethnic/Cultural Info
Garlic is mentioned in the Kojiki, one of Japan's oldest books, dating back to the 8th century. The narrative chronicles several mythical stories, legends, and songs, and notably shares the story of Yamato Takeru, a prince during the Yamato dynasty. In a piece of the story, known as the Summit of Ashigara Pass, Yamato Takeru no Mikoto was resting on the mountain summit of Mt. So when a mountain god sent a deer to pester the prince. The deer approached Takeru and bothered him to the point where he threw a piece of garlic straight at the deer. The garlic hit the deer in the eye, and the deer instantly died. After the deer had passed, a thick fog fell over the mountain. Local legends of the mountain attributed the fog to unexplained sickness in individuals over-exposed to the mist. When Takeru was covered in the fog, a white dog appeared and guided Takeru to safety. Many people believed the garlic Takeru was eating offered protection through the fog, and other travelers began consuming garlic and rubbing it on their bodies and animals in hopes of a safe passage through the fog and over the mountain.
Geography/History
Ninnikunome, the stalks of hardneck garlic flowers, are descendants of a wild form of garlic believed to be native to the mountainous regions of Central Asia, including Kyrgyzstan, Tajikistan, Turkmenistan, and Uzbekistan. Hardneck garlic was spread through traveling merchants along trade routes extending into Asia and Europe in ancient times, and the bulbs were introduced to China sometime before 2000 BCE. After its introduction, hardneck garlic varieties became accepted throughout China for culinary, medicinal, and preservative uses, the plants were extensively cultivated. Garlic was later carried from China to Japan around the 4th century and was initially used as a medicinal ingredient. Over time, Garlic was continually recognized for its medicinal uses and was mentioned in several medicinal texts from the 8th and 9th centuries, including Yasuyori Tamba's book Ishinpo, the oldest medicinal text in Japan. Garlic wasn't widely consumed as a culinary ingredient in Japan until the late 19th and early 20th centuries during the Meiji era. As growers began planting garlic, seasonal ingredients such as Ninnikunome became a secondary culinary crop to the bulbs. Today Ninnikunome is primarily harvested in the Aomori prefecture, where approximately 70% of the domestic Ninniunome crop is produced. The green stalks are also gathered from plants grown in Oita, Kagawa, Iwate, and Miyazaki Prefectures. When in season in the late spring, domestically produced Ninnikunome in Japan is sold in limited quantities through fresh local markets and roadside stands in the garlic's growing region. Imported Ninnikunome from China is sold fresh and frozen in grocers and select retailers.
Recipe Ideas
Recipes that include Ninnikunome. One

is easiest, three is harder.