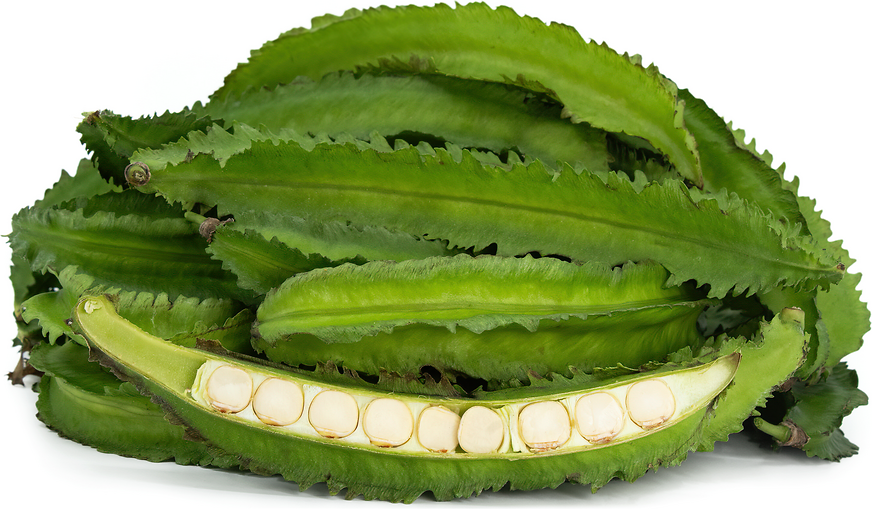 Winged Beans
Inventory, lb : 0
Description/Taste
Winged beans are small to medium in size, generally harvested between 10 to 22 centimeters in length, but if left to develop fully, the pods can extend over 30 centimeters in length. The pods bear a distinct, angular, square-like shape comprised of four feathery sides with frilled edges. The surface ranges in color from green, dark purple, purple-red, to ivory, depending on the variety, and can have a smooth or rough, waxy texture along the elongated panels. Young pods showcase their signature hues, but as they ripen, they will turn brown, harden, and burst open to expel the seeds. The pod's interior is a slender cavity filled with a few round to oval seeds. The seeds can be ivory, green, brown, or speckled and have a crunchy, fleshy consistency. Young Winged bean pods and seeds can be eaten raw and have a tender, crisp, and succulent nature. The pods are less fibrous than other legumes and soften with cooking. Winged bean pods and beans have a vegetal, subtly grassy, and sweet taste, often compared to the flavor of asparagus. The entire plant is edible, including the pods, seeds, leaves, roots, and flowers.
Seasons/Availability
Winged beans are available in the late spring through fall. In some tropical climates, the plants may be sown multiple times a year for staggering harvests.
Current Facts
Winged beans, botanically classified as Psophocarpus tetragonolobus, are a tropical species belonging to the Fabaceae family. The unusual, four-pointed seed pod grows on climbing vines reaching 3 to 4 meters in height and is an herbaceous plant commonly sown in home gardens. Winged beans are found in locations worldwide, earning them many different regional names, including Four-Angled beans, Goa bean, Asparagus pea, Four-Cornered bean, Mauritius bean, Princess bean, Winged pea, Tropical legumes, Kacang botol in Malaysia, Kecipir, Kacang belimgbing, and Kacang Botor in Indonesia, Dau Rong translating to Dragon's Bean in Vietnam, and Urizun and Shikaku-mame in Japan. Winged beans are famous for their versatility and sustainability, as the entire plant is edible. The vining plants are disease-resistant and nutrient-dense, and the plants can be eaten raw or cooked, depending on the recipe and preference. Winged beans are primarily grown for their edible pods and seeds, widely produced worldwide in tropical regions.
Nutritional Value
Winged beans are a source of copper to develop connective tissues, iron to produce the protein hemoglobin for oxygen transport through the bloodstream, and manganese to assist in amino acid metabolism. The plants also provide fiber to regulate the digestive tract, phosphorus to repair tissues, magnesium to control optimal nerve functioning, potassium to balance fluid levels within the body, and other nutrients, including zinc and B-complex vitamins.
Applications
Winged beans have a vegetal, subtly sweet, asparagus-like flavor suited for fresh and cooked preparations. The entire plant is edible, including the flowers, stems, leaves, seeds, and pods. When young and fresh, Winged bean pods can be sliced and tossed into salads, dipped into fish sauce as a snack, or lightly coated in mayonnaise as a side dish. The young seed pods can also be pickled for extended use, stir-fried with other vegetables, steamed and served as a simple dish, or added to sambals and dals. In Southeast Asia, Winged beans are popularly simmered into soups, stews, and curries. The seeds are commonly cooked with catfish, snakehead fish, or grouper in Vietnam, and the broth is flavored with tamarind for a tangy taste. The seeds can also be blended with water to create a milk similar to soy, or the pods can be fried into tempura. In Indonesia and Malaysia, Winged bean pods can be found smoked for a savory taste, and the seeds are dried for longer storage. Beyond the pods and seeds, Winged bean flowers have a delicate lavender to light blue hue, used in dishes to color rice. The young leaves can also be lightly cooked and served as a side dish, and the cooked tubers develop a consistency similar to potatoes and have a nutty, earthy flavor. Winged beans pair well with aromatics such as garlic, onions, ginger, and chile peppers, coconut milk, herbs including lemongrass, cilantro, or basil, seafood such as squid, fish, and shrimp, and sesame seeds. Whole, unwashed Winged beans will keep for 2 to 5 days when stored in an airtight container in the refrigerator. It is recommended to consume the various portions of the plant immediately for the best quality and flavor.
Ethnic/Cultural Info
Winged beans were one of the four main legume species cultivated in Papua New Guinea before colonial rule. The trailing vines were planted in the Mount Hagen township in the Western Highlands Province and the Asaro Valley near Goroka, the capital of the Eastern Highlands Province. Winged bean plants were viewed as a luxury food source as the entire plant was edible and provided a significant amount of protein for indigenous diets. The tubers were especially valued and were traditionally harvested at one time during the season, an event that was celebrated throughout the entire community. On harvest days, it was customary for the tubers to be roasted in earthen ovens, releasing a nutty, pleasing aroma. While the tubers were cooking, the community would gather and celebrate the harvest, using the tubers as a meal representative of the sharing between community members. In the modern day, Winged bean plants are still cultivated in Papua New Guinea, but they have become overshadowed by the introduction of European crops. Winged bean tubers and pods can still be seen at cultural festivals known as sing-sings. These annual celebrations are meant to gather tribes together to share and learn about the cultural traditions of each people group. One of the most famous sing-sings is known as the Goroka Show, an annual sing-sing held in the town of Goroka. This sing-sing can sometimes attract over one hundred tribes, and each tribe wears outfits representative of their culture and performs their own song and dance.
Geography/History
Winged beans are thought to be native to New Guinea as it is home to the most diversity of the species, but much of the plant's history is unknown. Some scientists point to Southeast Asia as the center of origin, and a few also mention Mauritius, a small island off the coast of Madagascar. Regardless of its center of origin, Winged bean species have been found throughout Southeast Asia, Southern Asia, and tropical Africa since ancient times. The plants thrive in warm, humid, tropical climates and are only known in their cultivated forms, as it is thought the wild form may be extinct. Winged bean plants are commonly planted as home garden vines and are cultivated as food and natural medicine. The species is commercially grown on a small scale, and the entire plant is edible, allowing the various parts to be sold in fresh markets. Today Winged beans have the highest concentration in Asia, Southeast Asia, and tropical Africa. The species is also grown in Australia, South America, Central America, and in Hawaii and Florida in the United States.
Recipe Ideas
Recipes that include Winged Beans. One

is easiest, three is harder.