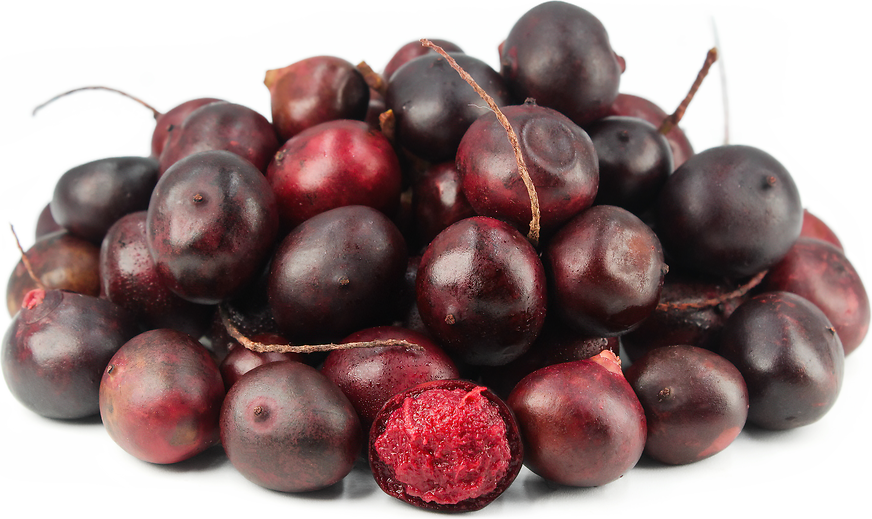 Corozo Coastal Fruit
Inventory, lb : 0
Description/Taste
Corozo Coastal are small fruits, averaging 1 to 2 centimeters in diameter, and have a round, oblate, to slightly flattened shape with a distinct protruding point on the stem end. The fruit's surface ranges in color from dark purple, red-purple, to bright red and is thin, taut, and smooth. Underneath the skin, there is a layer of bright red, fleshly pulp with a fibrous, aqueous, and soft consistency. The flesh envelopes a dark brown, woody, textured shell that contains a single round and bumpy, light-brown seed. Corozo Coastal has an aromatic, tropical fragrance and an acidic, fruity, bittersweet flavor reminiscent of the taste of coconut and cranberries. The fruits are not commonly consumed as a standalone food as they are considered too acidic and sour, but the fruits provide complex tangy and fruity nuances to culinary dishes and beverages when combined with other flavors.
Seasons/Availability
Corozo Coastal fruits are available during the dry season of Colombia, harvested in June through August and again in November through January.
Current Facts
Corozo Coastal, botanically classified as Bactris guineensis, are small palm fruits belonging to the Arecaceae family. The berry-like fruits grow in long, clustered, and dangling bunches on a tropical palm tree that can reach anywhere between 5 to 8 meters in height. The name Corozo Coastal is a general descriptor used to encompass Corozo varieties grown along the Caribbean coastline in Central and South America. These fruits are primarily found along the Caribbean coastline of Colombia and have been a part of the daily life of several indigenous groups. Corozo Coastal fruits are also known as Corozo de Lata, Jovita de Lata, Palma del Caribe Colombiano, Uvita de Lata, Lata Corozo, and El Corozo de Vida. In ancient times, the fruits were challenging to harvest due to the palm tree's long and sharp thorns growing horizontally from the trunk and branches. These palms were often left alone to avoid a thorny situation, but indigenous peoples eventually began to strip the surface of the palm to be able to climb and harvest the fruits. The stripped spines were used to make fish hooks and needles, and the harvested fruits were gathered for medicinal and culinary preparations. Corozo Coastal has continued to be a part of civilizations in the modern-day, as the fruits are still collected from wild trees and grown commercially. Corozo Coastal fruits are considered too acidic to consume out of hand, but the fruits are favored for adding coloring and flavoring to beverages, desserts, preserves, and savory culinary dishes.
Nutritional Value
Corozo Coastal fruits are an excellent source of vitamin C to strengthen the immune system, vitamin A to maintain healthy organ functioning, and anthocyanins that contain antioxidant-like properties to protect the body against free radical damage. The fruits also provide lower amounts of calcium to build strong bones and teeth, magnesium to control nerve functioning, B vitamins, iron, and vitamin E. In Colombia, palm oil is extracted from the fruits and is used in cosmetics. The oil is combed into the hair for added strength, moisture, and shine, used as a topical skin hydrator, or included in soaps, lotions, and hair masks.
Applications
Corozo Coastal fruits have an acidic, bittersweet flavor well suited for flavoring sweet and savory preparations as well as beverages. The fruits are not traditionally eaten out of hand, but they are popularly mixed with other ingredients to create a fruity, tangy, and complex flavoring. Corozo Coastal fruits can be pressed and blended into ice cream, juiced and frozen into popsicles, used to flavor cakes, pastries, and candy, or simmered into jams, jellies, and preserves. They can also be cooked into sauces poured over seafood, including crab, fish, and octopus. In Colombia, Corozo Coastal fruits are primarily used to flavor juices, wines, and other liquors. The fruits are traditionally boiled in water with sugar to create a flavored syrup and then left to ferment to develop a sweet, tannic wine. They can also be used to make guandolo, an alcoholic beverage mixing the fruits with brandy or rum. It is common to find Corozo Coastal juice frozen and served in a bag through street vendors as a refreshing pick-me-up, and the juice can also be mixed with other fruits to create a tropical drink. Corozo Coastal fruits pair well with seafood, meats such as pork, duck, poultry, and beef, fruits including coconut, pineapple, guava, and oranges, vanilla, chocolate, and fresh herbs. Whole, unwashed Corozo Coastal fruits should be used immediately for the best quality and flavor. The fruits can also be dried for extended use.
Ethnic/Cultural Info
Corozo Coastal palms are harvested for their trunks to make guacharaca; a traditional, hand-carved instrument played in Colombia. The instrument is a slender tube that has been hollowed and covered in carved ridges. When it is played, it is meant to sound like the rufous-vented chachalaca, a native bird also known as a guacharaca. These musical instruments are typically used in vallenato, a unique style of folk music played along Colombia's Caribbean coast. Vallenato is also celebrated at the annual National Corozo Festival in Corozal, a town located in the department of Sucre along the Colombian Caribbean coast. The annual event was established in 1993 and was created to celebrate food, culture, and the arts. Corozal was named after the palm fruit, as the town resides on land that was once covered in wild palms before the arrival of Spanish colonizers. During the National Corozo Festival, Corozo Coastal fruits are cleaned and carved into buttons using the fruit's hard inner shell. The fruit's wood is one of the easiest materials to dye, allowing the buttons to come in bright reds, yellows, blues, and other colors. Corozo shell buttons were once exported to Europe in the late 18th century and were favored for their unique appearance and exotic reputation. In addition to celebrating the fruit's shell, the festival also emphasizes the fruit's cultural importance as a beverage. One of the most popular events is a chicha de Corozo drinking contest to see how much juice can be consumed within a certain period of time.
Geography/History
Corozo fruits grow on palm trees native to Central and South America regions and have been growing wild since ancient times. There are many different types of Corozo palms, and Corozo Coastal fruits are typically found on palms growing in low elevation, dry Caribbean coastal regions. Corozo Coastal palms were once prevalent in the wild, but the trees have become more common in commercial plantations than in wild populations due to urbanization and deforestation. Some communities also plant the palms in their gardens to help preserve the waning population. Today Corozo Coastal palms are primarily found in dry, tropical regions along the Caribbean coast of Central and South America. When in season, the fruits are sold through local markets.
Recipe Ideas
Recipes that include Corozo Coastal Fruit. One

is easiest, three is harder.