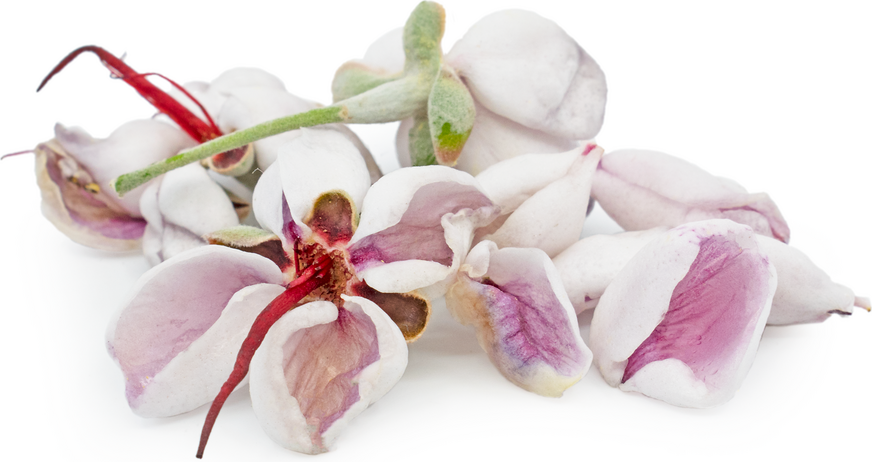 Pineapple Guava Blossoms
Inventory, bskt : 0
Description/Taste
Pineapple Guava blossoms are small flowers, averaging 2 to 4 centimeters in diameter, and grow on a branching shrub, nestled between thick, leathery, and glossy leaves. The flowers generally have 4 to 6 soft and delicate, white petals tinged with pink and purple hues. The petals also have a fleshy, crisp, and succulent consistency and may appear slightly curled or cupped. In the center of the flower, there are several elongated, crimson stamens that are capped in gold pollen. The stamens are inedible and should not be consumed. Pineapple Guava blossoms are highly aromatic, and the petals are the edible portion of the bloom, containing a sweet, tangy, floral, and fruity flavor with bubblegum, nectar, strawberry, pineapple, and kiwi nuances.
Seasons/Availability
Pineapple Guava blossoms are available in the late spring through early summer.
Current Facts
Pineapple Guava blossoms, botanically classified as Feijoa sellowiana, are fragrant, showy flowers belonging to the Myrtaceae family. The ornamental blooms grow on evergreen shrubs that can reach up to 3 to 5 meters in height and are found worldwide in tropical to subtropical climates. Pineapple Guava plants are primarily cultivated for their small green fruits, but they are sometimes grown as a home garden decorative landscape variety or privacy hedge. The plants are also highly favored for their exotic, aromatic flowers. Pineapple Guava blossoms attract beneficial pollinators into gardens, and birds and small animals enjoy consuming the petals for their sweet taste. The plants can be grown in containers and are popular for their drought tolerance, hardiness, and resistance to pests. Pineapple Guava blossoms are known as Brazilian Guava flowers and Feijoa flowers, and the colorful blossoms are edible, providing sweet, nectar-like flavors. To harvest the flowers for culinary use, care should be taken to only remove the petals. If the fruiting body of the flower is left intact with the stamens, it will later produce sweet and tangy fruits. The blossoms are utilized by chefs as a natural, edible garnish.
Nutritional Value
Pineapple Guava blossoms have not been studied for their nutritional content. Like other edible flowers, the blooms may contain some vitamin C to strengthen the immune system and reduce inflammation and vitamin A to maintain healthy organ functioning. The flowers may also have lower amounts of potassium to balance fluid levels within the body, calcium and phosphorus to protect bones and teeth, and iron to develop the protein hemoglobin to transport oxygen through the bloodstream.
Applications
Pineapple Guava blossoms are utilized as an edible garnish and contribute a delicate and sweet, honeyed flavor. The entire flower may be used as decoration on desserts, but only the petals are consumed in culinary preparations. Pineapple Guava petals can be consumed straight off the plant, or they can be sprinkled over salads, fruit bowls, yogurt, and grain bowls. The petals can also be used as an edible garnish on cupcakes, tarts, cakes, and custards or incorporated into cocktails, iced tea, and sparkling water. In addition to fresh preparations, Pineapple Guava blossoms can be steeped in cream, cooled, and then used as a whipped topping for fruit tarts or spun in an ice cream machine. The petals can also be used to infuse simple syrups, flavor sorbets or beers, or blended with coarse sugar for jams and jellies. Pineapple Guava blossoms pair well with cheeses such as aged cheddars, fruits such as coconut, mango, pineapple, papaya, blueberries, and oranges, ginger, spices, including cinnamon, cumin, and nutmeg, honey, vanilla, and hazelnut. Fresh Pineapple Guava blossoms should be used immediately after harvest for the best quality and flavor.
Ethnic/Cultural Info
In Tibasosa, a town in the Colombian department of Boyacá, Pineapple Guavas are celebrated at the annual Festival de la Feijoa in June. Pineapple Guavas are known as Feijoa in Colombia, and the tiny fruits are a major source of income for Tibasosa residents. Each year, the three-day event features vendor-lined city streets filled with baskets of fresh fruits, liquors, sauces, jams, ice cream, cakes, cookies, milkshakes, and other foods flavored with the fruits and flowers of the Pineapple Guava plant. Well-known chefs also host cooking demonstrations, utilizing the Pineapple Guava fruits as their primary ingredient. One of the most popular commodities sold at the festival is a green Feijoa sabajón. The rich, dairy-based drink has a thick, creamy consistency reminiscent of egg nog and is a celebratory beverage traditionally served on special occasions throughout the year. In the summer, a variation of the classic recipe is infused with Pineapple Guava fruits to develop a sweet, floral, and fruity flavor. In addition to selling food and beverages, the festival constructs a stage in the central plaza, where local musicians and dance teams showcase traditional music and performances of the region to honor the town's heritage.
Geography/History
Pineapple Guava blossoms are native to tropical and subtropical regions of South America, specifically Brazil, Argentina, Paraguay, and Uruguay, and have been growing wild since ancient times. The fast-growing plants were spread worldwide through migrating peoples, scientists, and gardeners in the early 1900s and became favored as an exotic home garden variety in New Zealand, Europe, and the United States. Today Pineapple Guavas are cultivated for their fruits in South America, New Zealand, Australia, Asia, Africa, and the United States. The flowers are not commercially produced, but they are a popular secondary item harvested from home garden plants.
Recipe Ideas
Recipes that include Pineapple Guava Blossoms. One

is easiest, three is harder.