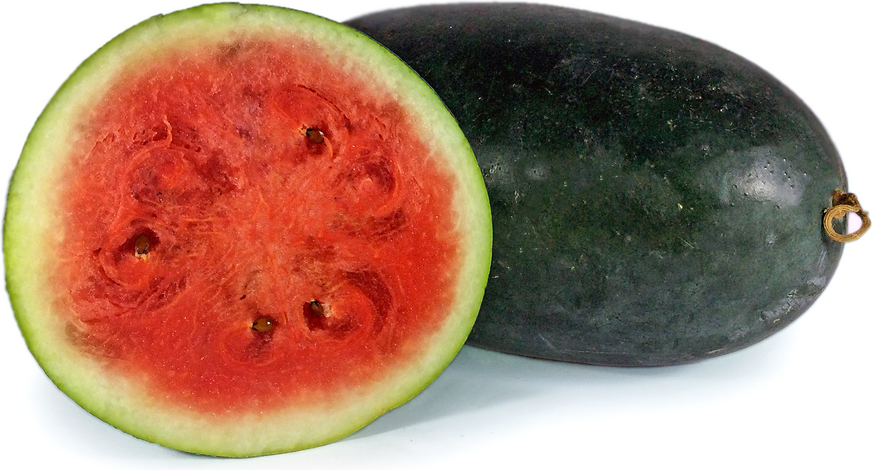 Kiran Watermelon
Inventory, lb : 0
Description/Taste

Kiran watermelons are small to medium in size, averaging 2.5 to 4 kilograms in weight, and have a round to oval shape with blunt, curved ends. The watermelon's rind is thin but firm and tough and has a smooth and taut feel. The rind is also dark green with emerald-black undertones, and there is faint striping extending the length of the fruit. Underneath the surface, the dark red, saturated flesh is aqueous, slightly grainy, and crisp with a tender and succulent consistency. The flesh also encases a few black-brown seeds or is found seedless. Kiran watermelons have high sugar content, ranging from 12 to 14 Brix, creating a light, sweet, and refreshing flavor.


Seasons/Availability

Kiran watermelons are available year-round in tropical climates, with a peak season in the summer.


Current Facts

Kiran watermelons, botanically classified as Citrullus lanatus, are an Asian variety belonging to the Cucurbitaceae family. The early-season cultivar was developed as a fast-growing watermelon ready for harvest 70 to 80 days after sowing. There are two varieties of Kiran watermelons, known as Kiran and Kiran-2 watermelons, and both types are similar in appearance, shape, and taste, with subtle differences. Kiran-2 watermelons are slightly larger and have a darker rind with faint stripes compared to Kiran watermelons. In the present day, Kiran watermelons are a popular variety in India and are imported and grown throughout the country as an ice-box melon, a small cultivar that can fit in the refrigerator. The variety is valued for having a thin but tough rind, making them suitable for transport, and the watermelons are widely sold throughout markets in India for fresh consumption and use in beverages.


Nutritional Value

Kiran watermelons have not been studied for their nutritional properties. Like other watermelon species, Kiran watermelons may be a source of vitamin C to boost the immune system, calcium to build strong bones and teeth, fiber to regulate the digestive tract, and potassium to balance fluid levels within the body. The variety also provides vitamin A to maintain healthy organ functioning, magnesium to regulate blood pressure, copper to develop connective tissues, vitamin E to protect the cells against the damage caused by free radicals, and other nutrients, including iron, vitamin K, manganese, zinc, phosphorus, antioxidants, and B vitamins. In Ayurveda, a natural system of medicine widely practiced in India, watermelons are thought to have hydrating properties due to their high water content. Watermelons are also believed to reduce fatigue in the body, lower fevers, and combat overheating.


Applications

Kiran watermelons have a refreshing, light, and sweet taste suited for fresh preparations. The flesh's juicy nature is showcased when consumed raw, and the melons are often sliced and eaten out of hand. Kiran watermelons can also be chilled in the fridge to enhance their flavor and refreshing nature. Like other watermelon varieties, Kiran watermelons can be served on breakfast plates, layered into parfaits, or served as an accompaniment to eggs or porridge. The variety is also displayed on appetizer platters, sprinkled with chili powder, black salt, lemon, or mint, or scooped with a melon-baller and added into fruit salads or green salads. Skewer pieces of the flesh with other contrasting-colored melons and alternate with feta cheese and prosciutto as a colorful dish. Kiran watermelons can also be pureed into chilled soups such as gazpacho or made into watermelon curry. In India, Kiran watermelons are popularly blended into smoothies, shakes, and thirst-quenching juices. The aqueous flesh is said to invigorate the body on a hot summer's day, and it is frozen into popsicles or made into a sorbet as a naturally sweet treat. Try incorporating watermelon into sauces and syrups for a light, sweet flavoring. In addition to the flesh, Kiran watermelon rinds are edible and can be pickled, added to chutney and thogayal, a thicker, paste-like mixture, or stir-fried or pan-fried with spices and served with roti. They can also be used in a muthiya or tarbuze chal na muthiya, a dish of grated watermelon rind added to a spiced, soft dough that is baked in the oven. Kiran watermelons pair well with spices such as turmeric, cumin, curry leaves, coriander, ginger, mustard seeds, and fenugreek, chile peppers, pine nuts, fruits such as coconut, pineapples, oranges, and grapes, and herbs including basil, mint, cilantro, and parsley. Whole, unopened Kiran watermelons will keep for 2 to 3 weeks when stored in a cool, dry, and dark place, such as the refrigerator. Once sliced, the flesh will last for 3 to 4 days stored in a sealed container in the fridge.


Ethnic/Cultural Info

Kiran watermelons are a favored variety for breaking fasts during Ramadan in India. The juicy fruits are in season during the annual holiday and are viewed as a symbol of hospitality. They also contain nutrients to replenish the body after fasting. Ramadan is the name for the ninth month of the Islamic calendar and is often referred to as the month of fasting. During Ramadan, it is believed that past sins are forgiven to those who are faithful and observe traditions, and it is customary for Muslims to refrain from specific actions and thoughts to cleanse the mind and soul. Fasting is a pivotal refrainment practice, and fasting typically lasts from dawn until dusk. At nightfall, an evening meal known as Iftar is held with family and friends to celebrate the end of the fast. Watermelons are chosen for breaking the fast as they offer an immediate source of hydration and nutrients. The flesh is traditionally eaten out of hand or blended into a drink known as pyar mohabbat sharbat. This drink is made from watermelon juice, milk, and rose syrup, and the pink-hued beverage is a famous Ramadan recipe consumed by Muslims worldwide.


Geography/History

Kiran watermelons were developed in India by the seed breeding company Known You Seed Pvt. Ltd. Known You Seed was established in Pune, Maharashtra, in 1999 and sells and distributes seeds throughout India. The company focuses on helping farmers improve cultivation by releasing varieties that are easy to grow and have been adapted to the country's climate. After Kiran and Kiran-2 watermelon seeds were released, both types were developed and interchangeably marketed as Kiran in fresh markets throughout India. Kiran watermelons thrive in warm and sunny, tropical to subtropical climates and are cultivated locally in India and imported to meet consumer demand. Today Kiran watermelons are grown in the Indian states of Karnataka, Tamil Nadu, Uttar Pradesh, Kerala, Andhra Pradesh, Haryana, Maharashtra, and Rajasthan.