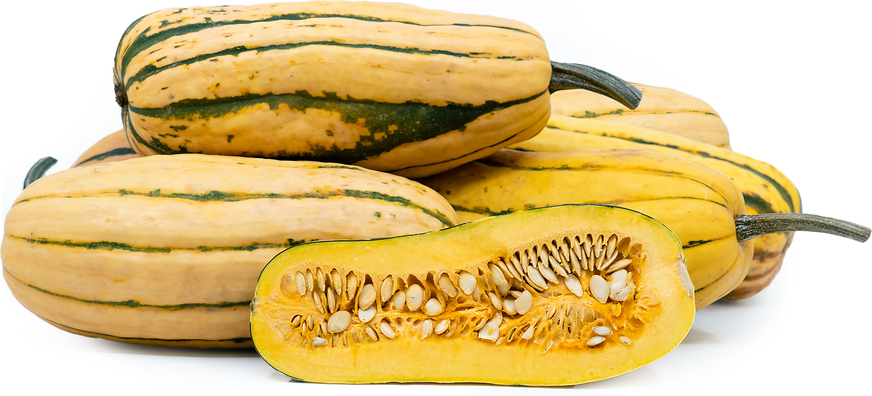 Tetra Squash
Inventory, lb : 0
Description/Taste

Tetra squash is an elongated, cylindrical, to oblong variety that develops on spreading vines with twisting, curling tendrils, fleshy stems, and large leaves. The squashes can be harvested when young, averaging 7 to 10 centimeters in length, or they can be left to mature, reaching approximately 15 to 18 centimeters in length and 5 to 7 centimeters in diameter. Immature Tetra squashes have a straight to slightly curved appearance, showcasing light to dark green skin with thin, shallow longitudinal ridges. The young fruits have not developed the squash's characteristic striping, and the pale green flesh is crisp, firm, and delicate with a mild, subtly sweet, and vegetal flavor. Mature Tetra squashes develop a straighter shape, and the furrowed lines deepen on the surface, extending the length of the semi-smooth, bumpy fruit. The mature squashes also transition into golden yellow to pale yellow hues, exhibiting dark green striping. The ripe flesh is yellow, dense, and firm, containing a central cavity filled with cream-colored oval seeds suspended in stringy yellow-orange fibers. Mature Tetra squash is entirely edible and has a sweet, mild, and subtly nutty flavor when cooked. In addition to the squashes, the stems are edible when approximately 1 to 2 centimeters in diameter and are spineless, lightly fibrous, but tender with a vegetal, grassy, and earthy taste.


Seasons/Availability

Tetra squash is available in the late summer through early winter.


Current Facts

Tetra squash, botanically classified as Cucurbita pepo, is a modern, experimental delicata squash variety belonging to the Cucurbitaceae family. The improved cultivar was developed in the late 20th and early 21st centuries by Row 7 Seeds and was released as a squash suitable for commercial and home cultivation. Tetra squashes are an F1 hybrid organic variety marketed for its zero-waste nature, able to be consumed when young or mature. Tetra squashes also develop edible stems, blossoms, and seeds, distinguishing them from other delicata varieties. Tetra squashes can be harvested approximately fifty days after sowing as a fresh green squash, or they can be left to mature for about one hundred days. The squashes can also be regularly harvested to encourage more production. Tetra squashes are a multi-purpose cultivar valued for their delicate nature, sweet and mild flavor, and edible quality, often marketed as a true stem to fruit squash.


Nutritional Value

Tetra squash, like other delicata varieties, is a source of fiber to regulate the digestive tract, potassium to balance fluid levels within the body, and vitamin C to strengthen the immune system while reducing inflammation. The squashes also provide some magnesium to control optimal nerve functioning, vitamin A to maintain healthy organs, and other nutrients such as B vitamins, manganese, zinc, folate, phosphorus, iron, and calcium.


Applications

Tetra squash is a versatile variety as all parts of the squash are edible and used in culinary preparations. The squash itself can be used in its immature and mature stages. Green Tetra squash should be treated as a summer squash and contributes a mild, subtly sweet, and vegetal taste. The squash can be finely shredded and incorporated into salads, chopped into vegetable medleys, or sliced, tossed with herbs and oils, and celebrated for its delicate crunch. Mature tetra squashes can be utilized in any recipe calling for delicata squash. The golden yellow and striped squashes can be sliced and roasted, cooked and added to grain bowls, salads, and vegetable side dishes, or halved and stuffed with meat, rice, herbs, and vegetables. Tetra squash does not need to be peeled before use and develops a soft consistency when cooked into gratins, cassoulet, pasta, and egg dishes. The squashes can also be grilled as a simple side dish, shredded and fried into patties, or thinly sliced as a topping over pizza. In addition to the flesh, Tetra squash seeds can be cleaned and roasted as a crunchy snack. Tetra squash is distinct from other delicata squash varieties as it was specifically bred to develop edible stems. The stems can be sauteed and tossed into vegetable dishes, simmered into soups, curries, and stews, or cooked into sauces as an earthy, vegetal addition. Squash blossoms can be stuffed and fried, roasted, simmered in soups, or sauteed with aromatics. Tetra squash pairs well with cheeses such as feta, ricotta, parmesan, and cheddar, aromatics including onions, shallots, and garlic, beets, tomatoes, corn, dark leafy greens, walnuts, pomegranate seeds, cranberries, miso, maple syrup, and spices such as rosemary, turmeric, coriander, parsley, and cumin. Green immature Tetra squashes will keep up to five days when stored whole, unwashed, and wrapped in plastic in the refrigerator. Mature Tetra squashes will last for 1 to 2 months when kept in a cool, dry, and dark location. Unpeeled Tetra squash stems will keep for 3 to 5 days and squash blossoms for 1 to 2 days when stored in a damp paper towel-lined sealed container in the refrigerator.


Ethnic/Cultural Info

Tetra squash was named for its multiple uses. The word tetra means four, and the creators of Tetra squash promote the variety for four main edible uses: mature squash, immature squash, blossoms, and young stems. The idea for a zero-waste squash was conceived when Michael Mazourek was walking through one of Row 7's test fields. The field was filled with green, immature delicata squash, but an early freeze was quickly approaching, which would not give the squashes enough time to mature, leading to their demise. Traditional delicata squash varieties are not consumed in their green stages, and this lead Mazourek to develop the concept of a variety that could be eaten immature or mature. Tetra squash is a multi-purpose cultivar that encourages chefs to use all parts of the plant. Mazourek also selectively bred the variety to produce sweeter stems with a more tender nature, a portion of the plant that is uncommonly used. In conjunction with the creation of the squash, chef and founder of Row 7 Seeds, Dan Barber, created a dish centered around the less fibrous squash stems. Barber named the dish petiole penne, and in the dish, the stems are scraped, blanched, and tossed in a mixture of butter, stock, lemon juice, and seasonings.


Geography/History

Tetra squashes were bred by Michael Mazourek of Row 7 Seeds, an organic seed company that seeks to create new produce varieties with improved flavor and usability within a sustainable and environmentally focused mindset. The creation of Tetra squashes was funded in part by a USDA-NIFA grant and are certified organic through the National Organic Program or NOP. Today Tetra squash seeds are produced in New York and California and are distributed online through the Row 7 Seeds website for consumer purchase. Commercial growers must obtain a license from the breeder. The purchase of Tetra squash seeds supports continued plant breeding programs and research through Cornell University, breeder Mazourek's alma mater.