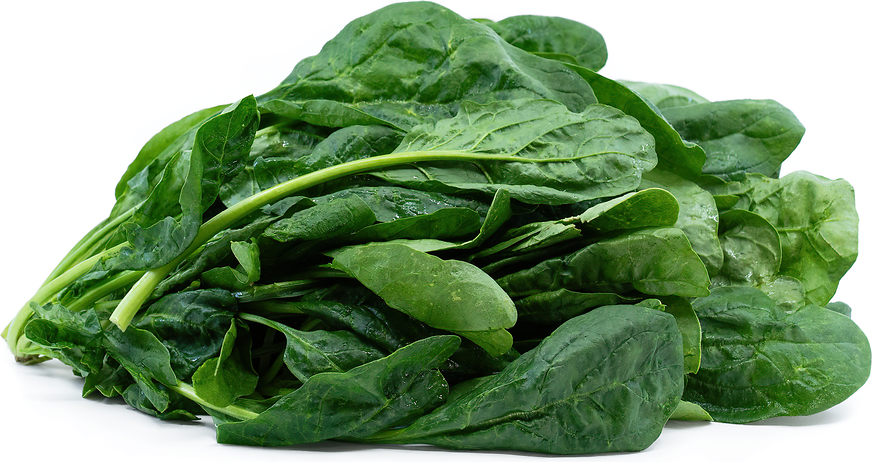 Spinach
Inventory, 24 ct : 41.70
This item was last sold on : 12/07/23
Description/Taste
Spinach widely varies in size and appearance, depending on the specific variety and maturity of the greens, and develops in low-growing rosettes. The leaves range in size from small to large and appear flat to slightly curved with an oval, oblong, triangular, deeply lobed, to arrowhead shape. Spinach leaves are generally dark green to vibrant green, sometimes blushed with red veins or accents, and have a smooth, crinkled, to lightly creased surface texture. The greens are typically crisp and tender with a succulent, chewy nature, and the stems are slender, straight, slightly fibrous, and crunchy. Spinach leaves have a mild, earthy, nutty, and vegetal flavor with subtly sweet, tangy, and mineral-like nuances, but each Spinach variety will differ in taste. When selecting Spinach, the leaves should be clean, uniformly green, unbruised, dry, and free of pest damage.
Seasons/Availability
Spinach is available year-round.
Current Facts
Spinach, botanically classified as Spinacia oleracea, is a leafy edible species belonging to the Amaranthaceae family. Many varieties of Spinach are produced worldwide with varying textures, flavors, and appearances, and the term Spinach is a general descriptor used in commercial markets. Botanists have divided Spinach into three main categories: smooth or flat-leafed spinach, savoy spinach, and semi-savoy spinach. Flat-leafed spinach encompasses varieties with a smooth surface that can be easily cleaned and prepped, and the greens typically have curved edges, appearing in oval, spoon-like, spade, to arrowhead shapes. Savoy spinach has deeply crinkled leaves with a thicker, chewier nature and these varieties are generally the most productive and hardy of the three types. Savoy varieties tend to grow closer to the ground and must be thoroughly washed to remove any dirt or debris trapped in the folds of the leaves. Semi-savoy spinach varieties have a slightly creased nature but grow more upright and higher than savoy types. These cultivars are disease and bolt-resistant and are especially favored for home gardens. The name Spinach is thought to have been derived from the Persian word "ispanai," meaning "green hand." Ispanai was eventually transformed into "Spanachia" in Latin, meaning "spine," a descriptor of the species' spiny seeds, later becoming Spinach. In China, Spinach is occasionally referred to as Persian Greens, a moniker given to the species in honor of its wild origins in ancient Persia. Spinach is well-known worldwide as an edible green, and varieties can be harvested in baby stages or be picked mature. The greens can also be harvested multiple times throughout the season when picked sustainability, and Spinach can be consumed as a vegetable in fresh and cooked preparations.
Nutritional Value
Spinach is a source of fiber to regulate the digestive tract, vitamin C to strengthen the immune system while reducing inflammation, and potassium to balance fluid levels within the body. The leaves also provide vitamin A to maintain healthy organs, calcium to build strong bones and teeth, magnesium to control nerve and muscle functioning, iron to develop the protein hemoglobin for oxygen transport through the bloodstream, and other nutrients, including folate, phosphorus, manganese, copper, and zinc. Throughout history, Spinach has been used in medicinal remedies and was valued for its anti-inflammatory properties and antioxidants to protect the cells against the damage caused by free radicals. The greens were also used to aid in gastrointestinal issues, and their vitamin K content helped the blood form more effective clots. During World War I, Spinach juice was blended into wine and given to hemorrhaging French soldiers to thicken the blood, hoping to slow the bleeding. Beyond vitamins and minerals, Spinach contains oxalates, which can bind to minerals preventing absorption. Oxalates occur in raw Spinach and are eliminated if cooked.
Applications
Spinach has a mild, vegetal, earthy, and subtly mineral-like taste suited for fresh and cooked preparations. Each variety will be used for different dishes, but the greens are generally incorporated into salads, as a bed of greens, or stirred into dips, spreads, and sauces such as pesto. Spinach can also be layered onto burgers and sandwiches, blended into juices and smoothies, or shredded and used as a topping over tacos. In addition to fresh preparations, Spinach can be cooked into egg-based dishes, including frittatas, quiche, and omelets, stirred into soups, sauteed or steamed as a simple side dish, or added to casseroles. The greens can also be baked into muffins, bread, and pastries such as the Greek spanakopita, stuffed into meats, stirred into pasta dishes or cooked in lasagna. Try using Spinach in enchiladas, mixing into curries, or blending into a thick paste and combining it with Indian cottage cheese in palak paneer. Spinach can also be added to tortillas, used as a topping over pizza, or stuffed into dumplings. Spinach pairs well with aromatics such as garlic, ginger, onions, shallots, and chile peppers, cheeses including cheddar, parmesan, cottage, ricotta, mozzarella, and feta, chickpeas, radishes, citrus, squash, seafood, and meats such as beef, pork, poultry, and turkey. One of the most famous uses of Spinach is in Florentine dishes, also known as a la Florentine. The term a la Florentine is traced to Catherine de Medici, an Italian noblewoman who married the King of France, Henry II, in the 16th century. With her move to the French palace from Florentine, Catherine brought several chefs from Italy who served Spinach-centric dishes in the French court, creating a la Florentine. Whole, unwashed Spinach will keep 5 to 10 days when stored loosely in a sealed container in the refrigerator's crisper drawer. It is important to note that the greens will lose almost half their nutrient content eight days after being harvested.
Ethnic/Cultural Info
Scientists at the Massachusetts Institute of Technology, also known as MIT, have been using Spinach as a natural sensor in plant nanobionic testing. Spinach leaves were embedded with fluorescent carbon nanotubes that have been coated with a polymer that detects certain chemicals in soil, air, and water. The plants are being tested as a way for growers to read their fields and ensure that harmful chemicals and residues from explosives are not being mixed into their crop soil. When the substances are detected, they bind with the polymer embedded in the Spinach leaves, causing the nanotubes to emit a different color of fluorescent light. This light can be read with an infrared microscope or camera, and a microcomputer transmits the signal to a smartphone, essentially emailing the grower to notify them of the chemical detection. In the MIT study, Spinach plants were tested to detect nitroaromatics, chemical compounds used in landmines and explosives. These chemicals can be absorbed into the plant leaves in approximately ten minutes, and the nanotubes can immediately detect their presence. More tests and evaluations need to be done before this technology becomes widespread in agriculture, but MIT scientists are hopeful that plants may be the future in protecting against the ingestion of harmful chemicals, nuclear elements, and from future insect infestations.
Geography/History
Spinach is a descendant of wild greens native to ancient Persia, now modern-day Iran. Domesticated Spinach was thought to have developed through selective breeding of the wild, leafy greens, but much of the history of Spinach is unknown in the early ages. Over time, Spinach was spread to neighboring countries around Persia, traveling through India, and was introduced into Nepal. Spinach was extensively grown in the valleys near Kathmandu, Nepal, and after a series of invasions and aid from China, Spinach was given to the Chinese emperor as a gift. Spinach was established in China sometime before 647 CE and was also brought to Italy around 827 CE through the Arabs. By the 10th century, the plant was found throughout the Mediterranean. In the 13th through 16th centuries, Spinach was extensively cultivated throughout Europe, creating new domesticated varieties with improved disease resistance and slow-bolting characteristics. Spinach was carried to the New World and was planted in home gardens in the United States throughout the 19th century. In the 20th century, American breeders began hybridizing varieties to create improved cultivars, and many of these varieties are still grown in the modern day. Today China is the top producer of Spinach worldwide, followed by the United States. California is the largest Spinach-producing state in the United States, along with Arizona, Texas, and New Jersey. California accounts for around 65% of the fresh varieties found in American markets. Spinach is available in fresh markets worldwide and is sold through farmer's markets, distributors, and grocers. Varieties are also a staple crop in home gardens.
Featured Restaurants
Restaurants currently purchasing this product as an ingredient for their menu.
| | | |
| --- | --- | --- |
| Carruth Cellars Urban Winery | San Diego CA | 619-546-9300 |
| US Grant Hotel Main | San Diego CA | 619-232-3121 |
| Bayhill Tavern | San Diego CA | 858-288-6923 |
| Mille Fleurs | Rancho Santa Fe CA | 858-756-3085 |
| Shimbashi Izakaya | Del Mar CA | 858-523-0479 |
| Toast Catering | San Diego CA | 858-208-9422 |
| Saiko Sushi-Coronado | Coronado CA | 619-435-0868 |
| Azuki Sushi Lounge | San Diego CA | 619-238-4760 |
| Park Commons - ARE | San Diego CA | 619-295-3172 |
| Kona Kai Resort and Marina | San Diego CA | 619-221-8000 |
| Marriott Courtyard Old Town | San Diego CA | 619-260-8500 |
| Grass Skirt | San Diego CA | 858-412-5237 |
| Kinme Omakase | San Diego CA | 619-231-0700 |
| Roots Craft Juice | Oceanside CA | 760-708-8859 |
| The Harvest Honey | San Marcos CA | 616-914-0124 |
| Pacific Terrace Hotel | San Diego CA | 858-581-3500 |
| Kettner Exchange | San Diego CA | 909-915-9877 |
| Green Acres Campus Bar | San Diego CA | 858-450-9907 |
| Olivewood Gardens and Learning Center | National City CA | 619-434-4281 |
| Waverly | Cardiff CA | 619-244-0416 |
the other 5...
| | | |
| --- | --- | --- |
| Juniper & Ivy | San Diego CA | 858-481-3666 |
| C 2 C | San Diego CA | 619-972-9345 |
| Tahona (Kitchen) | San Diego CA | 619-573-0289 |
| Coronado Yacht Club | Coronado CA | 619-435-1848 |
| Saiko Sushi-North Park | San Diego CA | 619-886-6656 |
Recipe Ideas
Recipes that include Spinach. One

is easiest, three is harder.
the other 71...