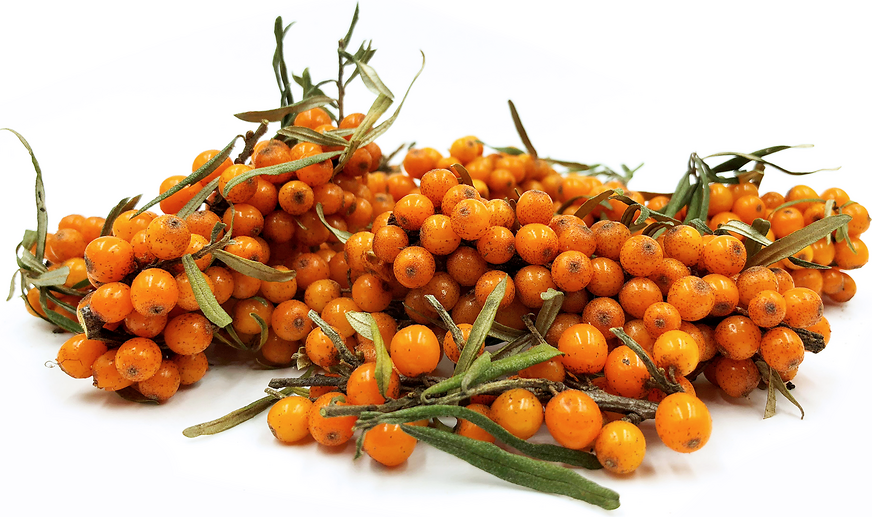 Sea Buckthorn Berries
Inventory, bskt : 0
Description/Taste
Sea Buckthorn berries are small fruits, averaging 6 to 9 millimeters in diameter, and have an oblate to round shape, growing in clustered groupings along the plant's branches. The fruit's skin is thin, fragile, and delicate, being easily torn, punctured, and bruised. This makes harvesting Sea Buckthorn challenging, and oftentimes large sections of the branch have to be cut from the plant to harvest the berries intact. If the berries are plucked from the tree, it is common for them to rip, spilling out the flesh and seeds. The fruit's surface is also taut, glossy, and smooth, ripening into golden yellow, dark orange, or red shades, depending on the variety. Underneath the skin, the translucent, orange to pale orange flesh is tender, aqueous, soft, succulent, and oily. The flesh also encases brown, hard seed shells ranging up to 4 millimeters in length and 2 millimeters in diameter, enveloping an ivory seed kernel inside. Sea Buckthorn is edible raw but has an acidic, sour, and astringent taste, often considered unpalatable by itself. The berries contain malic acid, the same acid that gives green apples their tart flavor, and are commonly combined with sweeteners to create an aromatic, bright, and zingy taste.
Seasons/Availability
Fresh Sea Buckthorn berries are available in the late summer through early spring.
Current Facts
Sea Buckthorn berries, botanically classified as Hippophae rhamnoides, are an ancient species belonging to the Elaeagnaceae family. The species is native to Europe and Asia, where it has been growing for thousands of years, and is used as a culinary and medicinal ingredient, valued for its dense nutritional content. It is important to note that several species are generally classified as Sea Buckthorn, but the most referenced and widespread species is Hippophae rhamnoides. Sea Buckthorn berries grow in dense clusters on thorny deciduous shrubs reaching 1 to 6 meters in height, and the plant is hardy, able to grow in cold, temperate climates. The berries are known as Sallow berries, Sea berries, Sand Thorn, Sha Ji in Chinese, and Sea-Buckthorn, and are edible raw, but the fruits are preferred in cooked preparations or juices mixed with sweeter ingredients. Sea Buckthorn is nicknamed throughout Europe and Asia as a Holy plant, Golden bush, Wonder plant, Gold mine, and Miracle plant, and the species has earned this healing reputation for its presence in natural medicines. Historically, Sea Buckthorn berries were once used by Russian Cosmonauts to prevent radiation damage against their bodies in space, while the Chinese Olympic Team used the fruits in their official drink for athletes during the Olympic Games. In the modern day, Sea Buckthorn has retained its reputation as a nutritional powerhouse used in natural medicines and has evolved into an ingredient in mainstream commercial beauty products, culinary items, and select medicines.
Nutritional Value
Sea Buckthorn is a source of vitamin A to maintain optimal organ functioning, vitamin E to protect the cells against the damage caused by free radicals, vitamin K to assist in faster wound healing, and vitamin C to strengthen the immune system while reducing inflammation. The berries also provide potassium to balance fluid levels within the body, calcium and phosphorus to build healthy bones and teeth, and other nutrients, including zinc, magnesium, niacin, boron, omega-7 fatty acids, and B vitamins. In natural medicines throughout Europe and Asia, portions of the berry's juice, seeds, leaves, bark, and flowers are combined into tonics, pastes, tea, syrups, and oils to reduce joint pain, soothe burns and skin irritations, and boost the immune system. Sea Buckthorn is known as "Liquid Gold" in Tibet, and oils from the berries and seeds are used to treat coughs, promote blood circulation, aid digestion, and nourish the body.
Applications
Sea Buckthorn berries have a sour, astringent, and acidic taste suited for fresh and cooked preparations. The berries can be consumed raw, but their sour taste is typically too strong on its own. The berries are traditionally mixed with sweeter fruit juices or other sweeteners to create a palatable flavor. Sea Buckthorn berries are usually stripped from the branches into a bin where the juice, seeds, and pulp are collected, separated, and strained for culinary use. The juice can be used in ice cream, yogurt, sorbets, and baked goods such as cakes, pies, or muffins. The berries can also be used to make jams, compotes, and jellies or infused into salad dressings, vinegar, and sauces for roasted meats. In Germany, Sea Buckthorn berries are mixed with other ingredients to make a refreshing, bright beverage. The berries are also used in Russia to make a liquor regarded as a top-shelf spirit. In addition to fresh preparations, the fruits can be pickled as a tangy condiment or dried and ground into a powder for flavor enhancement. The leaves are also dried and steeped into a tea. Sea Buckthorn berries should be immediately used for the best quality and flavor.
Ethnic/Cultural Info
In Ancient Greece, Sea Buckthorn was the food source that gave flight to the famous winged horse Pegasus. The immortal horse was said to have arisen from the neck of Medusa when Perseus decapitated the gorgon and eventually became the thunderbolt-bearer of Zeus on Mt. Olympus. Legend has it that Sea Buckthorn was the sole food that enabled Pegasus to fly, and the connection between horses and the plant was further strengthened when the Greeks discovered that the leaves would give horses shinier, healthy coats. The genus name Hippophae is derived from the Greek word "hippo," meaning "horse," and "phaos," meaning "shine." When Greek war horses were released into the wild or abandoned after a battle, the horses supposedly thrived off of grazing on Sea Buckthorn plants. The Greeks soon discovered that the abandoned horses were healthier and stronger than when they were discarded, giving rise to families feeding their horses the nutritional plant. Greek racehorses were later fed a diet comprised of Sea Buckthorn for shinier coats and increased health. In Mongolia, Sea Buckthorn was also consumed by warriors and warhorses in Genghis Kahn's army for elevated strength on the battlefield.
Geography/History
Sea Buckthorn is native to Europe and Asia and has been growing wild since ancient times. The species has been used for culinary and medicinal purposes for thousands of years and is also used to help control erosion in Russia and China. Throughout Asia, Sea Buckthorn is listed in several medicinal texts, including the Somaratsa, a Tibetan book dating back to the early 8th century. Over time, Sea Buckthorn has been domesticated, and new varieties have been commercially created in Russia for improved plant features such as berry size. Sea Buckthorn was introduced to Canada in the 1930s from Siberia and was eventually planted in the northern United States. An International Sea Buckthorn Association was also created in 1999 by Canada, China, India, and other countries to promote, protect, and regulate the species' use as a therapeutic ingredient. Sea Buckthorn is primarily found in cool, temperate regions and thrives in coastal, salt-sprayed areas, sandy, semi-desert locations, sub-alpine mountainous regions, and along rocky shorelines and riverbanks. Today wild populations of Sea Buckthorn are primarily found in China, Russia, Mongolia, India, Pakistan, and northeastern Europe. Commercially cultivated and home-grown plants can be found throughout Asia, Europe, and North America. When in season, Sea Buckthorn berries may be found directly through growers or at fresh markets in the plant's growing region.
Recipe Ideas
Recipes that include Sea Buckthorn Berries. One

is easiest, three is harder.