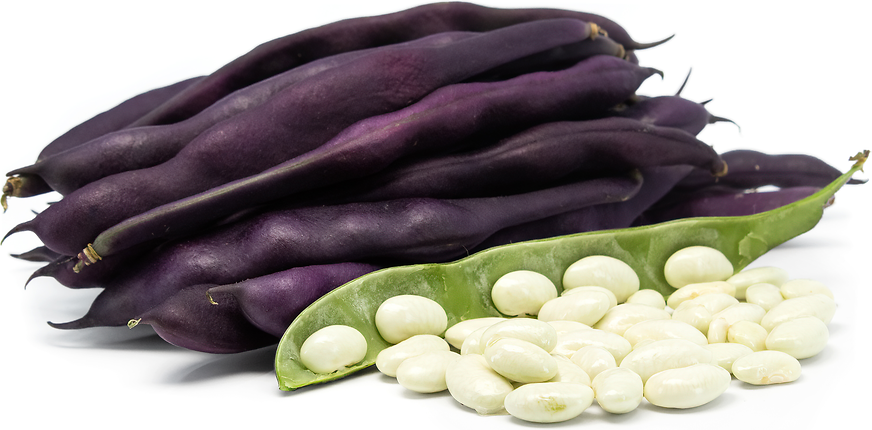 Purple Beans
Inventory, 10 lbs : 0
Description/Taste
Purple beans are small to medium in size, depending on the variety, and are generally harvested when they have reached 10 to 17 centimeters in length. The pods are slender, cylindrical, and appear straight to slightly curved, tapering at both ends into pointed tips. The pods are also mostly smooth with a faintly bumpy feel and are taut, fleshy, and stringless, showcasing purple hues ranging from royal purple to violet. Inside the pods, there are small, semi-starchy, and soft pale green beans. Unlike the pod's exterior, inside the pod features shades of pale green to bright green and has a moist, slippery interior. Purple beans are crisp, succulent, and snappy when raw, becoming soft and tender when cooked. The pods release a subtle grassy aroma and should be thinner than a pencil when selected for culinary preparations to ensure the pod is fresh and less fibrous. Purple beans have a green, subtly earthy, nutty, and vegetal taste with a slightly sweet finish.
Seasons/Availability
Purple beans are available year-round, with a peak season in the late spring through fall.
Current Facts
Purple beans, botanically classified as Phaseolus vulgaris, are a category of pigmented varieties belonging to the Fabaceae family. There are many types of beans generally labeled under the Purple bean name, and these varieties can be heirloom or modern, bush or pole cultivars. Some of the popular varieties include Purple Queen, Rich Purple Pod, Royalty Purple Pod, also known as Royal Burgundy, Amethyst, Purple Teepee, Velour, and Trionfo Violetto, known in English as Purple Triumph. Purple beans have been cultivated for centuries, and like green beans, the pods are picked when they are immature for the best texture and flavor. Growers traditionally harvest Purple beans by hand to ensure the beans are not damaged, and the more the pods are picked, the more the plants will produce new beans throughout the season. Purple beans are cultivated worldwide, and the saturated varieties can be used interchangeably with green beans in fresh and cooked preparations.
Nutritional Value
Purple beans are a source of vitamin C to strengthen the immune system, fiber to regulate the digestive tract, and vitamin A to maintain healthy organ functioning. The beans also provide vitamin K to assist in faster wound healing, calcium to protect bones and teeth, copper to build connective tissues, potassium to balance fluid levels, and other nutrients, including B vitamins, iron, magnesium, and phosphorus.
Applications
Purple beans have a mild, subtly sweet, grassy, and earthy flavor suited for raw and cooked preparations. Fresh Purple beans are favored for their two-toned coloring when sliced, as the exterior purple hues are contrasted with the bright green interior. Chefs popularly cut the beans on an angle or slice lengthwise to showcase this coloring and serve as an edible garnish, ingredient in salads, or in grain bowls. Purple beans can also be pickled and used as a tangy condiment or a spread on sandwiches. In addition to fresh preparations, Purple beans can be blanched or steamed with aromatics and served as a simple accompaniment to main dishes. It is worth noting that the purple coloring will not remain once the beans are cooked over high heat and will develop a green hue. When boiled or blanched, it is also important to shock the beans in an ice bath after heating to prevent the beans from overcooking and becoming mushy. Purple beans can be incorporated into soups, curries, and stews, added to stir-fries, stirred into noodle and rice-based dishes, or cooked with other vegetables as a side dish. Try tossing cooked Purple beans in a soy glaze, wrapping small bunches of the beans in bacon as a unique serving method, or coating in panko bread crumbs and roasting as a crisp snack. Purple beans pair well with aromatics such as onions, garlic, shallots, and chile peppers, nuts including almonds, pine, and walnuts, herbs such as dill, parsley, and tarragon, and cheeses including parmesan, feta, mozzarella, provolone, and gruyere. Whole, unwashed Purple beans have a short shelf life and should be consumed immediately for the best quality and flavor. The beans can also be kept in a sealed container in the coldest part of the refrigerator for up to four days.
Ethnic/Cultural Info
Purple beans develop their pigmented hues from the presence of anthocyanins. There are three main types of water or fat-soluble pigments naturally found in plants that give fruits and vegetables their purple, red, orange-yellow coloring: anthocyanins, betalains, and carotenoids. Betalains are primarily found in select tubers, red beets, Amaranthus, pitahaya, Swiss chard, and some fungi. Carotenoids are present in a broader range of fruits and vegetables, including cantaloupe, carrots, tomatoes, bell peppers, and citrus. Anthocyanins, the water-soluble pigment responsible for the coloring of Purple beans, also contributes purple-red hues to artichokes, cauliflower, apples, and red cabbage. Anthocyanins reside in the bean's cellular tissues, and the more concentrated the natural pigments are, the darker the bean will appear. The coloring is also affected by the soil and whether it is more acidic or alkaline. Despite their saturated color, Purple beans lose their dark hues when cooked. High heat preparations cause the cell walls within the beans to break down, leading the anthocyanin content to become dispersed and released from the bean into the rest of the dish. Once the anthocyanins are leached from the bean, all that remains within the bean's cells is chlorophyll, a green-hued pigment, thus giving the beans a green appearance. It is important to note that not all fruits and vegetables that contain anthocyanins will lose their coloring in cooked preparations. The coloring is dependent on the concentration of anthocyanins and the type of anthocyanin: acylated or non-acylated. Acylated anthocyanins are more stable and generally resist changes when heated and are found in foods such as purple potatoes. These items may lighten in color but typically do not lose their purple hue. Purple beans contain non-acylated anthocyanins, which are unstable, resulting in the loss of color.
Geography/History
Purple beans are native to the Americas and are thought to have originated in the Andes region of what is now modern-day Peru. The botanical species, Phaseolus vulgaris, was spread throughout South and Central America in ancient times and experts believed domestication occurred separately in South America and Mesoamerica sometime before 8000 BCE. The species was carried from the Americas to Europe through Christopher Columbus during his second voyage in 1493, and German physician Leonhart Fuchs drew the first official botanical drawing of Phaseolus vulgaris in Europe in 1542. After their introduction in the late 15th century, Phaseolus vulgaris spread throughout the Mediterranean, cultivated as a vegetable by the 17th century. Over time, farmers began selectively crossbreeding various types of beans for improved flavor, texture, and growth qualities. By the late 19th century, new varieties were released for commercial and home garden production, including beans that were stringless and easier to prepare for culinary dishes. Today there are still several varieties of purple heirloom beans grown in home gardens, but most of the Purple bean varieties being cultivated commercially were created in the 20th century. Purple beans are produced worldwide and are sold through fresh markets, grocers, and select distributors.
Recipe Ideas
Recipes that include Purple Beans. One

is easiest, three is harder.