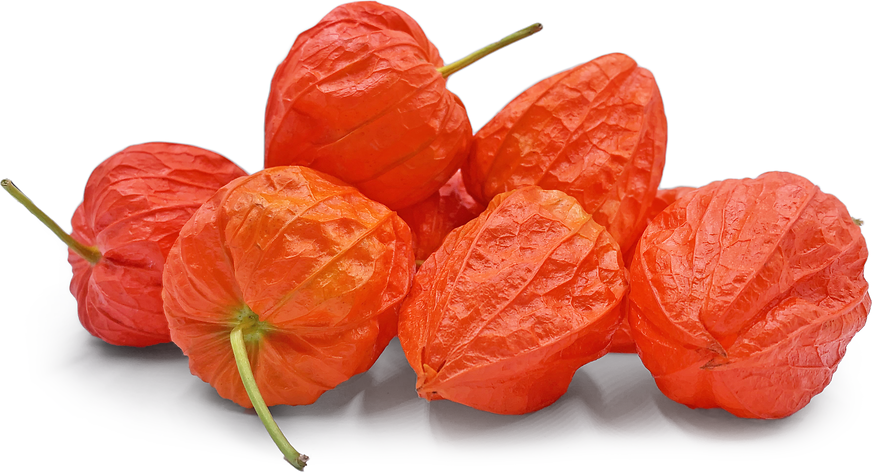 Chinese Lantern Flowers
Inventory, lb : 0
Description/Taste
Chinese Lantern plants consist of erect stalks bearing broad and flat, heart-shaped leaves with seasonal white flowers and brightly colored, bulbous seed pods. The white flowers contain five petals with a slightly curved shape, averaging 1 to 2 centimeters in diameter, and as the flower matures, the petals will drop, allowing the calyx to expand and envelop a growing berry. The inflated calyx, also known as the plant's seedpod, is green when young, transitioning through shades of yellow, orange, to orange-red with maturity. As the pod develops, it will also become thin and brittle with a paper-like consistency, averaging 4 to 5 centimeters in diameter. Chinese Lantern berries average 1 to 2 centimeters in diameter and are aqueous, encasing many small, ivory seeds. The berries also change from bright red to an orange, cream-colored hue when ripe, mellowing in flavor from very sour and acidic to subtly sweet, acidic, and tangy with maturity. It is important to note that only the ripe berries are edible from the Chinese Lantern plant, and the calyx, leaves, and stems are considered inedible.
Seasons/Availability
Chinese Lantern flowers mature in the early fall.
Current Facts
Chinese Lanterns, botanically classified as Physalis alkekengi, are a showy, herbaceous perennial that grows to less than one meter in height, belonging to the Solanaceae or nightshade family. The name Chinese Lantern was derived from the flowering plant's colorful, inflated seed pods that resemble Asian lanterns, and though the seed pods are not true flowers, they are commonly referred to as Chinese Lantern flowers when found on the plant. In addition to the pod's brightly colored nature, the protective calyxes encase a small berry that can be utilized in culinary and medicinal applications when ripe. Chinese Lanterns are a favored landscape plant, but despite their ornamental appeal, the plant has aggressive tendencies and can quickly produce spreading underground rhizomes, earning it the title of an invasive species in some regions of Europe and Asia. The plants are commonly grown in containers to curb their spreading habit, and the seed pods can be removed, dried, and utilized as a decorative element in flower arrangements. Dried Chinese Lanterns retain their vibrant hues and will keep for many years without deteriorating. The seed pods are also sometimes sliced open, allowing the pods to curl into different shapes as it dries.
Nutritional Value
Chinese Lantern berries are an excellent source of vitamin C, an antioxidant that increases collagen production in the skin, reduces inflammation, and boosts the immune system. The berries also contain vitamin A, a nutrient that helps maintain healthy organ functioning, calcium to strengthen bones and teeth, and lower amounts of iron and phosphorus. In traditional Chinese and Unani medicines, Chinese Lantern berries were used in ancient times as a diuretic and were believed to contain anti-inflammatory properties.
Applications
Only the ripe berries of Chinese Lantern plants are edible, and the leaves, calyxes, and unripe berries are considered toxic and should not be consumed. Chinese Lantern berries transition from red to light orange or cream-colored once mature and develop a subtly sweet, tangy flavor that can be used fresh, cooked, or dried. Raw berries can be eaten whole as a snack, or the berries can be tossed into green salads, chopped into relishes, sliced into salsas, or blended into juices and smoothies. Chinese Lantern berries can also be cut and layered over toast, used as a substitute for sweet tomatoes in dishes, or simmered into sauces for roasted meats. In addition to savory preparations, the berries can be cooked into jams, incorporated into pie fillings, or baked into cakes, tarts, and scones. Chinese Lantern berries pair well with meats such as pork, turkey, poultry, and fish, cucumbers, avocadoes, corn, dark chocolate, honey, citrus, peaches, and herbs such as basil, rosemary, and parsley. The berries can be stored in their papery husks until ready for use and will continue to ripen. Once husked, the berries will keep 1 to 3 days when stored in the refrigerator.
Ethnic/Cultural Info
In Japan, Chinese Lantern flowers are also known as Japanese Lantern flowers, and the bright orange pods are symbolically used during the Bon or Obon festival. The late summer to early autumn holiday celebrates the return of the souls of ancestors to earth. During the event, each town hosts its own festivities featuring dances, music, and live entertainment. Many Japanese families also hang lanterns outside of their houses as a light to guide the spirits, and gravesites are cleaned and adorned with offerings as gifts to ancestors. Japanese Lantern flowers are a favored offering as the inflated seed pods closely resemble lanterns, a symbolic gift to represent guidance and unity between living and deceased family members. Before the Bon festival each summer, a market known as Hozuki Ichi is held to sell offerings for the upcoming holiday. Since the Edo period, the market has been held annually, and Japanese Lantern flowers are the main item featured at the market, sold individually or on large stalks. Japanese Lantern berries are also sold and are believed to have higher healing properties when consumed at the market.
Geography/History
Chinese Lantern plants are native to temperate regions spanning from Southeastern Europe to East Asia and have been growing wild since ancient times. The resilient plant has assertive growth characteristics, allowing it to quickly spread once planted, and throughout its natural habitat, it has expanded across wild landscapes, extending into Western Europe. Chinese Lantern plants were also introduced to North America and Australia, where the variety is cultivated as a novel home garden cultivar. Today Chinese Lantern plants can be found growing wild and are cultivated in Asia, Europe, North America, and Australia. The berries are not commercially produced and are primarily foraged from wild or home garden plants.
Recipe Ideas
Recipes that include Chinese Lantern Flowers. One

is easiest, three is harder.