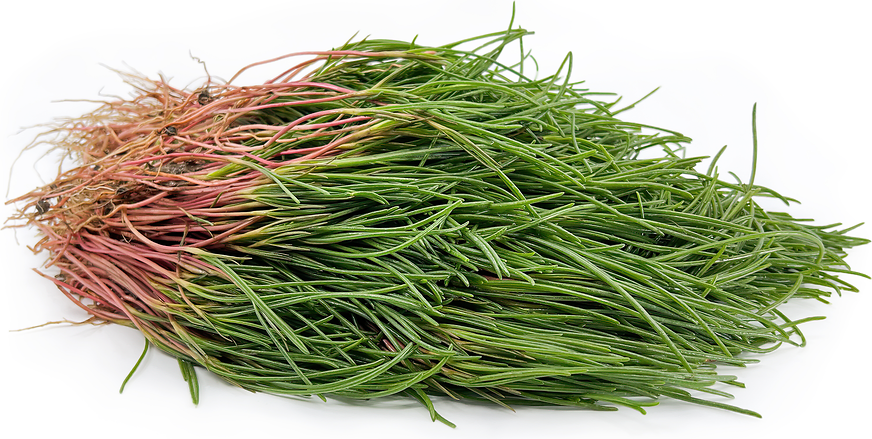 Italian Agretti
Inventory, lb : 0
Description/Taste
Agretti is comprised of slender, needle-like leaves that grow upright in spreading clusters and are typically harvested for culinary use when they reach 20 to 30 centimeters in length. The cylindrical, branched greens are connected to spindly and narrow pink and white roots, and these roots are trimmed and discarded before consumption. The edible greens are smooth, pliable, and wispy in nature with a saturated, dark green hue. Agretti is fleshy, succulent, and crisp with a delicate crunch. When young, the leaves have a mineral taste similar to spinach, and as they mature, they develop stronger green and grassy notes with briny, subtly salty, and tangy undertones.
Seasons/Availability
Agretti is available for a short season in the late winter through spring.
Current Facts
Agretti, botanically classified as Salsola soda, is a Mediterranean species belonging to the Amaranthaceae family. The briny, succulent greens are a type of saltwort, maturing around 50 days after sowing, and can grow as wide as 46 centimeters in diameter and 63 centimeters in height. Most Agretti greens gathered for commercial sale are harvested when the greens are young and smaller in nature, generally between 12 to 30 centimeters in length. Agretti is a rare species due to its limited availability. Agretti is only in season for a few weeks each year, and the plants are challenging to cultivate as the seeds typically only have a 30% germination rate. Despite their short season, Agretti has become an herbaceous green widely valued in culinary markets as a symbol of spring. Throughout history, Agretti has been known by several names, including Barba di Frate or Monk's Beard, Roscano, Friar's Beard, and Amira. The plants are also halophytes, meaning they grow in soil and water with high salinity. This distinct feature of the plant allows them to grow in coastal habitats as well as inland salt marshes and mud flats. Halophytes are vital to saltwater and brackish ecosystems as they absorb excess salt, balancing their surrounding environment for the survival of other animal and plant species. Beyond their importance as a filtering species, Agretti is also regarded as a culinary delicacy. The small, branched plants are traditionally foraged from the wild and are used as a refreshing, briny, and salty element in raw and cooked preparations.
Nutritional Value
Agretti is a source of fiber to regulate the digestive tract, potassium to balance fluid levels within the body, and vitamin C to strengthen the immune system while reducing inflammation. The greens also provide iron to develop the protein hemoglobin for oxygen transport through the bloodstream, vitamin A to maintain healthy organ functioning, and other nutrients, including magnesium, B vitamins, sodium, and calcium.
Applications
Agretti has an herbal, grassy, and salty taste suited for fresh and cooked preparations. Before adding to dishes, the greens should be washed to remove sand and any lingering debris. Shocking the greens in ice water for a few minutes before or after cooking will also help keep the leaves crisp and succulent. Young Agretti is traditionally used raw and is a popular addition to leafy salads, placed as a bed of greens for seafood, or chopped and mixed into potato salads. Agretti can also be combined with other springtime ingredients, such as fava beans in dips, or they can be chopped and served with olives and herbs. In addition to fresh preparations, Agretti can be blanched, lightly sauteed, or steamed as a simple side dish. Once cooked, it is recommended to toss the greens in olive oil, lemon juice, or other ingredients such as apple cider vinegar for enhanced flavoring. Try adding Agretti to egg-based dishes such as frittatas, quiches, or omelets, or mixing it into cooked tomato dishes for added salinity. In Italy, Agretti is customarily added to pasta as its elongated, flexible nature mirrors the movement and appearance of the noodles. The greens are also served with fresh cheeses such as burrata and are combined with anchovies, toasted breadcrumbs, and garlic as a savory appetizer. Agretti pairs well with lemon, garlic, olive oil, aged hard cheeses, fish such as cod and albacore, sausage, prosciutto, cream, butter lettuce, mustard greens, nuts such as hazelnuts and pine nuts, tomatoes, sweet peppers, and mushrooms. Freshly harvested Agretti should be immediately used for the best quality and flavor and will only keep for 1 to 2 days when stored in the refrigerator.
Ethnic/Cultural Info
Agretti was once used to make Murano Cristallo, the first colorless glass produced by Italian glassmakers. The process was discovered by glassmaker Angelo Barovier in the mid-15th century when he burned marsh plants, including Salsola soda, and used the sodium carbonate within the plant's ashes to mix with quartz powder and manganese dioxide. This combination produced the highly desired, colorless glass, later named Cristallo, Murano Cristallo, or Venetian Crystal. After Barovier's discovery, the recipe for making colorless glass was one of the most heavily guarded secrets among Italian glassmakers, and leaking the secret to outside glassmakers was considered punishable by death. Glassmaking, in general, was a heavily protected industry, and in the 13th century, all the furnaces for glassmaking were moved to the island of Murano, forcing professionals to relocate to the island. This ensured glassmaking trade secrets were guarded and protected, and most glassmakers were not allowed to leave the island without persimmon from the Republic. Despite the forced move, glassmakers who acquiesced and moved to Murano were given elevated social status, allowing the families to marry into nobility and have special privileges. Plants of the Salsola soda species were extensively used in glassmaking until the 19th century, but after the introduction of other synthetic substrates to produce colorless glass, plants such as Agretti fell into obscurity until they were revived in the culinary market.
Geography/History
Agretti is native to Europe and North Africa, especially along the Mediterranean Sea, and has been growing wild since ancient times. The species thrives in salty marshes, wetlands, and along sandy coastlines, and for centuries it remained wild and undomesticated. Over time, Agretti was cultivated for its use in glassmaking until the 19th century in Italy. Outside of its use in glass production, the briny green was used as a seasonal springtime flavoring, but the species was never extensively grown, leading it to remain a somewhat obscure crop. Agretti received worldwide notoriety in the early 21st century when chefs began promoting the greens as a rare delicacy. Seeds were purchased by growers worldwide, including specialty farms in Southern California, and by 2015, Agretti had become a trending hyper-seasonal ingredient in high demand in culinary markets throughout Europe and North America. Agretti has remained a popular ingredient into the present day, and the species has expanded beyond commercial markets into home gardens, grown as a novelty in coastal regions. When in season, Agretti is sold through fresh markets throughout Italy, especially in the areas of Lazio and Umbria, and in select specialty markets throughout Europe, North America, and Australia.
Recipe Ideas
Recipes that include Italian Agretti. One

is easiest, three is harder.