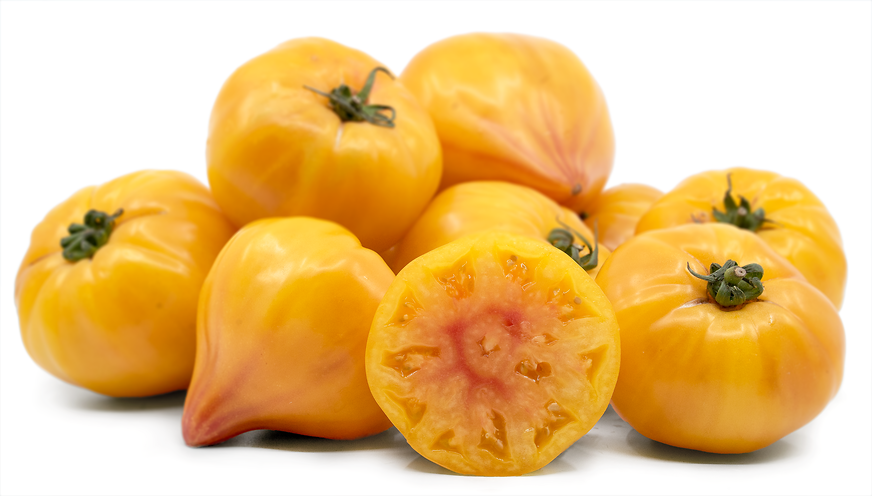 Pineapple Heirloom Tomatoes
Inventory, lb : 0
Description/Taste
Pineapple tomatoes have a huge body with golden-orange and red marbled skin. They show the same beautiful coloration on their interior flesh, which has a strong tomato aroma and boasts low acidity and few seeds with more solid, meaty flesh. This variety has an incredibly unique flavor as it is primarily sweet, but with a satisfying, and even surprising, citrus tang. Pineapple tomato plants bear heavy yields of fruit with individual tomatoes weighing between one and two pounds. As an indeterminate variety, Pineapple tomato plants will continue to grow and set fruit up until a frost. Pineapple is among the taller of tomato plants, often reaching eight or more feet high, hence staking or caging these plants is recommended in order to encourage healthy growth and to prevent garden sprawl.
Seasons/Availability
Pineapple tomatoes are available in summer and early fall.
Current Facts
The botanical name of Pineapple tomatoes is Solanum lycopersicum 'Pineapple'. They, like all tomatoes, are a member of the Solanaceae, or nightshade, family, along with tobacco, potatoes, and petunias. These tomatoes are called "pineapple" because of their ribbed exterior and their interior's resemblance to a slice of the spiny tropical fruit. Other pineapple tomato strains include the green pineapple tomato, the Belgian ananas noire, or "black pineapple" tomato, and the Hawaiian pineapple tomato; of all the pineapple varieties, the Hawaiian pineapple is known to have the most distinctive pineapple-like flavor.
Nutritional Value
Tomatoes contain carbohydrates, protein, and dietary fiber, and they are an excellent source of vitamin A, vitamin C, and potassium. Tomatoes contain decent amounts of the antioxidant and anticancer agent, lycopene, which is responsible for the fruit's red pigmentation. Lycopene has been linked in research studies with the prevention of several types of cancer.
Applications
The unique coloring and sweet flavor of the Pineapple tomato makes it perfect for raw preparations. Use them as a colorful addition to fresh greens, layered in a stacked salad, or paired with fresh basil, mozzarella and balsamic for a traditional caprese salad. Chop and combine with fresh herbs and olive oil and serve atop grilled bread for a simple, tasty bruschetta. Its large size makes it a perfect sandwich tomato, and it also looks beautiful when layered in a tart, or sliced and served on pizzas and flat bread. Heirloom tomatoes are fragile, bruise easily, and should be used as soon as possible upon ripening. For maximum flavor do not refrigerate. Refrigeration should only be used for extra-ripe tomatoes that you want to keep from ripening any further.
Ethnic/Cultural Info
The tomato originated in Central America, where it was cultivated by the Aztecs. When the Spanish invaded Central and South America, they seized upon the exotic fruit and sent it back to Europe. Southern Europe began using the fruit in their cuisines while northern Europe feared the tomato and believed it to be poisonous. However, they did grow this "Apple of Love," as it was known to the French, or the "Apple of Paradise," as the German's called it, because they considered it an aesthetic curiosity in the garden. It was this ornamental appreciation that eventually brought the tomato to the "New World" where it was grown, but not eaten, by white colonists. Eventually Thomas Jefferson began cultivating the tomato as an edible crop, after which its use in the American kitchen began growing in popularity. Today, tomatoes are the most commonly grown fruit in the world, besting bananas, the second most popular fruit, and apples, the third most popular.
Geography/History
While the Pineapple tomato has an unknown parentage, it is believed to have originated in Kentucky, along with other bi-colored tomatoes. Tomatoes are not at all hardy, and cold soil and air temperatures can stress the plants. Plant outside only once the final frost of the season has passed. Be sure to plant your patience alongside the Pineapple tomato because not only is it a late season tomato, but its fruit also takes longer to set than most other varieties. Also note that the thin skin of Pineapple tomatoes makes them more susceptible to cracking in wet weather.
Recipe Ideas
Recipes that include Pineapple Heirloom Tomatoes. One

is easiest, three is harder.
Podcast