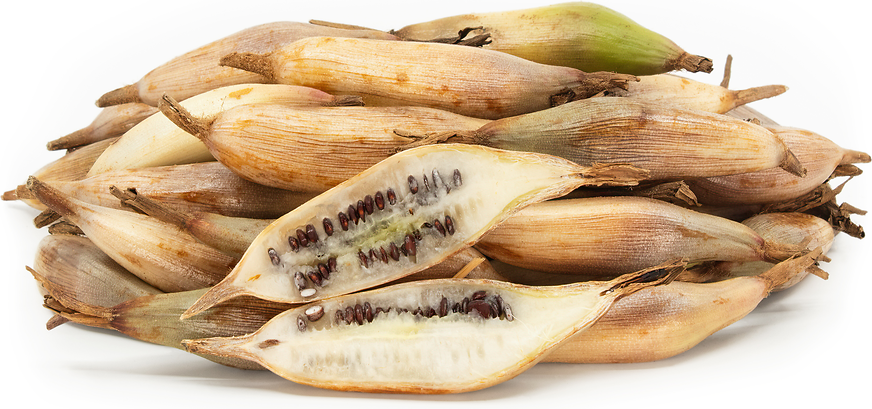 Piñuela Fruit
Inventory, lb : 0
Description/Taste

Piñuelas are small in size, averaging 9 to 12 centimeters in length and 1.9 to 2.7 centimeters in diameter, and have a long, slender, and straight appearance with tapered ends. Some fruits may be rounder on one end, while others will be cylindrical. The fruit's skin is covered in thin, fibrous layers and is found in varying pink, dark brown, and yellow-white hues, depending on the variety. The fruits are also covered in fine, sharp, and rusty-brown hairs that may sting and irritate the skin. Not all varieties will have these hairs, but if present, contact should be avoided and the hairs removed before consumption. The fibrous skin and coating can be peeled from the flesh, and the flesh is soft, aqueous, crisp, and somewhat stringy, showcasing ivory to cream-colored hues. The flesh also encases many small seeds ranging from 3 to 4 millimeters in diameter. These seeds are arranged along a central line in the flesh and have a flattened, oval shape. Piñuelas must be consumed ripe and have a bittersweet pulp with tart, refreshing, and subtle pineapple-like nuances. The pulp may impart a tingling sensation into the mouth, depending on the individual's sensitivity. It is not recommended to consume more than one fruit at a time to prevent irritation from occurring in the mouth.


Seasons/Availability

Piñuelas are available in the fall through winter in the Southern Hemisphere, spanning from March through July.


Current Facts

Piñuelas, botanically classified as Bromelia karatas, are the fruits of a tropical to subtropical species belonging to the Bromeliaceae family. The species is native to the Americas and is a type of Bromeliad, producing long, upright leaves reaching up to three meters in height and growing in a rosette shape. Each year, the plants produce an inflorescence in the center of the plant holding 50 to 100 colorful small fruits. Piñuela is a rare fruit not well known outside of its native growing regions and is known by several names, including Cocuixtle, Timbiriche, and Aguama. The fruits are typically harvested by hand and utilized in select culinary and medicinal preparations throughout Central and South America. Piñuelas are not commercially grown, and the fruits are seldom seen in fresh markets. The fruits are most commonly grown and foraged by plant enthusiasts who have a knowledge of the plant's versatility and uses.


Nutritional Value

Piñuela is a source of phosphorus to repair tissues and produce RNA and DNA, fiber to regulate the digestive tract, and vitamin A to maintain healthy organ functioning. The fruits also provide calcium to build strong bones and teeth, iron to develop the protein hemoglobin for oxygen transport through the bloodstream, potassium to balance fluid levels within the body, and other nutrients, including magnesium, vitamin B, vitamin C, and other antioxidants. In natural medicines of Colombia, Piñuela is incorporated into various remedies to treat ulcers, scurvy, urinary ailments, and inflammation. The seeds are also boiled, crushed, and consumed with sugar to remove intestinal parasites.


Applications

Piñuela has a bittersweet taste suited for fresh and cooked preparations. The outer, fibrous husk must be stripped from the fruit, and the flesh can be consumed fresh as a snack. It is generally recommended only to eat one Piñuela fruit at a time, as some people may experience reactions to the fruits and develop blisters or burns in their mouth. It is a similar reaction to when some sensitive consumers eat too much pineapple. Piñuela can also be blended into sauces and drizzled over tacos, pureed and frozen into ice cream, or cooked into sweets. Piñuela is added to beverages in South America, famously known as Agua de Piñuela. Experts theorize that Piñuelas were a food source for the Yanomami and the Quechuas. In addition to the fruits, the shoots' young, tender, leaf bases can be blanched and eaten. Piñuela should be immediately consumed after harvest for the best quality and flavor. The fruits will keep for 1 to 2 days when stored in the refrigerator.


Ethnic/Cultural Info

Piñuela is an ancient crop mainly used in medicinal and culinary applications in the Patía Valley region of southwestern Colombia. The fruits are considered indigenous crops in this region and are customarily consumed in beverages. The large, upright Bromelia karatas plant is also used to form living fences known as Piñuelares. These fences are constructed to mark property borders as the plant can survive in poor soils and is resistant to disease and drought. In Chiapas, Mexico, Piñuela is a favored foraged fruit. The fruits are roasted over campfires for a smokey flavoring and are also pressed into a juice known as agua de sabor.


Geography/History

Piñuela is native to regions of Central America, South America, and Mexico and has been growing wild since ancient times. The species thrives in tropical to subtropical forests reaching up to 1500 meters above sea level and can grow in poor soils. Piñuela has been used as a food source among pre-Hispanic cultures and was also incorporated into medicinal remedies of the Incan, Mayan, and Aztec civilizations. In South America, Piñuela is primarily found in Brazil, Ecuador, and Colombia. In Colombia, the species is grown in the departments of Valle, Amazonas, Nariño, and Magdalena. Outside of South America, Piñuela is valued in Mexico in the states of Chiapas, Nayarit, Yucatan, Sinaloa, Jalisco, Oaxaca, Veracruz, and Campeche. It is also grown in Costa Rica, Cuba, Honduras, Puerto Rico, and Panama. Today Piñuela is a rare, foraged fruit not commonly found in markets. The fruits are traditionally harvested from wild and home garden plants and are sold through select foragers in their growing regions.