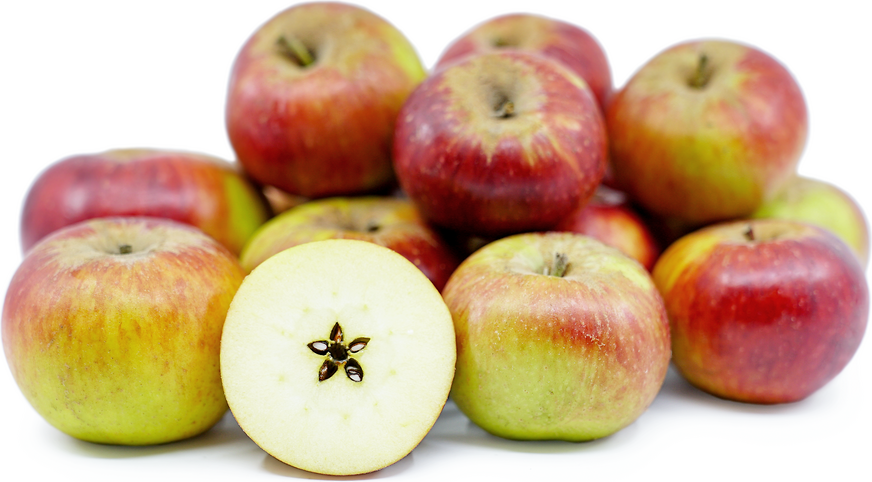 Black Twig Apples
Inventory, lb : 0
Description/Taste
Black Twig apples are a medium to large varietal and have an oblate to slightly conical shape with flat, broad shoulders tapering to a narrow base. The apple's stalk is short and embedded in a cavity filled with brown russet, and the fruit's surface sometimes showcases prominent ribbing. The skin is semi-thick, smooth, chewy, and taut, developing a waxy sheen with extended storage. The skin also has a yellow-green hue, covered in light lenticels and dark red to brick red blush with striping. It is important to note that as the variety is kept in storage, the skin will darken in color. Underneath the surface, the white to ivory flesh is dense, firm, and fine-grained with an aqueous, breaking, and crunchy consistency. The flesh also encases a small central core filled with tiny black-brown seeds. Black Twig apples emit an aromatic, honeyed scent with cider-like notes when ripe. The skin has a slightly bitter taste, and the flesh is initially tart, tannic, and sharp. After a period of storage, the tannins lessen, revealing the sugar in the flesh to create a sweet and lightly spiced flavor.
Seasons/Availability
Black Twig apples are available in the mid-fall through winter.
Current Facts
Black Twig apples, botanically classified as Malus domestica, are an heirloom American apple belonging to the Rosaceae family. The late-season variety was discovered as a chance seedling on a farm in Tennessee in the early 19th century and was selected for propagation for its sharp, complex flavoring. Black Twig apples grow on deciduous trees reaching 3 to 4 meters in height and were favored by growers for the tree's disease resistance and the fruit's extended storage capabilities. Black Twig apples were once a popular dessert apple of the late 19th and early 20th centuries. In the modern day, it has faded from commercial production due to the influx of modern cultivars and is grown as a rare, specialty apple in select regions of the Southern United States.
Nutritional Value
Black Twig apples are a source of fiber to regulate the digestive tract, potassium to balance fluid levels within the body, and calcium to protect bones and teeth. The apples also provide vitamin C to strengthen the immune system and reduce inflammation, vitamin A to maintain healthy organ functioning, and other nutrients, including zinc, iron, vitamins K and E, magnesium, copper, and boron. The apple's pigmented skin contains antioxidants to protect the cells against the damage caused by free radicals.
Applications
Black Twig apples have an initially sharp, tannic taste that mellows into a sweeter flavor suited for fresh or cooked preparations. The variety is often considered too tart to consume straight off the tree, but after storage, it can be eaten out of hand as a snack. Black Twig apples can also be sliced and added to cheese plates, chopped and tossed into salads, or shredded into slaws. The apple's crunchy flesh incorporates texture into sandwiches, and it is sturdy enough to be sliced and dipped into nut butter, caramel, and chocolate. In addition to fresh preparations, Black Twig apples are commonly used in cobblers, pies, turnovers, fritters, and other baked goods. They can also be sauteed in browned butter and spices, stuffed and baked whole, or cooked into a sauce for serving with roasted meats. Black Twig apples have historically been used as cider apples and are favored for their high tannin content to add complexity to blends. In the South, cider is made using a slow-fermentation process to highlight the apple's true flavors, and this process can take anywhere from 3 months to 1 year to complete. Black Twig apples pair well with spices such as cinnamon, nutmeg, ginger, and cardamom, herbs including parsley, mint, and rosemary, vanilla, maple syrup, and nuts such as hazelnuts, pecans, walnuts, and almonds. Whole, unwashed Black Twig apples will keep for 1 to 2 months when stored in the refrigerator's crisper drawer. The variety can sometimes be kept in professional cold storage for up to five months.
Ethnic/Cultural Info
Black Twig apples are rumored to have been a favorite fruit of former President Andrew Jackson. "Old Hickory" was a nickname Jackson acquired in the early 1800s when he led the 2nd Division Tennessee Regiment against a possible attack by the British on New Orleans. One day Jackson received news that his troops should be disbanded and find their own way home. Jackson stayed with his troops, supplying horses and walking alongside injured troops to ensure they arrived home safely. Jackson's stubbornness, determination, and unwaveringness earned him the famous "Old Hickory," a nickname that stayed with him throughout his Presidency. Before Jackson became President, he resided in Tennessee, the home state of the Black Twig apple. Not much is known beyond the alleged rumor of Jackson favoring the apple variety, but historians remark that Jackson enjoyed fine foods and lavish dinner parties. When Jackson became the seventh President of the United States from 1829 to 1837, he hosted many events around his horseshoe-shaped table in the state dining room. Dinner attendees called him "King Andrew" for the extravagance of his banquets, and many of the curated menus were French-inspired, as Jackson's personal chef was French. Beyond his colorful, international menus, Jackson also served apple pies as a favored dessert.
Geography/History
Black Twig apples are shrouded in mystery as several theories exist for the variety's history. The most common account in research states that the apples were discovered as a seedling growing on the farm of Major Rankin Toole six miles west of Fayetteville, Tennessee. The seedlings were selected for propagation as a new variety, but not much is known after the variety's initial discovery. Some research mentioned that a local nurseryman known as Mr. P. L. Twitty is credited with propagating and releasing Black Twig apples to other commercial growers. In the 1896 bulletin "Apples of Tennessee Origin," the author R. L. Watts mentions that Mr. Twitty visited Major Toole's farm, but Mr. Toole was out of the house, so his daughter assisted Twitty. The daughter pointed to their Black Twig trees and mentioned that there were two kinds of Black Twig trees, one with small fruits and one with larger fruits. Mr. Twitty collected scions from both trees and mixed the two together, resulting in a possible mixing of varieties. He also gave mixed scions to a few other growers, complicating the variety's history. Despite their murky origins, Black Twig apples were a valued dessert variety in the late 19th and early 20th centuries. The variety remained prominent in southern orchards for several decades until newer, modern cultivars eventually overshadowed them. Today Black Twig apples are primarily grown in the southern United States and are a rare variety sold directly through growers. The variety is also cultivated in home gardens as a historical heirloom.
Recipe Ideas
Recipes that include Black Twig Apples. One

is easiest, three is harder.