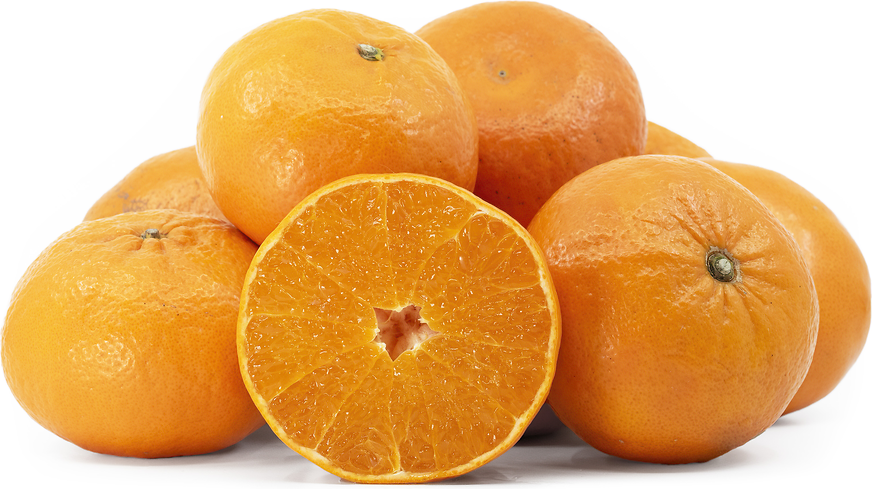 Hamasaki Oranges
Inventory, lb : 0
Description/Taste

Hamasaki oranges are a medium to large varietal, averaging 8 to 10 centimeters in diameter and 200 to 300 grams in weight, and have an oblate, squat, to round shape with one flattened end. The orange's rind is thin, smooth, and dark orange-red with a faint sheen, and the surface is covered in tiny oil glands giving the rind a pebbled nature. The rind is also adhered to the flesh but is easily peeled by hand, and once removed, there is a thin, almost nonexistent white pith. The dark orange flesh is divided into 10 to 14 segments by delicate, unnoticeable membranes and is dense, soft, and aqueous with a tender, succulent consistency. Depending on cultivation methods, the flesh also may have a hollow center and is generally seedless. Hamasaki oranges should feel heavy for their size when ripe. Look for oranges where the rind is still mostly attached to the flesh and does not have a lot of air bubbles beneath the surface. The variety is known for its high sugar content, ranging from 12 to 13 Brix, occasionally reaching as high as 15 Brix, and is mixed with moderate acidity to create a sweet, tangy, and bright flavor that fills the mouth with a refreshing aroma when consumed.


Seasons/Availability

Hamasaki oranges are available from the mid-winter through spring in Japan.


Current Facts

Hamasaki oranges, botanically classified as Citrus reticulata, are a Japanese variety belonging to the Rutaceae or citrus family. The hybrid oranges were released in the early 21st century and were developed as an improved cultivar designed for fresh eating. Hamasaki oranges grow on evergreen trees in temperature and climate-controlled greenhouses and are left on the trees for extended periods to concentrate sugar and acidity levels. Freshly picked Hamasaki oranges have a very sweet and acidic taste, but the fruits are traditionally stored in a climate-controlled warehouse for about a month before they are sold in consumer markets. This storage time allows the fruits to mellow in acidity, creating a sweet, tangy, balanced flavor profile. Hamasaki oranges are a premium cultivar favored by consumers for their sweet taste, juicy nature, and easy-to-peel rind. It is important to note that Hamasaki is not a varietal name but a brand name created by producers in the city of Karatsu in Japan for marketing purposes. The orange's varietal name is Reikou, and both names are used within Japan, especially in the Saga Prefecture, to sell the fruits.


Nutritional Value

Hamasaki oranges are a source of vitamin C to strengthen the immune system while reducing inflammation, vitamin A to maintain healthy organ functioning, and potassium to balance fluid levels within the body. Like other orange varieties, the fruits also provide folate to create genetic material such as RNA and DNA, fiber to regulate the digestive tract, antioxidants to protect the cells against the damage caused by free radicals and oxidative stress, and other nutrients, including zinc, copper, magnesium, vitamin E, manganese, calcium, and iron.


Applications

Hamasaki oranges have a concentrated, sweet, and tangy flavor suited for fresh and cooked preparations. The variety's easy-to-peel nature makes it popular for eating straight out of hand, and the flesh can be easily segmented and tossed into salads, added to fruit medleys, or used as a fresh topping over breakfast dishes such as parfaits, overnight oats, smoothie bowls, and waffles. Segmented Hamasaki pieces can also be dipped in chocolate as a sweet treat, chopped into salsa, dips, and spreads, or mixed into rice and other grain-based dishes. In addition to fresh preparations, Hamasaki oranges can be simmered into jams, jellies, and marmalade, infused into dressings and syrups, or cooked into sauces for roasted meats. The oranges can also be lightly caramelized and served as a side with aromatics and nuts or baked into crisps, tarts, scones, cookies, and muffins. Beyond the orange's flesh, the zest and juice can be sprinkled over culinary dishes and in cocktails, sparkling beverages, or mixed into juices. In Japan, oranges are often used to make kanten, a traditional Japanese dessert mixing agar powder with sugar, orange juice, and water to make jelly. The jelly is often served in hollowed-out orange rinds as a festive presentation. Oranges are also used in nekiri, a type of Japanese wagashi or snack typically served during tea ceremonies. The soft, dough-like mix is combined with various food dyes and formed into an orange. Hamasaki oranges pair well with fruits such as kiwis, grapes, bananas, and blueberries, spinach, rhubarb, red onions, bell peppers, meats such as pork, poultry, beef, and fish, and nuts such as almonds, pine, and cashews. Whole, unwashed Hamasaki oranges will keep up to one week when stored at room temperature and for 1 to 2 weeks when kept in a plastic bag in the refrigerator's crisper drawer.


Ethnic/Cultural Info

Hamasaki oranges are featured in a simple mandala-like design with intertwining branches on manhole covers in Japan. The art of adding designs to the city street lids was created in the 1970s and 1980s to increase funding for sewer projects and to add character to a generally invisible item. Each manhole cover design is unique, and artists are allowed to create their own pieces using images that inspire them. Pictures of flowers, fruits, buildings, Pokémon, and other mythical characters fill the manhole covers, and some prefectures have covers that showcase the region's famous attractions. Today, over twelve thousand designs are found throughout Japan, and these covers attract visitors from all over the world. In fact, there is a term to describe manhole cover enthusiasts in Japan known as "manholers." There are also Manhole Cards to document which manholes they have visited and which covers they have yet to see. The cards were created in 2016 and are essentially a type of collector item. Manhole cover art has become increasingly popular in Japan, and each year some societies host Manhole Summits to discuss everything related to the cover art. At the first summit, over 3,000 visitors attended, despite the venue only being able to accommodate 600 people. The summits also feature manhole covers that have been removed and replaced on the street, and the covers are purchased at high prices during an auction.


Geography/History

Hamasaki oranges are native to Japan and were developed in the Saga Prefecture on the island of Kyushu in 1984. The variety was created in the city of Karatsu using traditional crossbreeding techniques and was bred from a Kiyomi and Encore orange cross, later bred with a Murcott tangerine. When the variety was first created, it was initially named Reikou and registered as an official cultivar in 2005. Later in 2010, Reikou oranges were relabeled with the brand name Hamasaki as a part of a marketing campaign to promote the variety as a premium fruit. Hamasaki oranges are primarily grown in the city of Karatsu in the Sage Prefecture and are cultivated in advanced greenhouses to control growing conditions. Once harvested, only the top oranges meeting quality flavor and appearance standards are sold as Hamasaki and are generally offered through select markets, distributors, and retailers. Outside of the Saga Prefecture, the oranges are also cultivated and sold under their varietal name of Reikou in Nagasaki, Aichi, Hiroshima, and Miyazaki Prefectures.