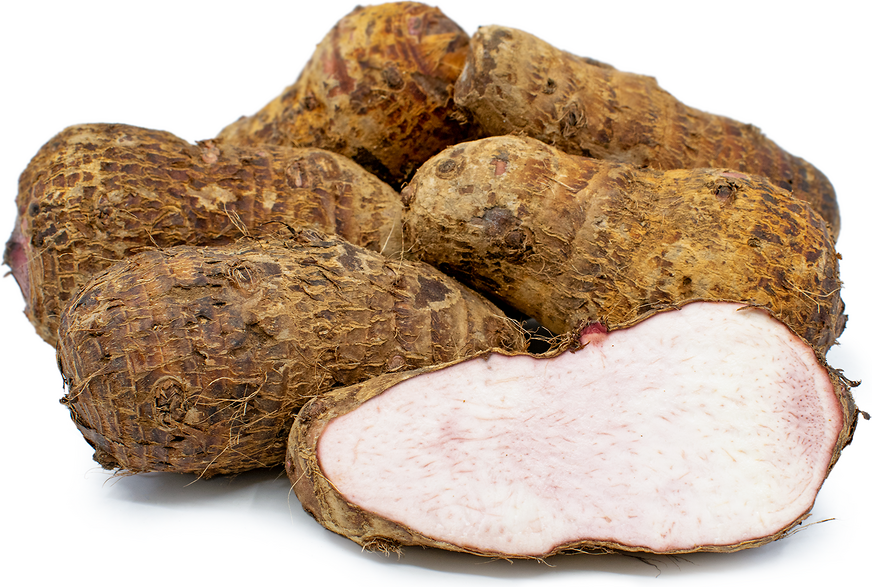 Red Malanga Root
Inventory, 35 lbs : 0
Description/Taste

Red Malanga are swollen, underground roots that grow large green, arrowhead-shaped leaves above ground. The skin of the root is covered in wiry hair with many bumps, scratches, and horizontal striping, and the root varies in size and has an irregular, oblong to tapered shape with rounded ends. The mottled skin is also thick, rough, and dark brown with some red discoloration. Underneath the skin, the flesh ranges in color from white to light red with red speckling and is crisp, juicy, dense, and firm. When cooked, Red Malanga develops a tender, soft, and starchy consistency with earthy and nutty flavors.


Seasons/Availability

Red Malanga is available year-round.


Current Facts

Red Malanga, botanically classified as Xanthosoma sagittifolium, are swollen, edible roots that are found underground, beneath herbaceous plants and are members of the Araceae family. Known by many different names across the world, including Yautia, Cocoyam, and Tannia, malanga roots are closely related to taro and are often confused with one another due to their similarity in appearance. In the past decade, taro has been prominent in commercial cultivation due to its universal awareness, but malanga has seen a recent increase in production, especially in Africa, as the plants produce high yields with a low amount of effort and are well adapted to the African tropical climate. Malanga is also being cultivated in Florida to meet the demand for the large Caribbean community who favors using the root in soups and fritters.


Nutritional Value

Red Malanga contains calcium, iron, phosphorous, vitamin C, potassium, and magnesium.


Applications

Red Malanga must be cooked before consumption to eliminate the naturally occurring chemical compound known as calcium oxalate, which can cause irritation if not removed. The root can be baked, steamed, or boiled for use in soups, stews, salads, and pastries, or it can be mashed and mixed with spices, butter, or cream as a smooth side dish. Red Malanga roots can also be grated into pancakes and fried, thinly sliced and baked into chips, or stuffed with cooked meats and vegetables. In addition to cooked applications, Red Malanga root can be dried and ground into a powder for use as a thickener. Red Malanga root pairs well with bitter greens, kale, onions, garlic, Scotch Bonnet chiles, black beans, celery, carrots, ginger, smoked meats, crayfish, seafood, sausage, beef, and poultry. The roots will keep up to one week when stored at room temperature in a humid environment as malanga can quickly dry out.


Ethnic/Cultural Info

In Ghana, Red Malanga roots are the preferred colored corm and are predominately used as a yam substitute in the staple food fufu. This dish pounds the root into a dough-like consistency and is served as a filling side dish to soups, stews, curries, and porridges. Red Malanga is also commonly mashed and served with peanuts, smoked meats, and fish, and the leaves of the plant are one of the top bitter greens consumed in the country. To prolong the shelf life of the root, farmers in Ghana have a unique storage method where they bury the roots and water them frequently to maintain moisture content. This allows Red Malanga to be used almost year-round as a source of food for both humans and livestock, and the roots are also dried and ground into a flour for use as a thickener.


Geography/History

Red Malanga is native to the tropical and subtropical climates of Central and South America and has been growing wild since ancient times. In the mid-1800s, Spanish explorers discovered the root in Central America and introduced it to the Caribbean, West and Central Africa, and later the Philippines, spreading the root to tropical climates across the world. Today Red Malanga is still found growing wild and is cultivated for sale at specialty grocers and farmers markets in the Caribbean, Central and South America, Asia, Southeast Asia, the South Pacific, Africa, and the United States.