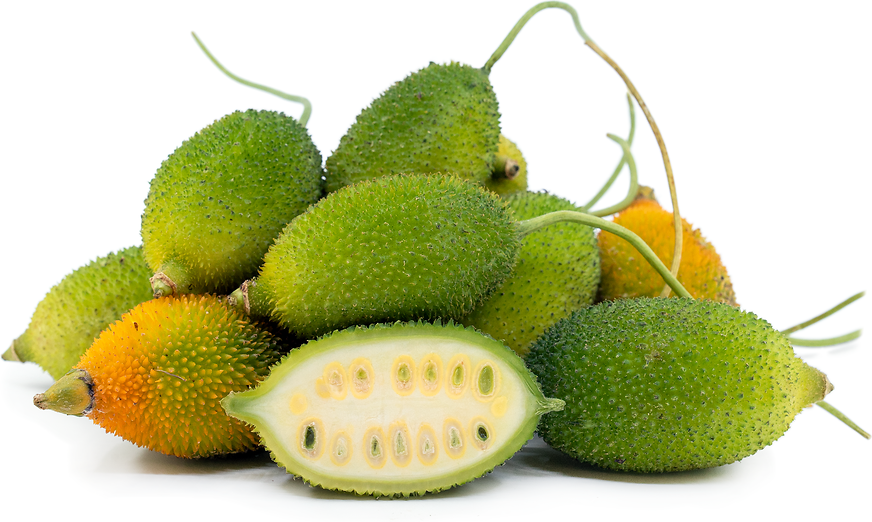 Teasel Gourd
Inventory, lb : 0
Description/Taste
Teasel gourds are small to medium in size, averaging 1 to 3 centimeters in diameter and 2 to 7 centimeters in length, and are oblong to oval in shape, tapering to a small point on the non-stem end. The gourd's surface is covered in a thick layer of soft, flexible spines, and each gourd is connected to a long, thin, and pliable green stem. The gourds ripen from dark green to light green, eventually developing yellow-tipped spines with age. The gourds also have a somewhat firm feel when squeezed. If left to over ripen, the gourds transition into a dark orange hue. Underneath the spiny surface, the flesh is white to green, crisp, watery, and spongy, encasing a few to several small cream-colored to brown seeds. With age, the flesh will turn a bright red around the seeds, a sign that the fruit is over maturing. Teasel gourds are primarily consumed in their green stage, as the gourds with splashes of yellow are said to have more bitter undertones. When sliced, the gourds release a fresh, green aroma and subtly sweet, bitter, woody, and mild vegetal flavor.
Seasons/Availability
Teasel gourds are generally available during the monsoon season throughout Southeast Asia, spanning from June to September.
Current Facts
Teasel gourds, botanically classified as Momordica dioica, are small, seasonal fruits of a vining plant belonging to the Cucurbitaceae family. The climbing vines are fast-growing, extending over 2 to 3 meters in length, and thrive in tropical climates worldwide, with many plants found in Southeast Asia, especially in India. Teasel gourds are also known as the Spine gourd, Hedgehog gourd, Spiny gourd, and Bristly Balsam pear. The gourds received their teasel moniker from their shared, spiky nature to the wild European teasel flower that grows spiny flowering heads. The gourds are also known by many descriptors in India, including Phagala in eastern India, Kantola in northwestern India, and other regional names such as Kattu Pavakkai, Kartoli, Pazhupavakkai, Madahagalakayi, and Aakakarakayi. Teasel gourds are a seasonal delicacy prepared as a vegetable in a wide array of curries, soups, stews, and stir-fries. Outside of its culinary use, the vines are planted in home gardens as an ornamental plant, valued for the colorful gourds and climbing nature.
Nutritional Value
Teasel gourds contain fiber to regulate the digestive tract, vitamin C to strengthen the immune system, and beta-carotene, a compound converted into vitamin A in the body to maintain healthy organ functioning. The gourds also provide iron to develop the protein hemoglobin for oxygen transport through the bloodstream, potassium to balance fluid levels within the body, and antioxidants to protect the cells against damage caused by free radicals. In Ayurvedic medicine, Teasel gourds are believed to have analgesic and antibiotic-like properties to soothe coughs and other symptoms of allergies and colds. The gourds are also said to increase blood circulation and digestion.
Applications
Teasel gourds can be consumed in their entirety and are suited for cooked preparations such as roasting, frying, and baking. The gourds are traditionally sliced in half or into smaller pieces, removing the seeds, and are cooked into fritters known as phaagila podi. Before the gourds are fried, they are hollowed, and the flesh is pounded with spices and chiles to create an aromatic filling. This mixture is stuffed into the gourd pieces, dipped in batter, and fried until golden brown and crisp. Teasel gourds can also be stuffed with flavorings such as coconut or mustard and mixed into curries, soups, and stews. Some of the most well-known Teasel gourd dishes in the western states of India include Kantola curry and Kantola fish fry, which are recipes for cooking Teasel gourds with river fish. Teasel gourd recipes are often served with rice, and the gourds contribute added texture, flavor, and nutritional value to dishes. Teasel gourds can also be sliced and peeled into several rounds, dusted with rice flour and spices, and pan-fried. In addition to the flesh, the seeds are roasted and consumed as a snack. Teasel gourds pair well with spices such as coriander, garam masala, turmeric, and mustard seeds, aromatics including chile peppers, curry leaves, garlic, and onions, peanuts, coconut, and tamarind. Whole, unwashed Teasel gourds will keep 1 to 2 weeks when stored in a loosely opened bag in the refrigerator.
Ethnic/Cultural Info
Teasel gourds are known as monsoon vegetables in India. From June to September, fluctuations in temperature over the land and ocean cause torrential downpours to scattered showers throughout regions of India. The annual season of rain is viewed as refreshing and invigorating, and along with the rains, seasonal vegetables arrive in local markets. These seasonal vegetables are vital for Indian diets during the monsoon season as they contain nutrients needed to combat seasonal colds and bacterial infections. The monsoon season also highlights the richness of the farming season. Seasonal vegetables, including Teasel gourds, are prepared in dishes as an offering to the gods for a prosperous year before they are consumed in households. Teasel gourds are also sometimes incorporated into Onam Sadhya, a festival feast held in Kerala. This feast marks the 10th day of the Onam festival, an annual harvest celebration that is one of India's most popular monsoon festivals. Onam Sadhya is a multi-course vegetarian meal, traditionally consisting of over 25 dishes. The dishes are served on a banana leaf and are unique to each community, showcasing local recipes and ingredients. The entire feast is also typically eaten using the hands, a practice connecting the hand to the heart, mind, and other chakras throughout the body.
Geography/History
Teasel gourds are native to Africa and have been growing wild since ancient times. The gourds grow on prolific vines, rapidly spreading naturally in the wild, and over time, the vines were planted in home gardens as a culinary ingredient and ornamental. Teasel gourds were carried from Africa to Asia and were introduced to India, where the gourds became a popular seasonal vegetable. The gourds were also selectively bred in India to create commercial varieties and are mainly produced in West Bengal and Karnataka. Teasel gourds are also commercially grown in Maharashtra, Meghalaya, Uttar Pradesh, Orissa, and Jharkhand in India and are found in the wild and in home gardens in all parts of the country. Today Teasel gourds thrive in warm, tropical to subtropical climates and are offered through local markets in Southeast Asia. They are also grown on a smaller scale in Baja California and Hawaii in the United States. The Teasel gourds featured in the photograph above were sourced from Chow Kit Market, a local wet market in Kuala Lumpur, Malaysia.
Recipe Ideas
Recipes that include Teasel Gourd. One

is easiest, three is harder.