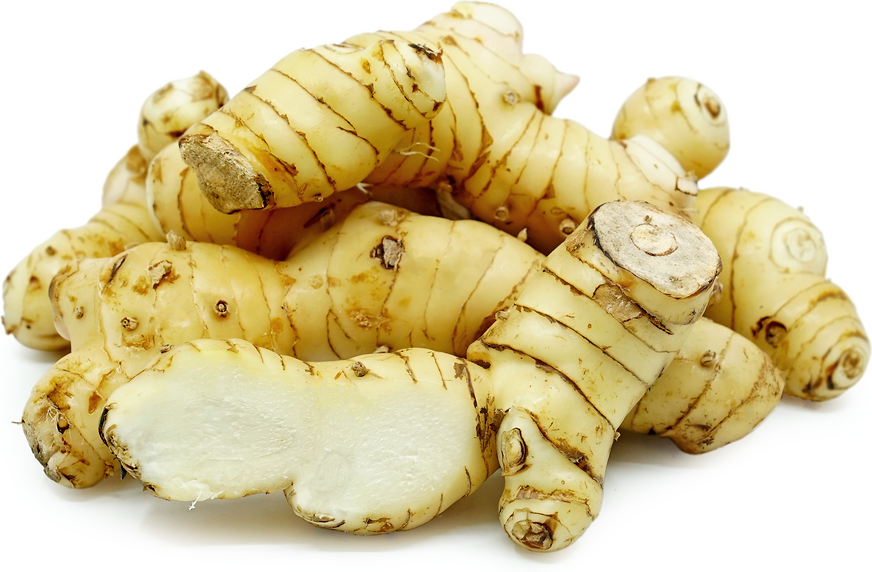 Galangal Root
Inventory, 10 lbs : 24.97
This item was last sold on : 12/09/23
Description/Taste
Galangal rhizomes develop underground beneath a leafy plant and widely vary in size and shape, depending on the species and growing conditions. The rhizomes typically range from long, slender, and straight to thick, knobby, and bulbous with a branching nature. The skin is thin but tough with a smooth, taut, and firm feel, and some species of Galangal showcase dark brown concentric rings, giving the surface a woody, raised texture. The skin also varies in shades of cream, brown, tan, to ivory with pink-red accents. Underneath the skin, the ivory-to-pale yellow flesh is dense, hard, moist, and fibrous. Galangal is known for its aromatic nature and releases a warm, fruity, and spicy-sweet scent. Select smaller rhizomes that are firm, taut, and have unblemished skin. Discard wrinkled rhizomes, as this is a sign that the flesh has dried out and become too tough to use. When crushed or sliced, Galangal has a warm, pungent, and complex flavoring of woodsy, earthy, peppery, and bitter notes combined with subtle nuances of citrus, pine, and mustard.
Seasons/Availability
Galangal rhizomes are available year-round.
Current Facts
Galangal, botanically a part of the genus Alpinia, is the underground rhizome of a tropical plant belonging to the Zingiberaceae or ginger family. The perennial plant produces reed-like stems with elongated, lanceolate leaves that grow upright above ground, reaching 1 to 2 meters in height, depending on the species. Galangal is a general descriptor encompassing two main species: Lesser Galangal, classified as Alpinia officinarum, and Greater Galangal, Alpinia galanga. The two species vary in size, shape, and taste, but they are used similarly in medicinal and culinary applications. Galangal has been prevalent in Asia since ancient times, and the rhizomes have acquired several names, including Galana, Thai Ginger, Laos Root, Kah, Blue Ginger, and Lengkuas. The name Galangal is thought to have been created from the sound of the Chinese name Gao Liang Jiang, meaning "good ginger from Gaozhou," a city in China where Lesser Galangal may have originated. In the modern day, Galangal, in both forms, is still utilized for its medicinal properties. The rhizomes also infuse a warm, sweet, and pungent flavor to culinary dishes, similar to ginger but slightly more robust in flavor, and can be found in fresh, dried, and powdered forms.
Nutritional Value
Galangal is a source of fiber to regulate the digestive tract, vitamin A to maintain healthy organ functioning, vitamin C to strengthen the immune system, and iron to develop the protein hemoglobin for oxygen transport through the bloodstream. In natural medicines, rhizomes are considered an aromatic stimulant with antibacterial and anti-inflammatory properties. In Traditional Chinese Medicine, the rhizomes are believed to promote digestion and soothe cold symptoms. In India, the plant's seeds are chewed as a breath freshener and are consumed to calm upset stomachs. Various parts of the plant are also used as a perfume and are incorporated into pain reliever creams such as Tiger Balm. In various forms of witchcraft worldwide, Galangal rhizomes are thought to protect individuals in court and welcome good luck. Dried or powdered rhizomes are burned to break curses, and when pieces are worn or carried in a pocket, they will bring wealth and health.
Applications
Galangal has a pungent, peppery, and subtly earthy flavor suited for fresh and cooked preparations. The rhizomes do not need to be peeled as their skin is thin and are typically crushed or pounded to release their aromatic scent and taste. Galangal is traditionally incorporated into Southeast Asian cuisines, mainly in Thailand, Cambodia, Laos, Vietnam, Malaysia, and Indonesia, but the rhizomes are also used on a smaller scale in Chinese and Indian cooking. The rhizomes can be finely chopped and mixed with chile peppers, lime juice, and fish sauce as an aromatic sauce for calamari and shellfish, or they can be tossed into salads and minced into dips. Galangal is a spice meant to complement but not overpower the other flavors in a dish. In Thailand, the rhizomes are famously mashed and used in curries, tom kha gai, and tom yum soup. In Indonesia and Singapore, the rhizomes are grated and mixed into satay with a peanut dipping sauce or cooked into beef rendang. One of the unique features of Galangal is its ability to mask fishy flavors. The rhizomes are used in fish curries, soups, marinades, and dressings to lessen the marine-like taste of clams, mussels, and fish. They can also be finely chopped and added to stir-fries, infused into rice, stirred into noodle dishes, and simmered in braised beef stews. In Malaysia, the rhizomes are used to flavor asam laksa, while in Cambodia, the rhizomes are cooked into samlor ko ko soup. Beyond culinary preparations, Galangal rhizomes are used to flavor a Russian liqueur known as natoika, and in the Philippines, the rhizomes are fermented with honey to create the wine called byais. Galangal root pairs well with meats such as poultry and fish, shellfish, garlic, onions, tamarind, chiles, lemongrass, bell peppers, and green onions. The fresh rhizome will keep for 1 to 2 weeks when stored in a damp cloth in a plastic bag in the refrigerator and up to three months when stored in the freezer. Ground Galangal will keep up to one year when stored in a cool, dry, dark place and will have an earthier, mild taste.
Ethnic/Cultural Info
Galangal is most often associated with Asian medicinal remedies and cuisine, but the rhizome was once a desired ingredient in Europe during the Middle Ages. Galangal was known as Galingale in Europe. The rhizome was famously favored by Hildegard of Bingen, a German historical figure who composed several botanical and medicinal works focused on health and incorporating natural resources as treatments. Hildegard of Bingen was a Benedictine abbess and healer and often used Galangal as a medicinal ingredient, nicknaming the rhizome the "spice of life." Galangal was touted for its healing properties and was one of the most used items in remedies Hildegard wrote for bad breath, fevers, and balancing bodily juices. Hildegard's most popular Galangal recipe was a Galangal wine, which combined white wine with Galangal. The mixture was simmered to blend the flavors and was consumed to improve weak hearts and digestive disorders. After Medieval Times, Galangal fell out of favor in Europe and became replaced by ginger, but the rhizomes are still sometimes used as a spice in Eastern Europe.
Geography/History
Galangal is native to parts of Asia and has been growing wild since ancient times. Lesser Galangal is thought to be native to southeastern China and is primarily grown in Japan, Vietnam, Hong Kong, India, and Thailand. Greater Galangal is native to Indonesia, specifically Java, and is cultivated in the Philippines, Thailand, Cambodia, Laos, and Taiwan. Both types of Galangal have been used in traditional medicines for thousands of years, and the rhizomes are the most used portion of the plant. The rhizomes have also been prevalent as a culinary flavoring, incorporated into a wide array of fresh and cooked preparations. Galangal was introduced to Europe in the 9th century through Arabian spice traders, where it became a popular spice and medicinal ingredient in Medieval Europe. Over time, various Alpinia species were also introduced to markets worldwide and are primarily sold as a specialty crop or home garden novelty. Today Galangal is grown in tropical climates worldwide and is sold domestically in its growing region or exported to other countries. Once harvested, the rhizomes are found fresh through local markets, retailers, and distributors. Dried versions of the rhizome are sold through online retailers, select grocers, and natural medicine shops.
Featured Restaurants
Restaurants currently purchasing this product as an ingredient for their menu.
| | | |
| --- | --- | --- |
| Artifact at Mingei | San Diego CA | 619-846-2164 |
| Grass Skirt | San Diego CA | 858-412-5237 |
| Mothership | San Diego CA | 858-342-3609 |
| Golden Door | San Marcos CA | 760-761-4142 |
| Fort Oak | San Diego CA | 619-795-6901 |
| Sushi Gaga | San Diego CA | 619-808-1556 |
| Dija Mara 2021 | Oceanside CA | 760-231-5376 |
| Animae | San Diego CA | 619-925-7908 |
| Javier Plascencia | Bonita CA | 619-295-3172 |
| Matsu | Oceanside CA | 760-717-5899 |
| Addison Del Mar | Del Mar CA | 858-350-7600 |
| InterContinental Vistal Kitchen | San Diego CA | 619-501-9400 |
| Herb & Sea | Encinitas CA | 858-587-6601 |
| C 2 C | San Diego CA | 619-972-9345 |
| Bar Same Same (Kitchen) | Carlsbad CA | 760-470-9143 |
| Baja Cavi | Lomas de Valle Verde 22810 | 619-295-3172 |
| Trust Restaurant | San Diego CA | 609-780-7572 |
| Sandpiper Wood Fired Grill & Oysters | La Jolla CA | 858-228-5655 |
Recipe Ideas
Recipes that include Galangal Root. One

is easiest, three is harder.