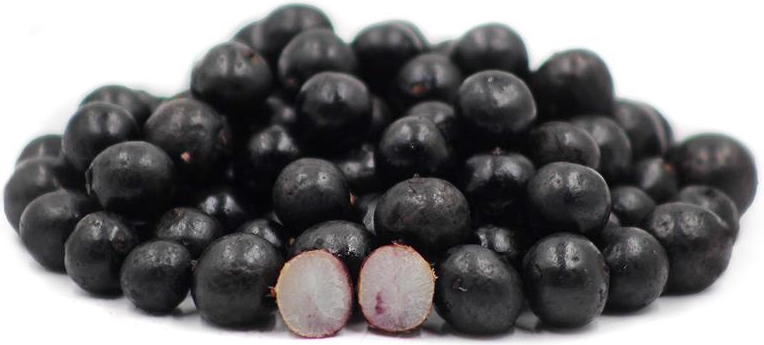 Acai Berries
Inventory, lb : 0
Description/Taste
Açai berries are small fruits, averaging 1 to 3 centimeters in diameter, and have a round to oblong shape. The fruit's surface is hard, glossy, and smooth, bearing a green, dark red to purple, almost black hue. Underneath the surface, the flesh is very thin, generally, less than one millimeter in diameter, ranging in color from pale yellow to white with a firm, pulpy, and semi-granular consistency. Inside the flesh, there is also a large, inedible seed, averaging 7 to 10 millimeters in diameter, that comprises approximately 60 to 80 percent of the fruit. Açai berries must be soaked to soften the flesh before consumption. Once softened, the flesh will develop a creamy, semi-aqueous, and textured consistency. The fruits contain an earthy, herbal, and nutty flavor often likened to a complex blend of tangy and tart berry nuances with cocoa and hazelnut undertones.
Seasons/Availability
Açai berries are available year-round, with two peak seasons spanning from August to December and January to June.
Current Facts
Açai berries, botanically classified as Euterpe oleracea, are an ancient Amazonian fruit belonging to the Arecaceae family. The small berries grow in clusters on hanging branches cascading from the tops of slender palm trees, reaching 25 to 30 meters in height. The Açai palm takes 10 to 12 years to bear fruit, but once mature, a single palm can produce thousands of fruits in one season. Açai berries are native to South America, widely found in Brazil, and the fruits have been incorporated into the diets of indigenous peoples for centuries as a source of nutrition and energy. Açai berries are challenging to find fresh as they are highly perishable, losing beneficial nutrients and becoming rancid within twenty-four hours of harvest. The fruits are gathered quickly and are either sold within local communities that same day or they are flash-frozen, pureed, juiced, or dried and powdered for extended use. It is also important to note that Açai is commonly referred to as a berry, but scientifically, it is classified as a drupe due to the fruit's large and inedible central stone. Despite its technical drupe descriptor, the term Acai berry is the most recognized marketing name for the fruit.
Nutritional Value
Açai berries are an excellent source of anthocyanins, compounds that give the flesh its dark purple, pigmented hue and provide anti-inflammatory and antioxidant-like properties to protect the cells against free radical damage. The fruits are also a source of vitamin A to maintain healthy organ functioning and contain lower amounts of fiber, potassium, copper, iron, phosphorus, magnesium, and zinc. In addition to vitamins and minerals, Açai berries contain oleic acid, omega-3, and omega-6 fatty acids to assist in reducing high blood pressure, but these ingredients also contribute to the fruit's short shelf life. In Brazil, Açai berries are used topically to improve skin complexion and boost hair health.
Applications
Açai berries are hard and unpalatable when raw and must be soaked in water to soften the flesh. Each fruit also contains a large, central seed that should be removed before consumption. The seed can be extracted from the flesh by rubbing the fruit in between the hands. Once soaked and softened, the flesh can be added to salads, stirred into rice puddings, or mashed into a creamy consistency and served with fruits, cocoa nibs, or other toppings. Açai berries can also be blended or pressed into juices, smoothies, and carbonated beverages or used to flavor ice cream and candies. In Brazil, the fruits are sometimes incorporated into hot chocolate, mixed with a blend of milk, cinnamon, chile powder, honey, and cocoa. In addition to sweet preparations, Açai berries have an earthy flavor well suited for savory main dishes. The fruits are commonly crushed into a pulpy mixture and served with poultry, fish, and beef. Açai berries can also be simmered with spices and fruits to create an aromatic, flavorful jam or jelly for toast and cheese plates. Outside of its native region, Açai berries are primarily found in juices, purees, and powders, used for breakfast bowls and health food drinks. Açai berries pair well with fruits such as blueberries, pineapple, strawberries, passionfruit, oranges, bananas, raspberries, and kiwi, honey, cinnamon, chile powder, coconut flakes, chia seeds, vanilla, and chocolate. Fresh Açai berries have a very short shelf life of approximately 24 hours and should be immediately consumed for the best quality and flavor.
Ethnic/Cultural Info
The name Açai is derived from iwaça'I, a word from the Tupi language meaning a fruit that "expels or cries water." Tupi is an ancient language spoken by indigenous peoples of Brazil, and there are several legends centered around life, death, and recounting how the fruit's received their name. Throughout history, Açai berries have remained a staple, nutritional source for Brazilians, and the fruits were traditionally pounded into a pulp-like mixture. This creamy, thick pulp was often eaten with fish, shrimp, or cassava, and over time, frozen variations were developed and sent into metropolitan cities, including Rio de Janeiro. In the 1970s and 1980s, famous Brazilian jujitsu fighter Carlos Gracie began to promote frozen Açai, incorporating it into his diet for vitamins and energy. Gracie's marketing of the fruit launched Açai berries as the newest health food craze, eventually leading to the creation of the present-day Açai bowl. The frozen fruit puree was also introduced into commercial markets in the United States in the early 21st century, further marketed through celebrities, fitness instructors, and doctors. In the modern-day, the fruit puree is still widely consumed throughout Brazil, and both sweet and savory toppings can be added to transform the puree into a dessert or thickener for savory-sweet main dishes.
Geography/History
Açai berries grow on palm trees native to floodplains, river deltas, and swampy regions of the Amazon in Central and South America. The palm trees have been growing wild since ancient times and can be found in Trinidad and Tobago, Brazil, Suriname, Guyana, Ecuador, Colombia, French Guiana, and Venezuela. Açai berries are widely cultivated in Northeastern Brazil and have been consumed by indigenous peoples for thousands of years as a nutritional food source, medicinal ingredient, and topical skin treatment. The small fruits have remained localized to Central and South America, and fresh Açai berries are rare as the fruits spoil shortly after harvest. In the early to mid-19th century, Açai berries were brought out of the Amazon and into local markets in larger cities throughout South America. The fruits also gained international recognition when they were heavily marketed for their high antioxidant content, introduced into North America in the late 20th and early 21st century as an exotic health food. Today Açai berries are still cultivated in their native region, considered a lucrative business for families dwelling in the Amazon, and are primarily sold in purees, frozen form, and powders worldwide.
Recipe Ideas
Recipes that include Acai Berries. One

is easiest, three is harder.