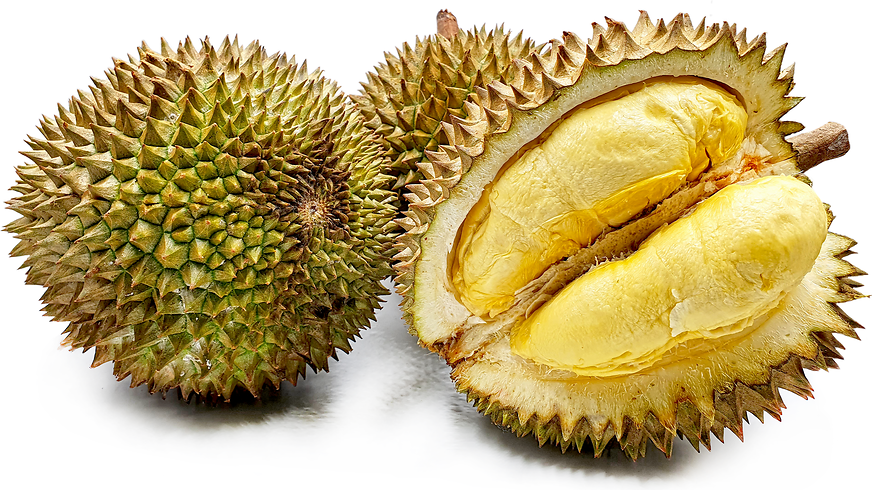 Kan Yao Durian
Inventory, lb : 0
Description/Taste
Kan Yao durians are a medium to large varietal, generally weighing between 2 to 4.5 kilograms, and have a distinct round appearance with a long, thick, and fibrous stem, averaging 10 to 14 centimeters in length. The fruit's surface is covered in short, pointed, straight, and densely packed triangular spikes and ranges in color from pale green, light brown, to golden-brown. Underneath the spiny surface, a white to ivory spongy interior encases multiple chambers filled with 3 to 4 thick, dense lobes of pale-yellow flesh, also known as arils. Each flesh lobe has a semi-firm surface, revealing a thick, creamy, soft, and sticky interior surrounding a small, hard seed. The flesh retains a somewhat firm and smooth consistency, even when overripe. Unlike other durian varieties, Kan Yao durians are said to have a mild, sweet, and floral aroma and contain a sweet and rich ambrosial flavor.
Seasons/Availability
Kan Yao durians are available in Thailand during the wet season, typically from May through June.
Current Facts
Kan Yao durians, botanically classified as Durio zibethinus, are a rare Thai variety belonging to the Malvaceae family. The name Kan Yao translates to mean "long stem" and is a descriptor given in honor of the durian's unusually thick, fibrous, elongated stem. Thailand is one of the world's top durian-producing countries, and it is estimated that 234 to 300 varieties are cultivated throughout the country. Despite the high number of durians grown in Thailand, most are wild varieties, and only a few are commercially produced. Kan Yao is one of the five main cultivars grown and sold in Thailand, along with Kradum, Monthong, Chanee, and Ruang. The variety is highly favored for its mild scent, round shape, and semi-firm but creamy, thick flesh. Kan Yao durians are consumed for their quality, not their quantity, and are generally one of the most expensive varieties offered in Thailand. Durian farmers only allow 1 to 4 Kan Yao fruits to grow on a tree to ensure enough nutrients and sugar are infused into each fruit, and the durians are cultivated using specialized cultivation methods. In Thailand, Kan Yao durians are also known as Kanyao, Ganyao, Gan Yao, Kan Yau, Gaan Yaow, and D158. The variety is not commonly found in local markets and is challenging to find, depending on climate and growing conditions. Most Kan Yao durians are sold through a reservation system, where each fruit is pre-purchased before they have ripened on the tree.
Nutritional Value
Kan Yao durians are a source of potassium to balance fluid levels within the body, fiber to regulate the digestive tract, and vitamin C to strengthen the immune system, boost collagen production, and reduce inflammation. The fruits also provide magnesium to regulate blood pressure, vitamin E to protect the cells against free radical damage, manganese to assist with protein digestion, and lower amounts of phosphorus, calcium, iron, copper, and zinc.
Applications
Kan Yao durians have a mild and sweet flavor traditionally consumed fresh to savor the durian's texture, taste, and aroma. The lobes of thick flesh are eaten straight from the fruit's spiky husk and are enjoyed by themselves, sometimes served with coconut water or mangosteen. Kan Yao durians are one of the most expensive varieties in Thailand and are meant to be appreciated in their natural state. The fruits are often given as gifts, and it is customary for the durian to be shared among family and friends to create a memorable eating experience. While uncommon, Kan Yao durians can be incorporated into any recipe calling for durians. The variety's mild flesh can be used when firm and slightly under-ripe in salads, curries, and soups, or it can be used ripe in smoothies, ice cream, and desserts such as pastries and sticky rice. Kan Yao durians pair well with tropical fruits such as lychee, mangosteen, rambutan, snake fruit, mango, and coconut, aromatics including garlic, shallots, lemongrass, and galangal, chocolate, vanilla, and herbs such as coriander, cumin, mint, and curry powder. Whole, unopened Kan Yao durians will keep up to three days at room temperature, but the length of time will vary depending on the fruit's maturity when harvested. Once ripe, the fruits should be immediately consumed for the best flavor and texture.
Ethnic/Cultural Info
Kan Yao durians cultivated in the Nonthaburi Province are considered the best-tasting and highest quality of the variety among Thai locals. Durians developed in Nonthaburi are known as Nont durian, and Kan Yao and Monthong durians are the two most popular cultivars grown in the province. Nonthaburi is located just northwest of Bangkok and is a region famous for its durian production. Durian farms are sandwiched between high rises and urban developments, and the Chao Phraya River runs through the province, allowing durian farmers to build canals in between their durian trees to provide a constant water supply. These canals are flooded with a mixture of salt and fresh water from the river's tidal nature, and the sediment at the bottom of the canal becomes rich with minerals, salts, and other nutrients. Once a year, the durian farmers dredge their canals and surround the base of the durian trees with nutrient-dense mud, and this practice is one of the attributing factors to Kan Yao durian's unique flavor. Farmers also grow Indian coral trees and other plants that add nutrients back into the soil around the trees, preserving the land for future plantings of organic durians. Kan Yao durians are wrapped in plastic during cultivation to ward off insects and are covered with umbrellas to shade the surface of the fruit from the sun. The fruits are inspected daily and harvested by hand when ripe, carefully lowered one by one from the tree. Most Kan Yao durians grown in Nonthaburi are pre-selected and reserved before the fruits even ripen. Some buyers will visit the farm and choose which fruit they would like to reserve on the tree, while others will place a yearly order of the fruits to give to bosses or VIP clients as gifts. Nonthaburi Kan Yao durians can cost anywhere from $300 to $600 per fruit each season. In 2019, one Nonthaburi durian was sold at a charity auction for $48,000.
Geography/History
Kan Yao durians are native to Thailand and were first cultivated in the Nonthaburi Province. Most of the Thai durians consumed in modern-day commercial markets were developed sometime after 1662, but older durian varieties were being grown throughout the country well before this time. Durians were carried from regions of Sumatra and Borneo and were planted in Thailand in the early ages. The fruits were initially reserved for the king and remained relatively low in production for many centuries. In the early 19th century, an influx of Chinese immigrants growing durians for commercial use expanded cultivation. Chinese immigrants were not required to work on yearly projects for the king of Thailand as native Thai residents were mandated to, allowing the immigrants to construct and develop large-scale durian farms, creating new varieties. Today Kan Yao durians are a rare variety produced in limited quantities in Thailand. The variety is not commonly found in markets and is a specialty variety, desired for its rarity, exclusivity, and mild, sweet flavor.
Recipe Ideas
Recipes that include Kan Yao Durian. One

is easiest, three is harder.