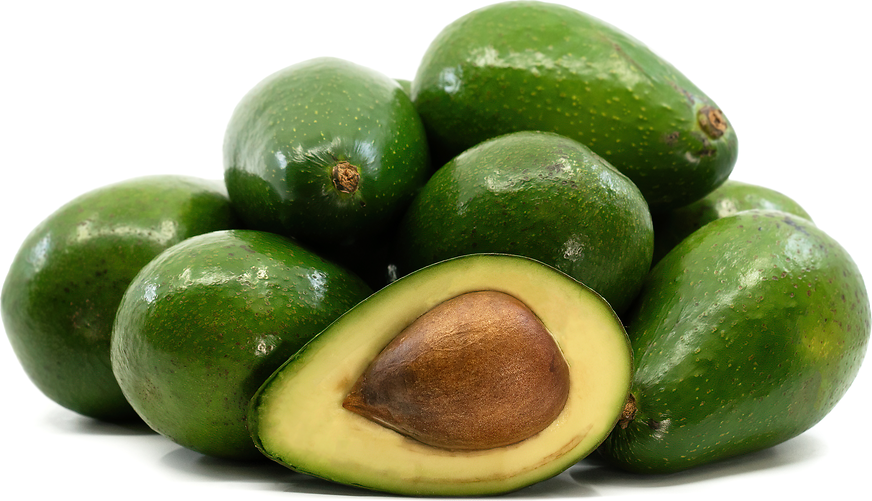 Zutano Avocados
Inventory, 25 lbs : 0
Description/Taste
The Zutano avocado resembles the fuerte avocado with its pear shape and thin, glossy green skin, which remains green even when ripe, however its flesh is not as creamy or as rich in flavor. It has low oil but high water content, resulting in a slightly watery flavor, and has pale green flesh with a fibrous texture. Its mild flavor and problematic peeling makes it less desirable than other avocado varieties. The Zutano avocado tree grows upright, with a rounded shape and spreading branches, reaching heights of thirty to forty feet. It has oval dark green leaves with a glossy sheen, and its small flowers are greenish-white in color and they bear in clusters at the branch tips. The Zutano avocado tree produces heavily and is more tolerant of cold weather than other cultivars. The fruits mature to about six inches in length, averaging six to fourteen ounces in weight, and are harvested from mid-autumn to late winter. The avocados must reach full maturity, taking about six months, before they are harvested. However, unlike most fruit, avocados will not ripen on the tree, allowing growers to essentially use the avocado trees as a warehouse for storing fruit for months after maturity.
Seasons/Availability
The Zutano avocado is available from mid-fall through late winter.
Current Facts
Avocados are members of the Lauraceae family, and are botanically referred to as Persea americana Mill. Avocado varieties are further identified as being either Type A or Type B, referring to their flowering type. The two types open and close in a different pattern, meaning that there is overlapping between the male stage of one type and the female stage of another, essentially encouraging cross-pollination. The presence of both types of trees in avocado orchards can improve production due to adequate pollination. Zutano avocados are Type B, and are in fact often used as a pollinizer tree for the Type A hass avocado. Farmers have noted that hass avocado trees near a Zutano avocado tree regularly have considerably larger fruit set than those planted farther away. Some growers are planting Zutano trees around the edge of their hass avocado grove and pruning them not to produce fruit, but primarily to provide flowers for cross-pollination. However, the price of Zutano avocados has been so low that the sale of fruit seldom pays for the water the tree needs, and growers that use Zutano trees as a pollinizer must also weigh the increase in yield of the hass avocado against the loss of space for planting more of the profitable hass avocado trees. Despite the varying benefits and drawbacks, Zutano avocados are still grown in California, especially in the San Joaquin Valley where it is too cold for the hass variety in the winter, yet even groves in that area are slowly declining due to the low prices for Zutano fruit.
Nutritional Value
Avocados are a good source of dietary fiber, vitamin C, vitamin K and folate, and they are very low in cholesterol and sodium. Avocados contain mono-unsaturated fats that actually help lower blood cholesterol levels in the body. Avocados provide nearly twenty essential nutrients in total, including potassium, which helps regulate blood pressure and protects against circulatory diseases like high blood pressure, heart disease, and stroke.
Applications
The avocado is most commonly eaten raw. It actually does not stand up well to cooking over high heat, and should therefore be added only at the end of cooking, or cooked briefly, but never broiled. Avocados can be enjoyed raw and sliced with a simply sprinkle of lemon or lime juice and a touch of salt. Mashed avocado is of course the primary ingredient in guacamole, but avocado is also delicious served with slices of ripe red tomato, or cut into slivers and added to salads. Avocados pair wonderfully with seafood or chicken. Try cutting avocados in half length-wise, leaving the skins on, removing the pit, filling the centers with crab, tuna, or chicken salad, and garnishing with additional raw fresh vegetables. An avocado pureed with a little lemon juice, salt, desired seasonings, and a dab of olive oil makes a delicious, creamy salad dressing. Additionally, any combination of avocado, bacon, lettuce, tomato, turkey, and chicken can make a great sandwich. Store avocados at room temperature and refrigerate only fully ripe avocados, as they will not continue to ripen when they are refrigerated. Avocado flesh darkens when exposed to air, so in order to prevent discoloration, sprinkle cut avocados with lemon juice or vinegar before covering with plastic wrap and storing in the refrigerator for up to two days.
Ethnic/Cultural Info
The avocado grows naturally in tropical America from Mexico to Peru, although because it has been cultivated for so many years the precise native range remains ambiguous. Many speculate that avocados were domesticated three times in history, which led to the three genetic races of trees today: Mexican, West Indian and Guatemalan. While each race has distinctive features, cross-pollination permits the development of unlimited varieties. The Zutano variety is derived from the Mexican race and was developed in California.
Geography/History
The Zutano avocado originated in Fallbrook, California at the hands of R.L. Ruitt in 1926. Zutano avocados were popular in the mid to late 20th century, but today they are not grown for major commercial production and are instead considered as a farmers market avocado, often standing in as a secondary variety when hass avocados are not readily available.
Recipe Ideas
Recipes that include Zutano Avocados. One

is easiest, three is harder.
Podcast