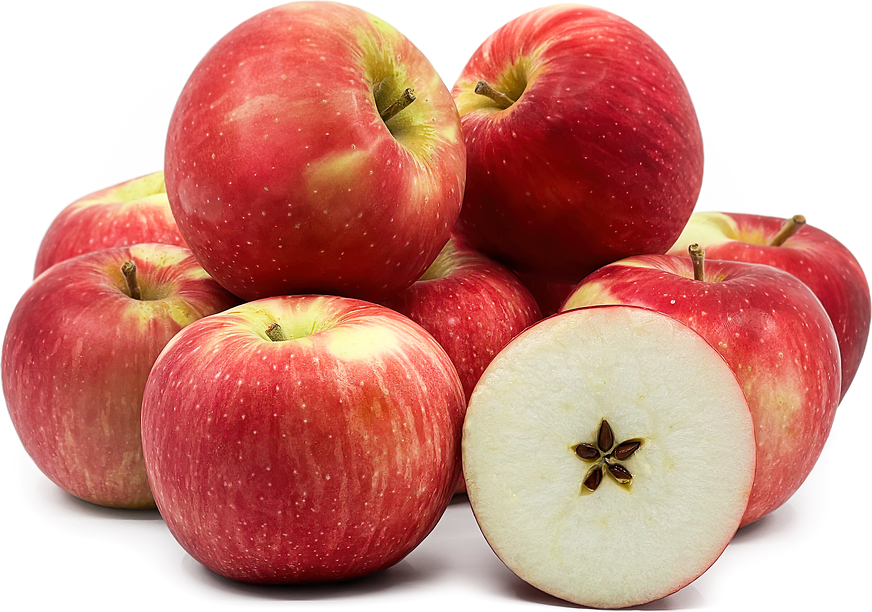 Bashkir Beauty Apples
Inventory, 1 Lb : 0
Description/Taste

Bashkir Beauty apples are a small to medium-sized varietal, averaging 110 to 150 grams in weight, and have a uniform, conical, round, to slightly flattened shape. The apple's shoulders are flat, the center is broad and curved, the base is narrow, and the stem is short, woody, and fibrous, connected to the fruit through the stem cavity. Depending on growing conditions, some russeting may be present in the stem cavity. The skin has a yellow-green base and is covered in bright red to ruby-hued blush with dark red striping. The skin also has a rough, tough, and waxy consistency with prominent pale lenticels. Underneath the surface, the white flesh is dense, semi-aqueous, and grainy with a crunchy, crisp consistency. The flesh also encases a small central core filled with tapered, black-brown seeds. Bashkir Beauty apples release a light aroma when ripe and have a mild, sweet, sour, and subtly acidic taste with fruity nuances.


Seasons/Availability

Bashkir Beauty apples are harvested in the late summer through the fall and can be stored until the spring.


Current Facts

Bashkir Beauty apples, botanically classified as Malus domestica, are a Russian variety belonging to the Rosaceae family. The early to mid-season cultivar grows on wide-spreading, upright trees reaching 5 to 6 meters in height and was selected as a variety for its appearance, flavor, and texture. Growers favor Bashkir Beauty apple trees for their moderate frost and disease resistance, high yields, hardiness, and easy-to-grow nature. The variety is known for its tough skin, allowing the apples to be shipped long distances, and the trees bear fruit after 5 to 6 years of age, producing consistent and productive annual yields. Mature Bashkir Beauty apple trees produce 70 to 120 kilograms of fruit per season, and the apples are sold as a multi-purpose variety utilized for fresh eating, drying, cooked preparations, and juice production.


Nutritional Value

Bashkir Beauty apples are a source of potassium to balance fluid levels within the body, vitamin E to reduce inflammation, fiber to regulate the digestive tract, and copper to develop connective tissues. The variety also provides vitamin C to strengthen the immune system, vitamin A to maintain healthy organ functioning, calcium to build strong bones and teeth, and other nutrients, including zinc, iron, vitamin K, phosphorus, and manganese. The apple's pigmented skin contains anthocyanins, natural compounds with antioxidant-like properties that protect the cells against free radical damage.


Applications

Bashkir Beauty apples have a sweet and sour taste suited for fresh and cooked preparations. The variety is primarily eaten out of hand and is savored for its bright taste and crunchy flesh. Bashkir Beauty apples can be served on meat and cheese plates, layered into sandwiches, sliced on toast, or chopped into salads. The apples can also be shredded into slaws, used as a topping over oatmeal or porridge, or dipped whole into caramel or a melted candy coating. In addition to fresh dishes, Bashkir Beauty apples are simmered into jams, jellies, and spreads or incorporated into compotes, butter, and sauces. The apples can also be blended into shakes, smoothies, ciders, and fruit juices. In Russia, Bashkir Beauty apples are cooked with carrots, peppers, tomatoes, garlic, and aromatics to create a Slavic dish called adjika. This seasonal winter dish can be used as a topping over pork, mixed into rice, or served as an everyday condiment. While less widespread, Bashkir Beauty apples can be baked into cakes, muffins, bread, pies, and turnovers or used to fill doughnuts and pastries. Bashkir Beauty apples pair well with meats such as pork, poultry, veal, and duck, herbs including rosemary, thyme, and parsley, and cheeses such as parmesan, gouda, brie, and goat. Whole, unwashed Bashkir Beauty apples will keep for 4 to 6 months when stored in a cool, dry, and dark place such as a cellar or refrigerator.


Ethnic/Cultural Info

Legend has it that Bashkir Beauty apples were born in an estate garden near the village of Kushnarenkovo, Bashkortostan. It is said that retired officer Sergei Topornin hired a French architect to design an estate about 70 kilometers from Bashkortostan. The estate was constructed along the banks of the Belaya River, and large gardens were established on the property with several hundred trees in an orchard, but the gardens were undocumented. Over time, the estate fell into disarray, but it was taken over by a tea merchant, Innokenty Gribushin, who had a passion for agronomy. Gribushin restored the property and planted additional trees in the orchard, eventually caring for over 300 trees by 1866. Pomologists believe Bashkir Beauty apples were naturally created in this garden, and the trees remained growing on the property even after the estate was abandoned. In the early 20th century, a research and breeding station was built on the estate property after the revolution, and scientists noticed the Bashkir Beauty apples growing beside the station. This legend has established Bashkir Beauty apples as a favored local variety in Bashkortostan, Russia, and the variety is still produced in home gardens and commercial orchards as a crop of local pride.


Geography/History

Bashkir Beauty apples are native to Russia and were discovered in Bashkortostan, a region now known as the Republic of Bashkortostan near the Ural Mountains in southeastern Russia. The history of the variety is mostly unknown, but it is believed to date back to the beginning of the 19th century and was first documented in 1886. Bashkir Beauty apples were cultivated throughout Bashkortostan for many years and are thought to have been known under an ancient name, but the moniker has been lost with time. In 1928, two employees from the Bashkir Institute of Agriculture in Kushnarenkovo noticed the variety growing on the institute's property, as the research center had been built on an old apple orchard site. V.P. Strelyaev and R.I. Bolotina selected the apples and evaluated, documented, and submitted the variety as a new apple with the Russian State Register. Vasily P. Strelyarv is credited with naming the cultivar Bashkir Beauty, and the variety was tested by the state from 1938 to 1947 until it was included in the State Register. Today, Bashkir Beauty apples are cultivated throughout Russia as a commercial variety and are primarily planted in the regions of Orenburg, Tatarstan, Samara, Barshkiria, Moscow, Vologda, Vyatka, Kirov, and the Republic of Mari. When in season, the apples are sold domestically in Russia through fresh markets and are also exported to select Central Asian retailers.