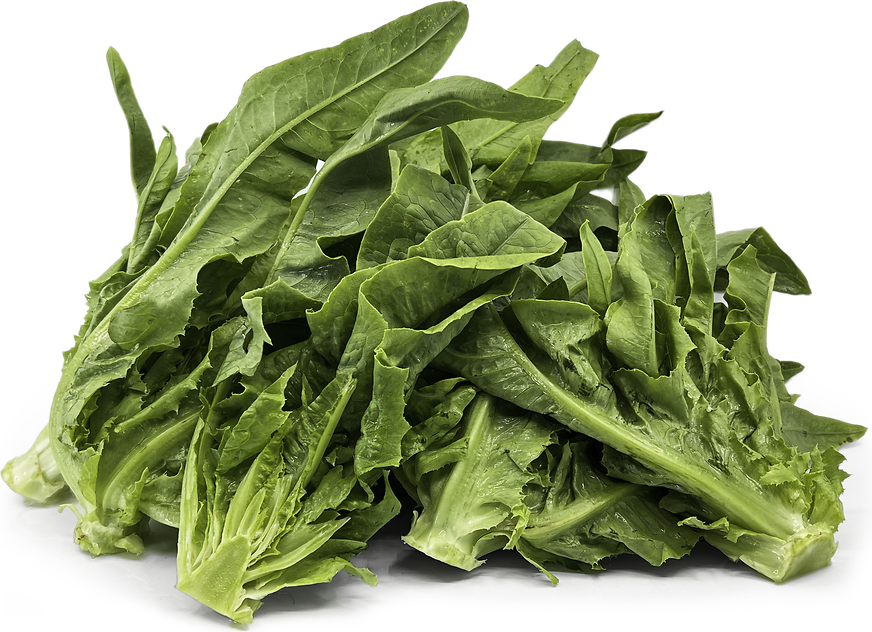 A-Choy Lettuce
Inventory, lb : 0
Description/Taste

A-Choy lettuce is a grouping of loosely bunched leaves that grow from the top of a thick, upright stem. The leaves develop from a singular base and form overlapping layers of elongated, tapered, and pointed leaves and are generally harvested when they have reached 20 to 25 centimeters in length. Each leaf has smooth to slightly serrated edges and is dark green with a textured, crinkled, or ruffled appearance. The leaves also have a central midrib and showcase prominent veining. A-Choy lettuce can be eaten raw or cooked and has a crisp, tender, subtly chewy, and succulent texture. It is recommended to harvest young leaves, and the greens will impart a mild, lightly bitter, sweet, and green flavor with celery, asparagus, and nutty undertones. In addition to the leaves, the species is known for its large, cylindrical, thick, and fleshy stems. The stems appear in variegated shades of pale green and white and have a crunchy, aqueous, and crisp consistency similar to water chestnuts. The stems can also be consumed raw or cooked and have a nutty, vegetal, and cucumber-like taste.


Seasons/Availability

A-Choy lettuce is available year-round, with a peak season in the late spring through early summer.


Current Facts

A-Choy lettuce, botanically classified as Lactuca sativa, is an edible species grown for its thick stalks and tender leaves, belonging to the Asteraceae family. The stem and leaves are prepared as a vegetable or green in culinary preparations and are favored for their mild flavoring. A-Choy is known by many regional names worldwide, including Taiwanese lettuce, Chinese lettuce, Sword lettuce, AA Choy Sum, Asparagus lettuce, Celery lettuce, Celtuce, Yóu Mài Cài, and Wo Sun. The name A-Choy is thought to be derived from the Hokkien pronunciation of the name of the plant, and over time, it evolved into a name that was shortened and easier to pronounce. A-Choy is prominent in fresh markets throughout Asia, especially in Southern China and Taiwan, and the commercial crop is also sold to restaurants where the stems and greens are used in raw and cooked preparations. The plants are also grown in home gardens, maturing 75 to 85 days after planting, and the entire plant is harvested at one time versus picking the leaves off individually. Outside of Asia, A-Choy is primarily known as Celtuce, a specialty vegetable not widely grown for commercial markets. The stems are the most used portion of the plant, and the leaves are a secondary ingredient increasing in popularity worldwide as more consumers become familiar with how to prepare the greens.


Nutritional Value

A-Choy is a source of fiber to regulate the digestive tract, calcium to build strong bones and teeth, vitamin C to boost the immune system, and magnesium to control nerve functioning. The species also provides iron to develop the protein hemoglobin for oxygen transport through the bloodstream, vitamin A to maintain healthy organ functioning, potassium to balance fluid levels within the body, and other nutrients, including phosphorus, vitamin K, and B vitamins. In Traditional Chinese Medicine, A-Choy is thought to have cooling properties and is used to flush toxins and clear excess heat from the body.


Applications

A-Choy has a mild, subtly bitter, and sweet taste suited for fresh and cooked preparations. The leaves can be washed and consumed raw in salads, and young greens are the preferred maturity to create a palatable flavor. Mature A-Choy may have a bitter taste. A-Choy can also be layered into sandwiches or incorporated into any fresh preparations calling for lettuce. In Taiwan, A-Choy is popularly stir-fried, braised, steamed, and blanched. The greens hold up to heat and can be added to vegetable medleys, mixed into meat main dishes with sauces, or simmered into soups such as miso. In China, the greens are prevalent in Sichuan cooking and are added to stir-fries. A-Choy stems are also incorporated into culinary dishes and can be sliced, julienned, shredded, or shaved into noodle substitutes or added to stir-fries. Beyond conventional recipes, A-Choy lettuce can be seared or poached and added to gratins, frittatas, and pasta. The greens can also be blended into vinaigrettes or pickled as a tangy ingredient. A-Choy pairs well with aromatics such as ginger, garlic, chile peppers, and scallions, flavorings including sesame, soy, miso, white pepper, and herbs such as spearmint, cilantro, and basil. Whole, unwashed A-Choy leaves will keep for 2 to 7 days when stored in a sealed bag in between damp paper towels.


Ethnic/Cultural Info

Legend has it that when A-Choy was introduced to China, the thick-stemmed vegetable was highly coveted and nicknamed the "Qian Jin dish." It is said that a dish with A-Choy initially cost over a thousand gold coins, and the subtly bitter greens and stems were a luxury, rare vegetable only consumed among the elite. Qian Jin, the plant's nickname, translates to mean "gold coin," embodying the rumor that a dish of A-Choy would cost thousands of gold coins. It is unknown whether this folk story is true, but it captures the anticipation and curiosity of the unusual-looking plant when it was introduced from the Mediterranean.


Geography/History

A-Choy lettuce is a descendant of lettuce varieties native to the Mediterranean that have been growing wild since ancient times. Lettuce was introduced into Asia, specifically in China, sometime around the Tang Dynasty, 618 to 907 CE, and was extensively grown and bred for improved flavor and texture. It is unknown exactly when A-Choy was developed, but the thick-stemmed lettuce was carried to Taiwan in the late 19th century to early 20th century from China and became a prevalently cultivated vegetable. In Asia, A-Choy is primarily grown for its fleshy, crisp, and tender stems, and the leaves are used to feed ducks, chickens, and geese due to their bitter nature. Over time, the young leaves were adopted into culinary preparations as a cooking green. In the 1890s, A-Choy lettuce was brought to the United States and was sold for home garden cultivation under the name Asparagus lettuce. The lettuce was also renamed and rebranded by David Burpee of the Burpee Seed Company in 1942. An American missionary, Reverend Carter D. Holton, sent Burpee seeds from Shun Wa Kansu, a region near the Tibet and Western Chinese border, in 1938 and suggested that the lettuce be trialed in the United States. Four years later, in 1942, A-Choy lettuce was offered in the Burpee Seed Company's catalog under Celtuce, a new name coined by the company. Celtuce was a portmanteau of "celery" and "lettuce" and was created to appeal to American markets. Despite Burpee's marketing efforts, Celtuce never spread within the American market and remained a specialty vegetable in home gardens. Today, A-Choy lettuce is a cool-weather crop widely cultivated in China and Taiwan. The main production regions in Taiwan include the cities of Changhua, Chiayi, Taoyuan, and in the counties of Hualien and Yunlin. Outside of Asia, A-Choy is grown as a specialty lettuce or vegetable in Europe and North America.