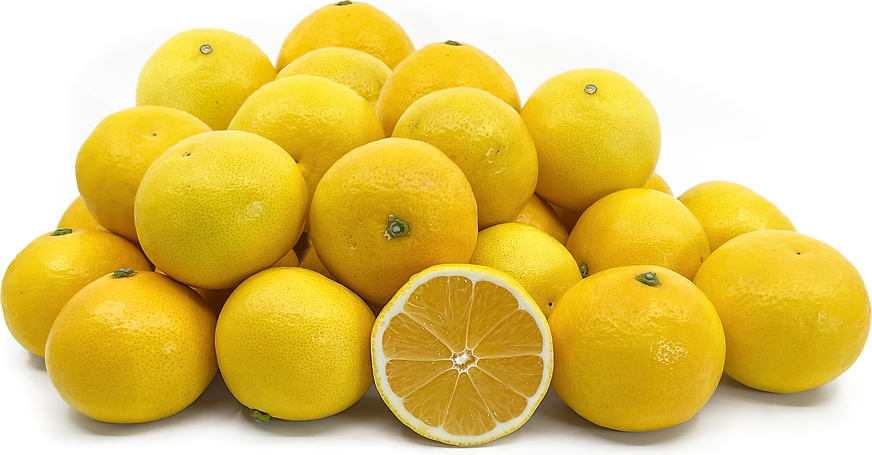 Konatsu Citrus
Inventory, lb : 0
Description/Taste

Konatsu citrus is medium to large in size, averaging 8-10 centimeters in diameter, and is round, oval, to oblate in shape. The bright yellow skin is smooth, thick, and pocked with many small, prominent oil glands. It is also very fragrant, releasing lemon and grapefruit aromas when cut or peeled. Underneath the skin, there is a layer of spongy white pith that is edible and very sweet in flavor. The flesh is soft, juicy, divided into 10-11 segments by thin membranes, and is pale yellow, encasing a few to many inedible, cream-colored seeds. Konatsu citrus is typically consumed with the pith still attached to the flesh. When eaten, the fruit has a balanced sweet and sour flavor and a pleasant acidic bite mixed with notes of honey.


Seasons/Availability

Konatsu citrus is only available for a few weeks in the early to late spring.


Current Facts

Konatsu citrus, botanically classified as Citrus tamurana, is a unique hybrid that grows on evergreen trees and belongs to the Rutaceae or citrus family. Also known as Hyuganatsu, New Summer oranges, and Tosakonatsu, Konatsu citrus is believed to be a naturally occurring hybrid of yuzu and pomelo and is grown in Japan. While piths are typically discarded from citrus because of their bitter nature, Konatsu piths are sweet and are encouraged to be consumed to balance out the sour nature of the flesh.


Nutritional Value

Konatsu citrus is a source of vitamin A to maintain healthy organ functioning and vitamin C to strengthen the immune system. The citrus also contains antioxidants to reduce inflammation and protect the cells against free radical damage, beta-carotene, the yellow-orange pigment in the flesh that is converted into vitamin A in the body, vitamin B1, and essential oils.


Applications

Konatsu citrus is best suited for fresh eating as its pith and flesh are showcased when consumed fresh, out-of-hand. The fruit is often peeled similarly to an apple to remove the skin and is then sliced with the pith still surrounding the flesh, eaten raw as a snack. Konatsu is also commonly consumed with sugar or is coated in soy sauce for added flavor, and it can be juiced to flavor sauces, dressings, and marinades. In addition to eating the fruit by itself, Konatsu can be sliced and tossed into salads, fruit bowls, or grain bowls, used as a flavoring for cooked meats or broths, and infused into desserts such as puffs, custards, and cakes. The fruit can also be used to make sorbets, jellies, jams, sake, and beer. Konatsu pairs well with meats such as poultry and fish, scallops, crab, cherries, sesame seeds, cinnamon, cloves, pistachios, and rose. The fruit will keep for 1-3 weeks when stored in the crisper drawer of the refrigerator.


Ethnic/Cultural Info

Konatsu citrus is grown in the Kochi Prefecture on the Shikoku Island of Japan. The specialty citrus is grown in the countryside and is one of the region's delicacies, containing a sweet edible pith with tart, juicy flesh. While Konatsu may be known under other more famous names throughout Japan, such as Hyunganatsu, and grown in different regions, the well-balanced citrus is also deeply embedded into the Kochi Prefecture's agriculturally based culture. Kochi growers take pride in cultivating the unique citrus, and Konatsu is highlighted as one of the four central citrus varieties grown in Kochi in the cookbook entitled A Taste of Kochi Citrus. The book was written by award-winning pastry chef Janice Wong in 2018 and features the history, flavor, and different recipes that honor yuzu, Konatsu, buntan, and naoshichi citrus. The Kochi Representative Office in Singapore published a Taste of Kochi Citrus, and the cookbook was created to inspire chefs and home cooks worldwide. The book was also published to highlight the unique offerings of the Kochi Prefecture to raise awareness of the diverse region. In the cookbook, Konatsu is used to coat popcorn chicken, infused into a smoked cheesecake, and made into a broth.


Geography/History

Konatsu citrus is native to Japan and was discovered as a chance seedling in 1820. The original tree was found in the garden of Mr. Yasutaro Magata in the Miyazaki Prefecture on the island of Kyushu. Konatsu fruits were believed to be a natural mutation derived from yuzu and pomelo, but the first few fruits were acidic, seedy, and slightly bitter. Over time, the fruits were selectively bred to showcase improved flavor, and in 1887, the new citrus was commercially released. Konatsu citrus is one of the most important agricultural products produced in the Miyazaki Prefecture, and the original tree was once declared a national monument in 1935 before it was destroyed in a typhoon in 1949. Today Konatsu citrus is primarily grown in the Miyazaki Prefecture and is found through specialty distributors, roadside stands, and local markets. The citrus is also grown in other regions of Japan, including the Kochi Prefecture, and is known under the names Hyuganatsu and Tosakonatsu.