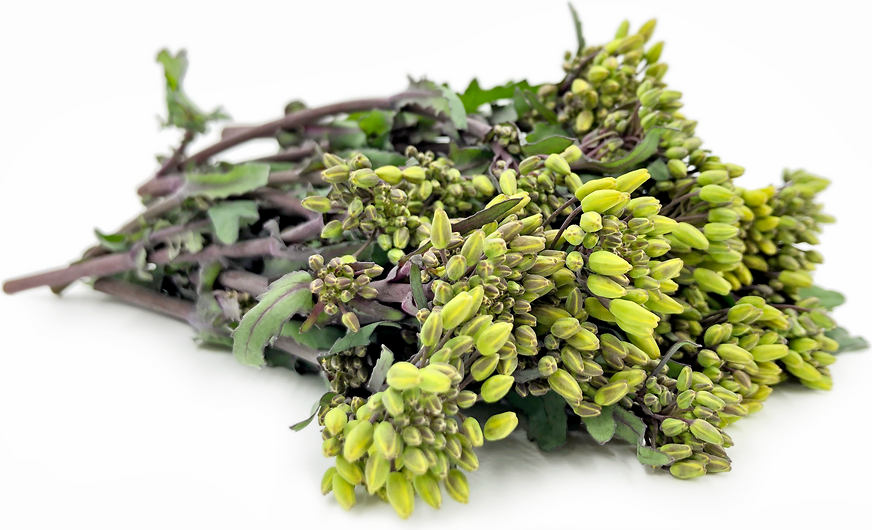 Kale Raab
Inventory, bunch : 0
Description/Taste
Kale Raab is small to medium in size and is slender in shape, composed of stems, flower buds, and leaves. The thick stems range in color from dark green, pale green, to purple and are chewy, sometimes fibrous, and crunchy. Attached to the stems, the dusty green, tender, and crisp leaves have serrated edges and prominent veining spanning across the surface. At the top of the stem, many small flower buds have yet to open, and these delicate buds range in color from yellow to light green and are soft and sweet. Kale Raab, depending on the variety and maturity of the buds, is juicy, earthy, and crisp with a sweet, nutty, and peppery taste.
Seasons/Availability
Kale Raab is available for a short season in the late winter through early spring.
Current Facts
Kale Raab, botanically a member of the Brassicaceae family, is the bolting tops of the kale plant that is harvested while the buds are still intact and before the plant can fully bloom. Only found for a short season, Kale Raab marks the beginning of spring and the word raab is derived from the Italian word rapa, which means turnip, a plant that is also consumed when bolting. Also known as Napini, there are many different varieties of kale that are able to bolt and produce flavorful Kale Raab, and these greens have a sweet flavor due to the production of sugar to protect the plant during the winter. Kale Raab is predominately found at farmers markets and home gardens and is favored by chefs for its tender texture and sweet flavor.
Nutritional Value
Kale Raab is an excellent source of vitamins A, C, and K, and also contains magnesium, calcium, copper, manganese, vitamin B6, and potassium.
Applications
Kale Raab is best suited for both raw and cooked applications such as stir-frying, blanching, sautéing, braising, and steaming. The leaves, buds, and stems are all edible and can be lightly chopped for a more tender texture, and the bottoms of the stems may need to be blanched prior to cooking to help soften their fibrous nature. Kale Raab can be used similarly to kale leaves when raw and can be chopped into salads. When cooked, Kale Raab can be paired with pasta, cooked meats, other vegetables, and seafood and is popularly sautéed and flavored with garlic, light oils, red pepper, white wine, and lemon juice. Kale Raab can also be pureed into sauces and spreads and served over flour tortillas or on toasted bread. The sweet flavor of the bud's pairs well with parmesan cheese, asparagus, red cabbage, purple carrots, onions, garlic, pasta, polenta, pinto beans, scallops, fish, and meats such as beef and poultry. Once harvested, Kale Raab should be consumed within 1-3 days for optimal flavor and can be stored in the refrigerator.
Ethnic/Cultural Info
Kale Raab and other bolting Brassicas have become a symbol of rebirth and an introduction to spring. Once considered a slow time for farmers, Kale Raab is providing an additional source of income and has become a fresh, sweet green that is sold when the winter vegetables are winding down and before the main spring harvest has arrived. The small flower buds are a symbol that another winter is over, and that new life is emerging to come into spring. Kale Raab has also recently become a trending green as chefs are returning to the grassroots philosophy of using the entire plant and reducing food waste. Chefs enjoy using the buds and greens as a seasonal ingredient because the greens are quickly cooked and provide a tender, sweet, and bright, fresh taste to dishes.
Geography/History
Kale is native to the eastern Mediterranean and is believed to have been cultivated since 2000 BCE. Since then, Kale has been spread around the world, and many new varieties have been created, increasing the green's popularity. Today Kale Raab is available at farmers markets, home gardens, and specialty grocers in the United States, Canada, Europe, Asia, South America, Africa, and Australia.
Podcast