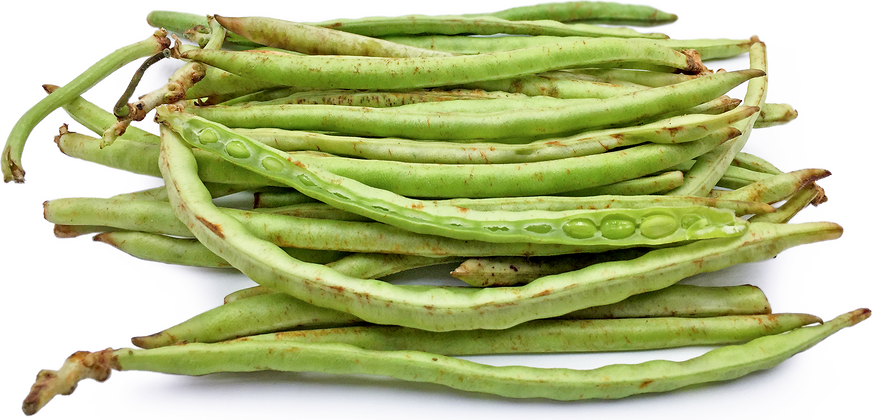 Top Pick Pink Eye Purple Hull Peas
Inventory, lb : 0
Description/Taste

Top Pick Pinkeye Purple Hull peas grow on semi-bushy plants that can reach anywhere from 45 to 60 centimeters. The 15 to 20 centimeter long pods grow in clusters at the very top of green, leafy stems, and contain 10 to 13 small beans. Top Pick Pinkeye Purple Hull pea pods mature from a light green to a medium-purple color. They are harvested at both the immature and mature stages, and some are left on the plant to begin the drying process. Young Top Pick Pinkeye Purple Hull peas are harvested when the pods are green and the peas are small and just a shade lighter than the hull itself. As the pods mature, the peas grow larger and turn a creamy white color. The rounded, slightly kidney-shaped beans have a pink "eye" where they connect to the pod. As the peas mature, the eye becomes darker and turns a bright magenta color. The pods are picked for shelling when they are a pale purple. Top Pick Pinkeye Purple Hull peas are said to have a superior taste to other pinkeye varieties; somewhat sweet and earthy.


Seasons/Availability

Top Pick Pinkeye Purple Hull peas are available in the late summer and fall months.


Current Facts

Top Pick Pinkeye Purple Hull peas are a variety of Vigna unguiculata, subspecies unguiculata, better known as the Southern pea, crowder pea or cowpea. Not truly peas, the legumes are really beans. Top Pick Pinkeye Purple Hull peas are closely related to blackeyed peas, and where the bean connects to the pod, there is a purple "eye" versus a black "eye." The Top Pick variety is named for its growing habit, where the pods grow at the top of the plants, making them easier to harvest.


Nutritional Value

Top Pick Pinkeye Purple Hull peas are both nutrient and protein-rich and contain high amounts of fiber, thiamine, niacin and riboflavin. The pink-eyed peas contain lysine and tryptophan, essential amino acids that help the body absorb calcium and make collagen. Tryptophan converts to serotonin in the body, producing something similar to the effect of eating a large turkey dinner.


Applications

Top Pick Pinkeye Purple Hull peas are used in both their ripe and dry stages. Very young Top Pick Pinkeye Purple Hull peas are eaten like snap peas, or green beans, steamed or sautéed. The ripe peas are shelled from their pods and cooked traditionally with a bit of water, onions and bacon or salted pork. The Southern peas are cooked as a side dish or main dish as a stew with larger chunks of meat. Store fresh Top Pick Pinkeye in the refrigerator for up to two weeks. Dried beans can be stored in a cool, dry place for up to a month.


Ethnic/Cultural Info

Top Pick varieties are popular with farmers because they are highly productive, easy to harvest, and tasty. According to a study done in 2007 and 2008 by the University of Arkansas, the Top Pick Pinkeye Purple Hull pea variety is one of the top two favorites in the marketplace, next to another Top Pick variety. Most United States southerners are closely acquainted with the legumes, where they have been a staple in kitchens from Georgia to Texas since before the Civil War.


Geography/History

Cowpeas, or Southern peas, originated in Africa where they had been used for thousands of years as both fodder for animals and food for tribes there. The beans were brought to the Americas during the slave trade, and were planted by slaves and eventually their use spread over the Southern United States. There are four identified types of Southern pea: field peas, crowder peas, cream peas and the black-eyed peas, which include the pink-eyed peas as well. There are dozens of named cultivars developed since the beans came to the New World. Vigna unguiculata can be found growing in Central and South America, Africa and Asia. In the Southern United States, the region is ideal for the highly adaptable, drought-resistant and heat-tolerant beans. Farmers and home gardeners often plant Top Pick Pinkeye Purple Hull peas and other Southern peas as cover crops, because the plants help fix (add) nitrogen in the soil; an element that other plants (like corn) can rob from the soil. Top Pick Pinkeye Purple Hull peas can be found in markets and home gardens throughout the Southern United States.