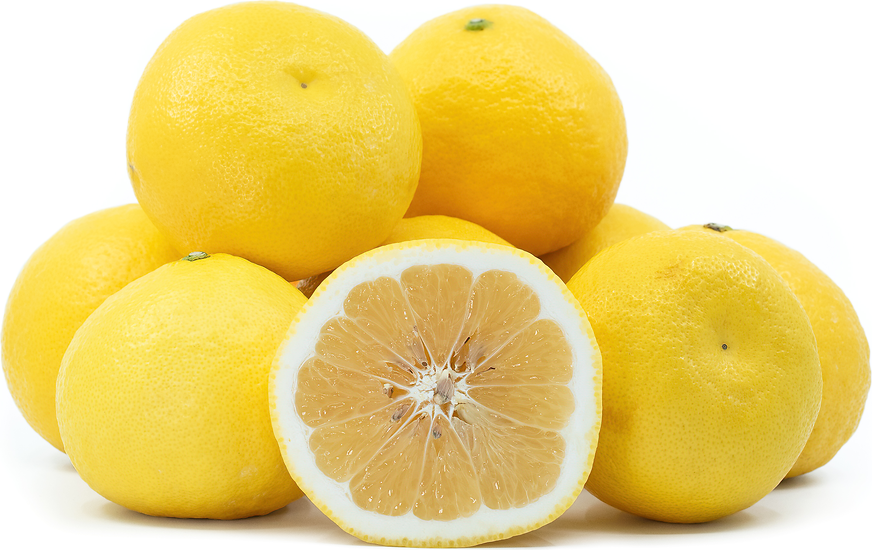 Hyuganatsu Citrus
Inventory, lb : 0
Description/Taste

Hyuganatsu citrus is a medium-sized varietal, averaging 8 to 10 centimeters in diameter and weighing seven ounces, and has a round, oval, to slightly ovate shape. The fruits sometimes contain a small bump on one end, making them easy to peel, but they also often bear flattened ends, depending on cultivation. The rind ripens from green to bright yellow or yellow-orange and is semi-rough, textured, thin, and leathery, covered in many small oil glands. Underneath the surface, there is a thick layer of white, spongy pith that is edible, contributing a sweet, mild flavor. The yellow flesh is aqueous, tender, and succulent, encasing a few to many cream-colored seeds. Hyuganatsu citrus is aromatic, releasing scents reminiscent of lemons mixed with grapefruit, and the flesh has a distinct sweet and sour, floral, fruity flavor with moderate acidity and honeyed nuances.


Seasons/Availability

Hyuganatsu citrus is only available for a few weeks in the early to late spring when cultivated in outside orchards. The citrus is also grown on a small scale in greenhouses, producing fruits from the mid-winter to the early spring.


Current Facts

Hyuganatsu, botanically classified as Citrus tamurana, is a rare Japanese citrus variety belonging to the Rutaceae family. The fragrant, sweet-tart fruits are only available for a few weeks each season and are highly prized for their edible white pith and flesh. Hyuganatsu citrus is named after "Hyuga," the ancient name for the Miyazaki Prefecture, and "natsu," meaning "summer" in Japanese. The citrus was discovered growing as a chance seedling in the late 19th century in Miyazaki and is believed to be a hybrid of the yuzu and pomelo. Hyuganatsu citrus is also known as New Summer oranges, Sun Summer, Konatsu, Kosa, and Tosakonatsu. In the modern-day, Hyuganatsu citrus has been bred to have seeded and seedless varieties and the fruits are popularly served fresh with portions of the pith intact. Hyuganatsu piths have a sweet flavor that balances the tangy nature of the flesh, and citrus enthusiasts like to highlight this unique feature when serving the fruits.


Nutritional Value

Hyuganatsu citrus is a source of vitamin A to maintain healthy organ functioning and vitamin C to strengthen the immune system. The citrus also contains antioxidants to reduce inflammation and protect the cells against free radical damage, beta-carotene, the yellow-orange pigment in the flesh that is converted into vitamin A in the body, vitamin B1, and essential oils.


Applications

Hyuganatsu citrus has a sweet-tart flavor well suited for fresh eating and is popularly incorporated into both sweet and savory preparations. The fruits can be consumed with portions of the pith, as the pith is edible and has a sweet flavor, served fresh on appetizer platters and fruit plates. Hyuganatsu citrus can also be incorporated into salads, grain bowls, and fruit salads, sprinkled with sugar for a sweeter flavor, or lightly coated in soy sauce. The soft flesh compliments roasted meats and seafood and can be infused into marinades, salad dressings, sauces, and soup broths as a fragrant addition. Beyond main dishes and appetizers, Hyuganatsu citrus is sometimes used as a flavoring for custards, cakes, puffs, cookies, and sorbet, or its juice is mixed into beer, sake, and smoothies. Hyuganatsu citrus pairs well with other fruits such as mango, pomelo, yuzu, and cherries, white chocolate, dark chocolate, meats including poultry and turkey, seafood such as fish, scallops, and crab, sesame seeds, cinnamon, cloves, pistachios, and rose. Whole, unwashed Hyuganatsu citrus will keep for 1 to 3 weeks when stored in the refrigerator's crisper drawer.


Ethnic/Cultural Info

Hyuganatsu citrus is a famous meibutsu of the Miyazaki Prefecture. Meibutsu is a term for gifts that represent specific regions of Japan. These gifts are essential in Japanese culture as they are traditionally given to friends, family, and coworkers. Hyuganatsu citrus is one of the most important agricultural products produced in the Miyazaki Prefecture, and the original tree was once declared a national monument in 1935 before it was destroyed in a typhoon in 1949. In Miyazaki, besides fresh fruit, a popular gift is known as hyuga-no-kaori, a type of wagashi or jelly-like dessert. Hyuga-no-kaori translates to mean "fragrance of hyuga" and was created by Nanaman Goku in 1873. The dessert is comprised of a Hyuganatsu peel candied and hollowed, later filled with a jelly-like mixture flavored with the juice of the citrus. It took Goku over four years to develop the sweet treat, and when the candied fruit is served, it is customarily sliced into wedges to evoke the appearance of fresh fruit. Region-specific gifts also promote the local economy, and Hyuga-no-kaori is typically gifted in ornate boxes and is given as a symbol of respect.


Geography/History

Hyuganatsu citrus is native to Japan and was discovered as a chance seedling in 1820. The original tree produced a natural fruit mutation in the garden of Mr. Yasutaro Magata in the Miyazaki Prefecture on the island of Kyushu. Hyuganatsu fruits were believed to be a mutation derived from yuzu and pomelo, but the first few fruits were acidic, seedy, and slightly bitter. Over time, the fruits were selectively bred to showcase improved flavor, and in 1887, the new citrus was commercially released under the name Hyuganatsu. Today Hyuganatsu citrus is primarily grown in the Miyazaki Prefecture and is found through specialty distributors, roadside stands, and local markets. The citrus is also grown in other regions of Japan under the names Konatsu and Tosakonatsu.