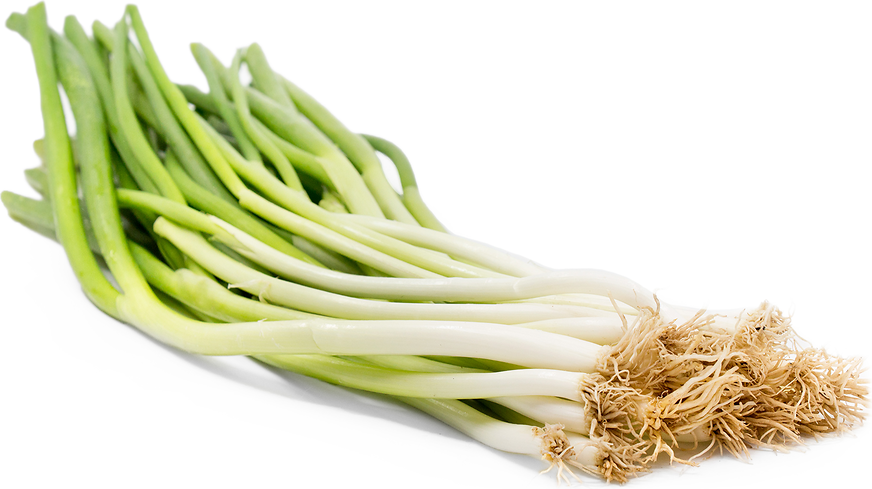 Tokyo Negi Onions
Inventory, bunch : 0
This item was last sold on : 05/23/23
Description/Taste
Tokyo Negi onions are a medium to large varietal comprised of elongated, cylindrical stalks with tubular leaves and a dense root base. The species is known for its long portion of tender, white stem, generally reaching over 25 to 30 centimeters in length, and the stalks are smooth, firm, crisp, and succulent. Tokyo Negi onions are aqueous, and if the stalks are sliced, they will immediately release juice. The white stalks are also made up of many compact layers and never form bulbs at the base. At the top of the stalks, the pale to dark green leaves are mostly hollow with a tubular appearance and have a crunchy, succulent, and subtly chewy, tough texture. In the field, the plant's leaves sometimes develop tiny, glistening drops of liquid. These dew-like drops are filled with sugar and have a sweet taste if licked, nicknamed "field diamonds." The stalk's roots are densely packed and found at the bottom of the stalk, extending in all directions with a light brown hue. It is said the denser the roots, the thicker the stalk will be. Tokyo Negi onions release a fresh, vegetal, and oniony scent and contain a higher sugar content than other onions, often reaching 18 to 19 degrees Brix, a measurement higher than some fruits. When selected for culinary use, the plants should feel heavy for their size and be fresh, taut, and not limp. When raw, Tokyo Negi onions have a spicy, green, and somewhat bitter flavor, but once cooked, the stalks and leaves soften into a tender consistency with a rich, vegetal sweetness.
Seasons/Availability
Tokyo Negi onions are available in the early winter through the early spring in Japan, with a peak season from December through February.
Current Facts
Tokyo Negi onions, botanically classified as Allium fistulosum, are a category of Japanese onions belonging to the Amaryllidaceae family. There are several different varieties of onions commercially produced in the Tokyo region that are sold under the general descriptor of Tokyo Negi, but the varieties are relatively uniform in appearance and flavor. The perennial plants are also known under descriptors, including Senju onion, Japanese Long onion, Negi, Naga Negi, and Shiro Negi. Tokyo Negi onions are a traditional crop in Japan that was once widely produced and is now only grown by a few small commercial farms. The pungent onions have a sharp taste when raw, softening in texture and developing a sweeter flavor when cooked. Despite their limited availability, Tokyo Negi onions are favored for their versatility in raw and cooked preparations and are valued among consumers as a quality-grown aromatic.
Nutritional Value
Tokyo Negi onions are a source of vitamin A to maintain optimal organ functioning, vitamin C to strengthen the immune system while reducing inflammation, and potassium to balance fluid levels within the body. The onions also provide some calcium to build strong bones and teeth, vitamin K to produce proteins for blood clotting, iron to produce the protein hemoglobin for oxygen transport through the bloodstream, copper to develop connective tissues, and vitamin B6 to maintain the nervous system.
Applications
Tokyo Negi onions have a pungent, subtly bitter taste when raw and a rich, sweet flavor when cooked, making them suitable for an array of culinary preparations. The onions should be cleaned and stripped of their outer layer before consumption, and once prepped, the stalks can be finely chopped and used as a fresh garnish. Tokyo Negi onions can be sprinkled over noodle dishes, including ramen, soba, and udon, tossed into salads, finely chopped into marinades and dips, or mixed into stir-fries. They can also be cooked into egg-based dishes such as omelets, frittatas, quiches, and scrambles, cut into small pieces and fried into tempura, or infused into baked dishes. In Japan, Tokyo Negi onions are famously grilled over an open fire or simmered into soups and broths for added flavoring. Tokyo Negi onions are a popular ingredient in hot pot as the stalks can be cooked for extended periods without disintegrating or falling apart. Long cooking preparations also allow the onions to develop a sweeter flavor. Try seasoning Tokyo Negi onions with soy sauce, sesame oil, salt, and pepper and grilling the onions for a smokey taste or wrapping the stalk in pork and grilling to give the stalk a meaty flavor. The onions can also be chopped and stirred into soy sauce as a dipping component or blended with miso paste to make negimiso, a meat marinade. Tokyo Negi onions pair well with meats such as pork chops, grilled steak, poultry, and sashimi, noodles, rice, orange juice, apples, herbs such as basil, parsley, and cilantro, turnips, beets, tomatoes, fermented soy sauce, oyster sauce, ponzu sauce, and light bodied vinegar. Whole, unsliced Tokyo Negi onions should remain unwashed and stored with their soil still wrapped around the roots and stalk. It is recommended to roll the unwashed stalks in newspaper and keep them upright in the refrigerator's crisper drawer for a few days.
Ethnic/Cultural Info
Tokyo Negi onions are an Edo vegetable, meaning they are a crop traditionally grown throughout the 23 wards in Tokyo. Though Edo Tokyo vegetables have been cultivated for centuries, the term Edo Tokyo vegetable was not established until 2011 by the Central Association of Agricultural Cooperatives in Tokyo. Vegetables were introduced to Edo when families from across Japan moved into the region and brought their favorite crops for planting in home gardens. Over time, Feudal Lords also gifted seeds and unique crops to the emperor, further expanding crop diversity throughout the region. Traditional vegetables were once prevalent throughout Tokyo, but many of the older species have disappeared from commercial markets over time due to their challenging cultivation nature and lack of disease resistance. Tokyo Negi onions are produced on a much smaller scale than they once were, but the specialty onion has been heavily guarded and protected throughout markets to maintain consistent quality. Out of the many vegetables once grown in Edo, only around 45 to 50 varieties are still grown and recognized in the modern day. Tokyo Negi onions are sold through six onion markets throughout Japan. After the onions are harvested, they are inspected by green onion dealers who have completed extensive training to grade the quality of the onions before being sent to restaurants and consumers.
Geography/History
Tokyo Negi onions are derived from a species of Allium fistulosum native to Northwestern China. These ancient plants were thought to be descendants of a wild onion found in Siberia and Mongolia and were used on a small scale as a food source in China. Sometime before 500 CE, Allium fistulosum was carried from China to Japan and was planted in western Japan during the Heian period from 794 to 1185 CE. Several centuries later, the species was planted in the Kanto region on Honshu Island, specifically in Sunamachi, in the Koto ward, during the Tensho period from 1573 to 1592 CE. After initially sowing Allium fistulosum, the onions were selectively bred over time to showcase improved characteristics for commercial production. From Sunmachi, the onions were spread in cultivation to Kanto, where they developed deeper roots to survive the colder Kanto climate. During the Edo period, from 1603 to 1867, onion production spread to Senju in the Adachi ward, where several types of green onions became known as Senju Negi, Tokyo Senju Negi, and Tokyo Negi onions. Up until the mid-Showa period in the 20th century, Tokyo Negi onions were mainly grown in the Shinjuku, Kanamachi, and Mizumoto districts of the Katsushika ward. Today Tokyo Negi onions are produced in the Chiba and Saitama Prefectures. Only a few growers still produce Tokyo Negi onions in the present day, and most of these onions are sold through onion merchants at specialty fresh markets in Japan. Outside Japan, Tokyo Negi onions are grown on a small scale as a delicacy in California and Hawaii in the United States.
Recipe Ideas
Recipes that include Tokyo Negi Onions. One

is easiest, three is harder.