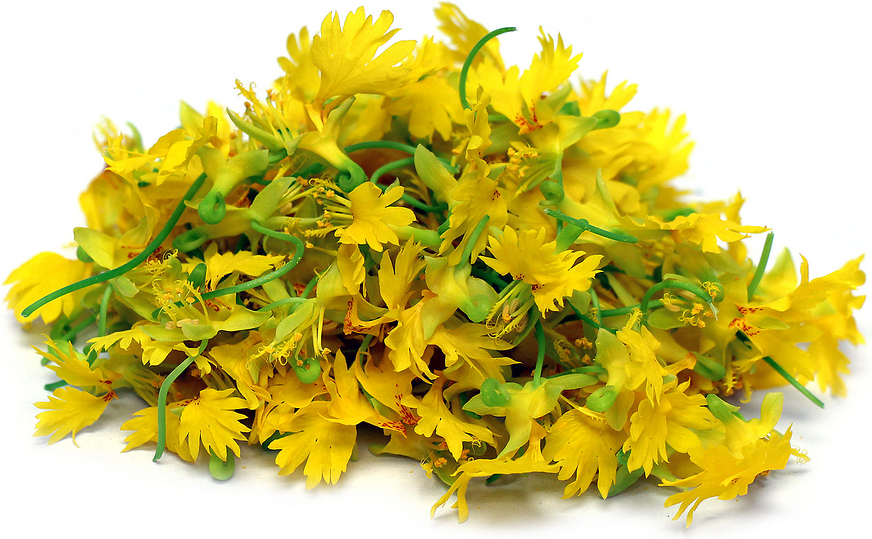 Canary Nasturtium Flowers
Inventory, 50 ct : 0
Description/Taste

Canary nasturtium flowers are small blooms, averaging 2 to 4 centimeters in diameter, and are comprised of two large upper petals and three small lower petals. The petals have frilled edges, giving the flowers a feathery, airy appearance, and are bright yellow, sometimes splashed with red spots at the base of the petals. The flowers also have a delicate, velvety, and soft, crisp texture. In the center of the flower, there are typically up to eight stamens with yellow pollen tips. Canary nasturtium flowers release a subtle, vegetal aroma and contain a sharp, green, peppery, nose-tingling flavor. In addition to the flowers, the vines produce green, flat, and smooth leaves with 3 to 7 curved lobes. The leaves are also edible and bear a similar peppery, vegetal taste.


Seasons/Availability

Canary nasturtium flowers are available in the late spring through summer.


Current Facts

Canary nasturtium flowers, botanically classified as Tropaeolum peregrinum, are a South American variety belonging to the Tropaeolaceae family. The brightly colored flowers grow on climbing vines that can extend 2 to 3 meters in length, and the vines produce edible leaves, flowers, and seeds. Canary nasturtium flowers are also known as Canary Creeper vines, Canary Nasturtiums, Canary Bird flowers, and Canary Bird vines, and are a favored home garden plant for the plant's climbing nature, ornamental appeal, and edible qualities. The flowers are not commercially grown, but the variety is fast-growing, producing colorful blooms that can be used in a wide variety of savory fresh and cooked preparations.


Nutritional Value

Canary nasturtium flowers are a source of vitamin C to strengthen the immune system and iron to develop the protein hemoglobin for oxygen transport through the bloodstream. The flowers also provide beta-carotene, which is converted into vitamin A in the body to maintain healthy organ functioning, and manganese to form connective tissues.


Applications

Canary nasturtium flowers have a peppery, vegetal flavor well suited for savory preparations. The flowers are traditionally used as an edible garnish or finishing flavor, added at the end of plating to avoid wilting. Canary nasturtium flowers are best when picked young and can be sprinkled into salads, tossed into grain bowls, infused into vinegar, mixed into vegetable dishes, or used as an edible garnish over meat and seafood dishes. The flowers can also be pressed into soft cheeses, folded into dips, scattered over soups and gumbos, or displayed on charcuterie boards as decoration. Try combining the flowers into butter and spreading them on sandwiches as an alternative to mustard. Canary nasturtium flowers can be used in any recipe calling for general nasturtium flowers. The blooms have a peppery, zingy flavor reminiscent of arugula, watercress, mizuna, radicchio, and mustard greens, and their sharp bite cuts through creamy dairy and richly flavored dishes. Canary nasturtium flowers pair well with herbs such as tarragon, chives, and parsley, meats such as beef, pork, ham, and poultry, seafood including crab, salmon, and shrimp, and nuts such as pine, almonds, and walnuts. Whole Canary nasturtium flowers should be immediately used after harvest for the best quality and flavor. Once picked, they will keep up to two days when stored loosely in plastic bags in the refrigerator. The flowers can also be dehydrated and ground into salts and spices for one year. It is not recommended to freeze the flowers as they wilt quickly once defrosted.


Ethnic/Cultural Info

Canary nasturtium flowers were given their feathery moniker in honor of the flower's frilled appearance. The two large yellow petals at the top of the flower are fringed, creating an image reminiscent of a canary flapping its wings in the air. Beyond their cheerful name, Canary nasturtiums were popular in the United States in the 19th century as a climbing plant. The leafy vines could grow along fences, trellises, pillars, walls, and railings, making them a favored variety to quickly cover unsightly structures. Canary nasturtium flowers were also planted as an ornamental and culinary addition to garden landscapes, providing striking flowers and lush leaves that both contain a peppery taste.


Geography/History

Canary nasturtium flowers are native to South America, specifically Peru and Ecuador, and have been growing wild since ancient times. The flowers thrive in temperate climates and were discovered in the 1800s, later introduced into the United States as a home garden vine in the mid-1800s. Today Canary nasturtium flowers are grown in home gardens worldwide and can occasionally be found through specialty retailers, foragers at local markets, and direct from growers in Europe, South America, the Caribbean, Australia, and the United States. Seeds for the variety are also offered through online seed catalogs.