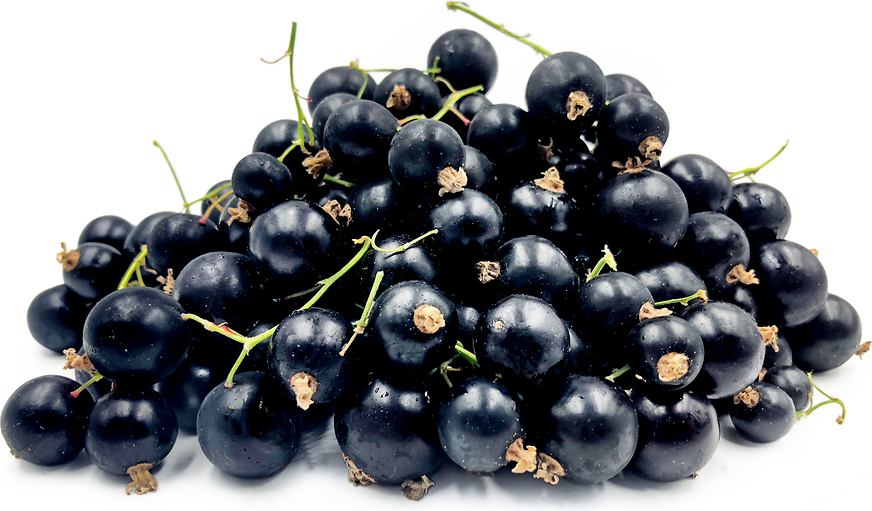 Black Currant Berries
Inventory, 12 ct : 0
Description/Taste
Black currants are small berries, averaging less than one centimeter in diameter, and have a round, oval, to ovate shape with a uniform, curved nature. Each berry typically has a dried light brown calyx on the non-stem end, and if the stem is still attached, it has a light green to brown hue. The berry's skin is smooth, taut, and shiny, ripening from green to a dark purple-blue, almost black coloring. The skin is also slightly thicker than other currant varieties, giving the berries a subtly chewy texture. Underneath the surface, the dark, pigmented flesh may be slightly translucent and has an aqueous, soft, and pulpy nature with a succulent consistency. The flesh also encases many tiny, edible seeds. Black currants are only consumed when ripe and have an earthy, tart, and fruity flavor. The berry's skin is high in tannins, contributing to its sour, tart taste, and the flesh bears notes reminiscent of grapes, cherries, raspberries, and mixed with pine. Dried Black currants are said to develop a floral, vanilla-like taste.
Seasons/Availability
Black currants are available in summer through early fall.
Current Facts
Black currants, botanically classified as Ribes nigrum, are a temperate species belonging to the Grossulariaceae family. The berries grow on deciduous, woody shrubs that extend 1.5 to 2 meters in height, and the fruits form in dangling loose clusters. Black currants are just one of over one hundred species within the Ribes genus, and there are three main types of currants found in culinary markets: Red, Black, and White currants. An established Black currant shrub can produce over four kilograms of berries per year, and the berries can be picked by hand or harvested mechanically for faster gathering. Many cultivars of Black currants are grown in temperate regions worldwide, and the berries have been used in culinary and medicinal preparations since ancient times. Black currants are sometimes written as one word, Blackcurrants, and are also known as Cassis. The berries are favored for their complex, strong taste and are traditionally combined with sweeteners to create a more palatable nature. Despite their popularity, especially in Europe, Black currants are susceptible to disease, and scientists have had to spend many years researching the species to create hybrid cultivars with improved disease resistance. In the modern day, Black currants are widely utilized in herbal medicines, cooking, and specialty beverages and are a seasonal ingredient valued for their coloring, taste, and versatility in sweet and savory preparations.
Nutritional Value
Black currants are a source of vitamin C to strengthen the immune system, vitamin K to assist in faster wound healing, and manganese to develop connective tissues. The berries also provide magnesium to regulate nerve functioning, vitamin E to protect the cells against free radical damage, phosphorus to form bones and teeth, and other nutrients, including potassium, B vitamins, calcium, and zinc. During World War II, Black currants were notably used in syrup to provide infants with a daily dose of vitamin C in England. The war was creating a shortage of vitamin C-filled fruits, so the British government turned to cultivate Black currant shrubs as the species thrived in their climate and had high vitamin C. Black currant berries were transformed into syrup in 1942, and the mixture was given to children under the age of two. After World War II, Black currants were also used to flavor cough syrups throughout Europe.
Applications
Black currants have a savory, astringent, and subtly sweet taste suited for fresh and cooked preparations. Raw Black currants can be tossed into green salads or used as an edible garnish over main dishes and desserts. Most Black currants will have a tart, only subtly sweet nature, lending their sour taste to various cooked preparations. The berries contain pectin, allowing them to be simmered into jams, jellies, and syrups, and the mixture is often cooked with sweetener to enhance the complex flavoring. Black currants can also be cooked with sugar and used as a filling in pies, crumbles, pudding, turnovers, and other baked goods. For a refreshing treat, try blending and freezing Black currants into sorbet, ice cream, or popsicles. In addition to sweet dishes, Black currants complement savory dishes and are popularly heated into sauces for roasted meats. The berry's natural acidity, full-bodied nature, and tangy taste complement fresh herbs in side dishes, or they can be made into a vinaigrette to drizzle over leafy greens. In England, Black currants are customarily added to mince pies during the holiday season, and they are also infused into juices, wines, cocktails, and cordials. One of the most famous uses of Black currant is in crème de Cassis, a French liqueur traditionally combined with sparkling white wine or champagne to create a Kir Royal cocktail. Black currants pair well with honey, herbs such as sage, thyme, and mint, vanilla, spices including cloves, ginger, and cinnamon, fruits such as strawberries, apples, pears, and raspberries, and meats such as pork, venison, and duck. Freshly harvested Black currants should be immediately consumed for the best quality and flavor and will only keep fresh for a few days at room temperature. The berries will keep for 1 to 2 weeks when stored in the refrigerator and up to 12 months when kept in the freezer.
Ethnic/Cultural Info
In Europe, Black currants are believed to have magical properties beyond their medicinal uses. Among herbalists who practice witchcraft and magic, Black currants are said to protect the soul and home against negative energy. Powdered Black currants were once sprinkled at the entrances of homes as a source of protection, and the berries were carried on long journeys to guard the traveler and shield their minds from the fear of being alone. Black currants were also given to seekers on spiritual quests in addition to physical journeys and were thought to bring healing. Beyond their magical properties, Black currants were made into a liqueur known as Cassis in Burgundy, France, in the 17th century. The berries were pounded into liquid to mix with spirits and then sweetened with sugar to create a fruity, fermented taste. Cassis was initially created by French monks, and the drink was used as a cure for misery and snakebites.
Geography/History
Black currants are native to Central and Eastern Europe as well as parts of Northern Asia. The species has been growing wild since ancient times and thrives in temperate forests, meadows, and alongside rivers and streams. The earliest record of cultivation dates back to the 11th century, when the species was grown in a Russian monastery garden. Black currants were cultivated across northern Europe by the late 17th century, and shrubs were planted on commercial farms and in home gardens. The species thrived in damp, fertile soils and was initially used as a medicinal ingredient in natural remedies. Over time, Black currant berries were harvested for culinary purposes and became a popular flavoring in desserts, sauces, and beverages, especially in England. Black currants were introduced to the Americas in the 19th century, but their recognition was short-lived as they were quickly banned by the early 20th century. It was thought the disease-prone species was a vehicle for spreading a parasitic fungus known as white pine blister rust, and this fungus was a threat to the American logging industry. The Federal government banned the cultivation of Black currants, causing the species to decline in popularity. In 1966, the Federal ban was lifted, and select states allowed growers to cultivate the berries while other states continued to enforce the ban. Today Black currants are commercially produced for fresh and processed uses throughout Europe, Asia, North America, New Zealand, and Australia. In the United States, Black currants are commonly found in the Northeastern United States and the Pacific Northwest. When in season, Black currants are offered through specialty fresh markets, select grocers, and distributors.
Recipe Ideas
Recipes that include Black Currant Berries. One

is easiest, three is harder.
the other 2...