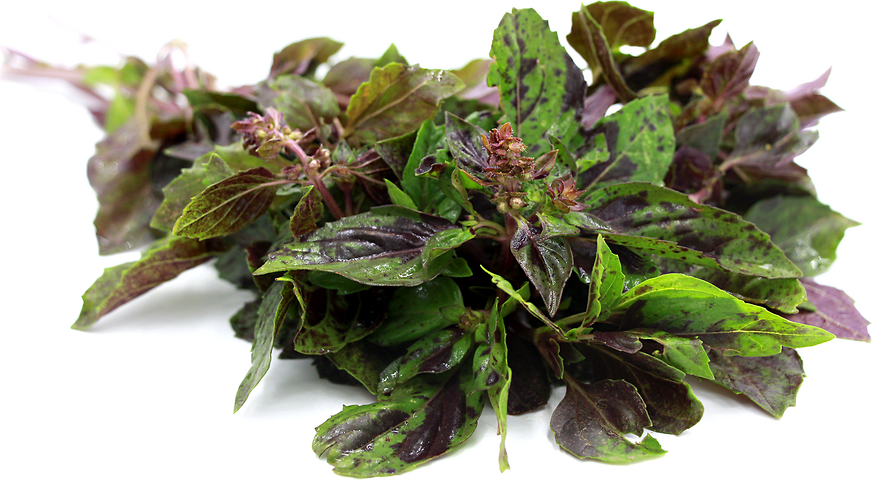 Ararat Basil
Inventory, bunch : 0
Description/Taste

Ararat basil consists of small leaves, averaging 5 to 8 centimeters in length, attached to thick stalks, forming a bushy, compact plant. The oval to lanceolate leaves are glossy, textured, and deeply veined with lightly serrated or toothed edges. The leaves also bear variegated hues of dark purple and green, depending on the climate and environment, giving the plant an unusual, mottled appearance. The burgundy stalks are semi-thick, fibrous, and fleshy, and when the plant is in bloom, small and showy pink-purple flowers appear at the end of the stalks. Ararat basil has a prominent anise-like aroma. The leaves are tender, crisp, and succulent and contain a sweet and spicy, warm herbal flavor with vegetal and licorice nuances.


Seasons/Availability

Ararat basil is available year-round, with a peak season in the summer.


Current Facts

Ararat basil, botanically classified as Ocimum basilicum, is a rare, fragrant herb belonging to the Lamiaceae or mint family. The heirloom basil was developed in the mid-20th century in Israel and was selected for its unusual appearance and distinct licorice flavor. Ararat basil reaches up to 45 centimeters in height, thriving in warm to temperate climates worldwide, and is favored by basil enthusiasts for its bicolored foliage. The plants are grown in home gardens to add depth and color, and the leaves are also harvested for medicinal and culinary uses. Ararat basil is commonly incorporated fresh and cooked into both sweet and savory preparations, and the leaves are also utilized as an edible garnish for their attractive appearance.


Nutritional Value

Basil is an excellent source of vitamin K to assist in faster wound healing, vitamin C to strengthen the immune system, and iron to build the protein hemoglobin to transport oxygen through the bloodstream. The fragrant greens are also a good source of magnesium to maintain healthy nerve functioning, calcium to protect bones and teeth, and potassium to balance fluid levels within the body. In natural medicines, basil is valued for its anthocyanins, pigments found in the leaves that contribute antioxidant-like properties to remove toxins from the body. The leaves are also seen as a calming agent and contain anti-bacterial properties to protect against infections.


Applications

Ararat basil has a sweet, herbal, and anise-like flavor well-suited as a garnish or for subtly flavoring fresh and cooked dishes. The rare basil can be used as a substitute in recipes calling for purple or green basil, and the greens can be used whole, chopped, torn, or sliced. Ararat basil is popularly tossed into garden salads, stirred into fruit bowls, floated over soups and curries, blended into pesto, or infused into dressings, sauces, and vinegar. The greens can also be used as a topping over pizza, mixed into tomato-based pasta, layered into sandwiches, fried into creamy sauces, or lightly stir-fried into vegetable, noodle, and rice dishes. Beyond savory preparations, Ararat basil can be incorporated into ice cream, sorbets, chocolates, and cakes for added licorice flavor. It can also be dried for extended use and mixed into spices or utilized to garnish cocktails, teas, and lemonade. The bicolored leaves complement flavors commonly found in Italian, Thai, and French cuisine. Ararat basil pairs well with tomatoes, potatoes, cabbage, zucchini, cheeses such as parmesan, feta, and pecorino, nuts such as pine, almonds, and walnuts, meats such as poultry, turkey, and fish, and fruits such as citrus, watermelon, strawberries, and mangoes. Fresh Ararat basil will keep up to one week when stored upright in a glass of water and loosely covered with plastic in the refrigerator. The leaves can also be pressed between paper towels and kept in a plastic bag for a couple of days in the refrigerator's crisper drawer.


Ethnic/Cultural Info

The name Ararat is derived from Hebrew and is believed by experts to mean a region of sacred land. The most famous reference to the name Ararat is tied to the story of Noah's Ark. Legend has it that the ark was said to have landed in a mountain range once known as the Ararat Mountains. Beyond myths, basil is deeply intertwined with Jewish folklore and was believed to provide strength to fasting individuals. The bright, herbal flavoring was thought to help satiate hunger, and many Jewish communities would create basil garlands to wear during periods of fasting. In the modern-day, basil is still incorporated into traditional Jewish practices and is tied into small bouquets to inhale the powerful aroma for specific festivals and celebrations.


Geography/History

Basil is an ancient herb that has been cultivated by humans for thousands of years. The aromatic plant was believed by experts to have originated in Asia and was spread through human migration and trade routes. Basil was introduced to Israel and the rest of the Middle East in the early ages, where it became a common herb used in religious and medicinal practices. The plant was also extensively cultivated, creating many new varieties over time. In the 1950s, Ararat basil was developed in Israel as an improved variety showcasing unique bi-colored foliage and a rich flavor. Today Ararat basil is primarily sold through seeds and is offered through online seed companies worldwide. The aromatic leaves are sometimes sold at local markets and specialty grocers in Europe, Asia, the Middle East, and the United States, and the variety is also a favored home garden cultivar grown by basil enthusiasts.